The LORD is my strength and my shield; My heart trusts in Him, and I am helped; Therefore my heart exults, And with my song I shall thank Him.

Psalm 28:7(NASB)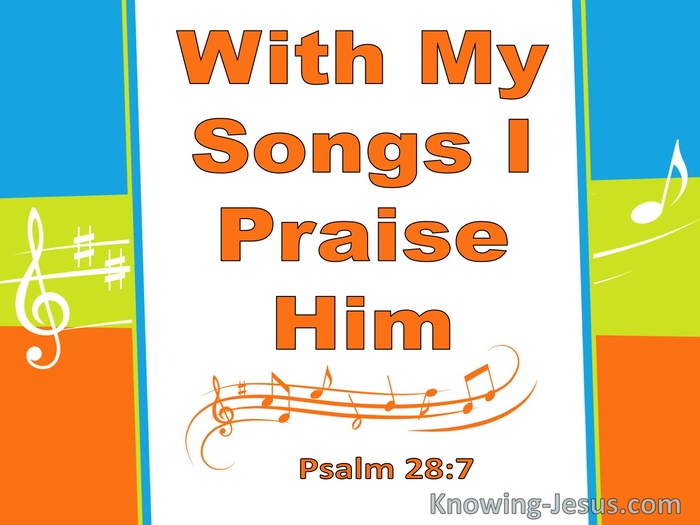 Verse Thoughts
The first part of Psalm 28 is a lament that comes from deep within David's heart. He is pleading for God's deliverance from his enemies and entreating the Lord not to turn His ear away from him. His distress seems so intense that the psalmist imagines that he will die and, "become like those who go down into the pit - the silent grave," if the Lord does not hear his pitiful cry and respond graciously to his desperate pleas.
The early verses in David's prayer are a cry to the Lord for support... expressing his helpless condition, his bitterness of heart, and the pain that seems to be searing his soul. He knows that God alone is his rock and refuge and so he calls out to Him for relief - with his hands lifted high in submission to God's holy sanctuary and as an act of personal surrender.
He is not taken in by his smooth-talking neighbours who speak peace while their hearts are plotting evil. David seems only too aware of their wicked practices and calls on the Lord to reward these people according to the works of their hand, "because they have no fear of the Lord." These men who caused David so much heartache had no regard for the work of God's hand and did not honour His holy name.
David cried out to the Lord to tear down these wicked enemies and not to build them up. He pleaded for God to reward them according to their evil works. But quite suddenly, part-way though his grievous lament, David's attitude switched from his pitiful pleadings for help, deliverance, justice, and vengeance, to words of rejoicing and songs of praise.
In the midst of his deep distress, David took his fearful thoughts captive and remembered Who his God truly is, "The LORD is my strength and my shield," he cries out, jubilantly. "My heart trusts in Him, and I am helped, therefore my heart exults, and with my song I shall thank Him."
The sudden contrast in David's two extremes of expression in this simple, short psalm, are very noticeable, for he passes from desperate distress to exuberant praise. His spirit was swept from anguish to adoration and his confidence in God seemed to suddenly sweep his soul from bitter pleading into blessed praise.
"The LORD is my strength and my shield," is his exultant exclamation. His grace and strength is sufficient... for He is the all-powerful God. What is man that we should be fearful of him when we have the almighty strength of the eternal God as our shield and buckler... for He is our God and those who reverently fear Him have no need to be anxious or fearful.
"My heart trusts in Him, and I am helped," the psalmist continued. He has promised to be with us in every situation of life... and all God wants from us is to trust His Word, believe in the Lord Jesus Christ, and hold fast to His many precious promises. Without faith it is impossible to please Him, but those who put their trust in Him will never be disappointed.
We should remember that when faced with tremendous difficulties and dangers we are helpless to help ourselves, and that we would not trust in ourselves but in Christ Who rose from the dead and provides us with His sufficient grace.
"Therefore, my heart exults," David concludes, "and with my song I shall thank Him." There is something very edifying and encouraging in glorifying God and singing praises to Him... even when faced with problems and pain, for it not only lifts our heart and give hope to the soul, but causes us to trust Him in our helplessness and gives great glory to our Father in heaven.
May our hearts truly rejoice in the God of our salvation and may we lift up our voices together in continuous thanksgiving and praise.
My Prayer
Dear Heavenly Father, what comfort and joy all Your children gain from Your precious Word, and I thank You that You are my strength and my Shield. My heart trusts in You, and I praise and thank You for the help and comfort I received, through faith in Christ Jesus my Saviour. Thank You that Your ear is ever open to the cries of Your people. Help me take every thought captive to Christ, when circumstances arise that would otherwise overwhelm me and cause me to fear. The joy of the Lord is my strength, therefore my heart exults in grateful thanks and eternal praise, AMEN.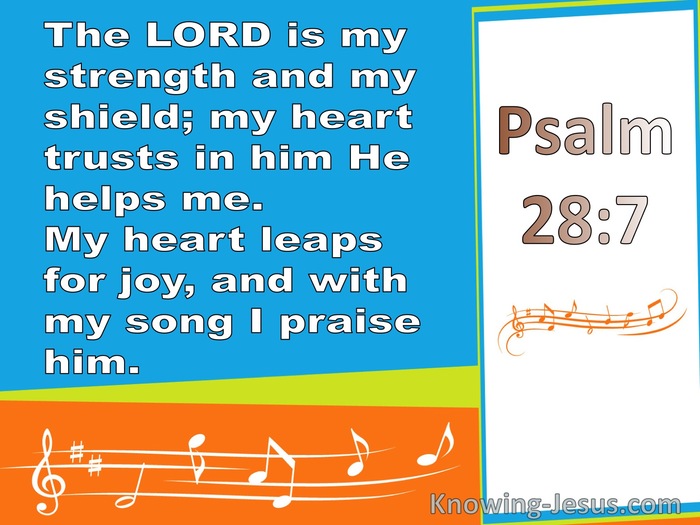 Choose a Verse from Psalm 28