I will sing unto the LORD as long as I live: I will sing praise to my God while I have my being.

Psalm 104:33(KJV)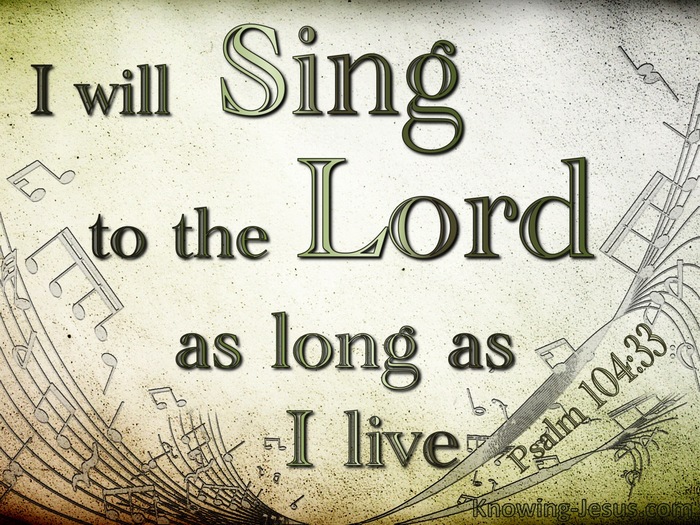 Verse Thoughts
O come let us adore Him forever, is the heart-cry of the Psalmist, who sees continuous and continuing praising of the Lord to be the core cry within the depth of our inner beings, for He alone is worthy of such exultant worship. God alone is deserving of reverence and great glory and verse after verse of this joyful Psalm is poured out as a sacrifice of praise to our Father in heaven - and songs of celebration, that rejoice in the richness of His goodness, the greatness of His power and the glory of His majesty pour forth from his lips.
The Lord our God is the great Creator and Sustainer of the universe and the Psalmist knows that He is highly to be praised. There is no God like unto the Lord, Who walks on the wings of the wind and covers Himself with light. He is robed in great splendour and majesty and spreads out the starry heights like star-studded banner. In His great wisdom He hung the earth on an invisible foundation and sends out refreshing streams of water throughout the earth to satisfy the thirst of the beasts of the field and the foul of the air. He fills those that are hungry with good things and set the moon and the sun on their appointed path to provide rain in the spring season and delicious fruit in the autumn time.
His delight is to meditate on God's wonders; to concentrate on His greatness; to joy in His wonderful works; to awaken his mind to God's eternal loving-kindness, causing him to explode in a triumphant proclamation: I will sing praises of God into all of eternity. The psalmist knows that the rejoicing praises of this life are to inhabit the eternal ages to come in an everlasting procession of celebration to our God.
As His children we also are to cultivate this attitude of thanksgiving and praise, in our hearts and with our voices, for this is God's will for all His children.
Let us bless the Lord with our whole heart, knowing that the momentary troubles of this fleeting life will soon be over, and we too will be joining in the never-ending heavenly chorus of thanksgiving and praise.  I will sing unto the LORD as long as I live: I will sing praise to my God while I have my being.
My Prayer
Praise the Lord O my soul and all that is within me praise His holy name, Praise the Lord, AMEN.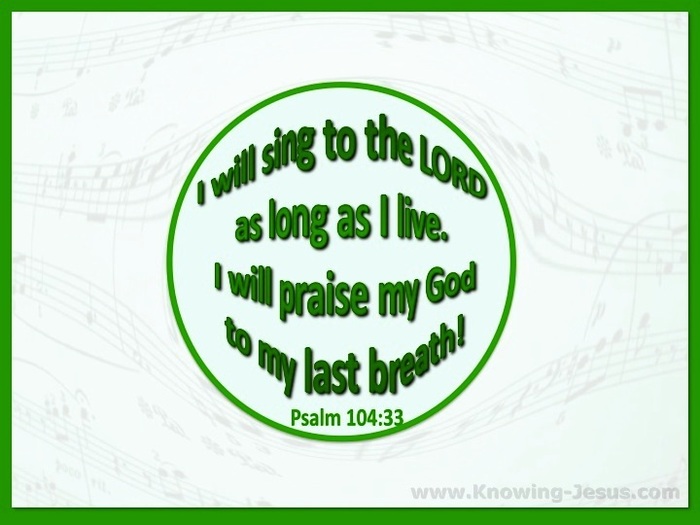 Choose a Verse from Psalm 104