The LORD has established his throne in the heavens, and his kingdom rules over all.

Psalm 103:19(ESV)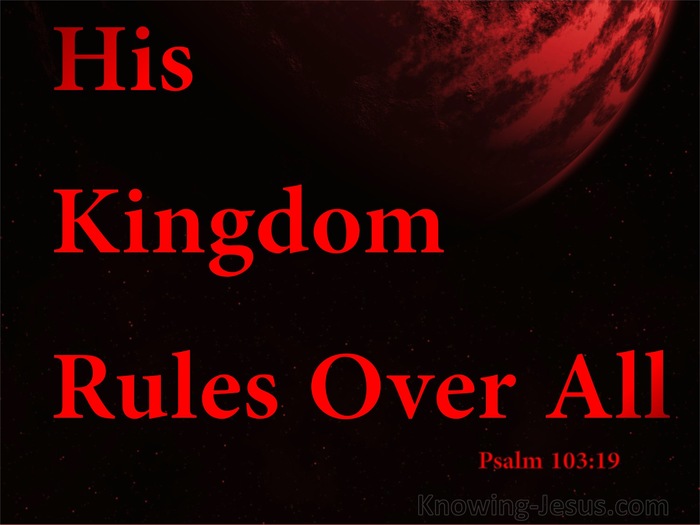 Verse Thoughts
The Lord God Almighty is great and highly to be praised and despite the vain attempts and aspirations of foolish men and fallen angels, the everlasting throne of the eternal God is without comparison, and firmly fixed in heavenly places. God is His own designer and master-builder, Who laid both the foundation of the earth and the capstone of His heavenly seat, which is established both now and for evermore.
The throne of God is underpinned by righteousness and His seat is woven together through His loving-kindness and tender-mercy. The throne of His kingdom is a throne of glory, a throne of grace, a throne of government and a throne that displays His Majesty throughout the heavens.
It is David who celebrated the heavenly rule of almighty God over the kingdom of men and it is he whose words challenge the satanic principalities and powers in high places, by proclaiming: the LORD has established His throne in the heavens, and His kingdom rules over all. David's hope is in the Lord His God and this magnificent truth is a celebration of God's almighty power to save and His faithful to deliver the people of His pasture.
His is a throne that pours out blessings in superabundance on all the children of men. His is a throne that will establish the earthly rule of Israel as the head of the nations and not the tail. His is a throne that puts down the mighty from their seat and lift up those that are humble and meek, and there is a man called Jesus, Who is currently seated at the right hand of the throne of God, Who loves and intercedes for all who have placed their trust in His redeeming blood - and we are in Christ and He is in us.
One day, as God has ordained, that the Man Christ Jesus will be seated on His great white throne to judge the wicked and the dead - but those that are His chosen bride, will be seated with Him on the throne of the Lamb, showing forth His excellent grace to principalities and powers, in the ages to come.
My Prayer
Praise Your name for Your wonderful wisdom and strength and thank You Lord that Y our throne of government and grace is securely established and will stand fast for evermore. We know that You are soon coming back to take us to be with Yourself – Help us today, to live our lives in such a way as is pleasing to You, knowing that as Your children we are witnesses to Your glory, Your grace and Your kingdom. In Jesus name we pray. AMEN.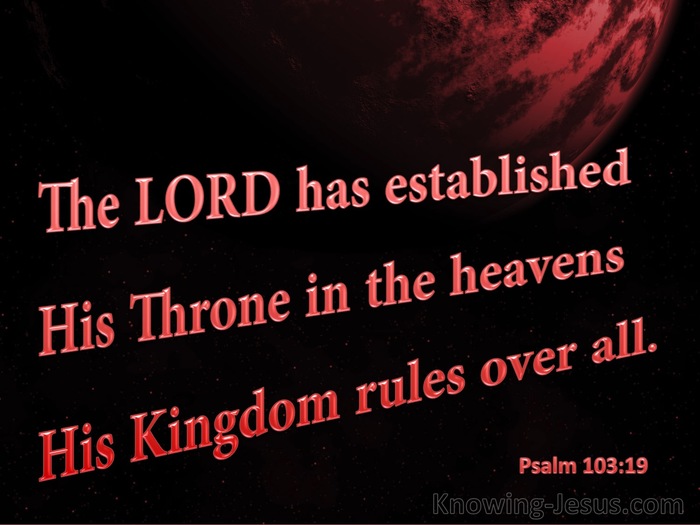 Choose a Verse from Psalm 103