Who redeems your life from the pit, Who crowns you with lovingkindness and compassion;

Psalm 103:4(NASB)
Verse Thoughts
This great psalm of praise rehearses the multiplied blessings and eternal benefits that the everlasting Creator has poured out in great abundance on the children of men and the people of Israel.
Our very life has been redeemed from the pit of the dead - for not only are we forgiven of our sins and the beneficiaries of eternal life, (by grace through faith in the Lord Jesus Christ), but part of that free gift of grace was to redeem us from that pit of destruction, (that was prepared for the devil and his angels), and eternal separation from our heavenly King.
Today Israel looks back on their redemption from Egypt, but all who trust in God's only begotten Son, rejoice that we have been redeemed from the pit of death and destruction - and the only acceptable redemption price was the precious blood of our Saviour, Jesus Christ our Lord.
No wonder David continues to praise the Father, Who crowns us with loving-kindness and great compassion, No crown has been fashioned that can compare with the loving-kindness and tender-mercies of our God, which are new every morning. GREAT is His faithfulness and love.
My Prayer
Heavenly Father, Your name is worthy of all praise and glory ..for You forgive all my sins and heal all my diseases. You have redeemed me from death and crowned me with loving-kindness and tender-mercies. You fill my life with good things and my youth is renewed like the eagle's - great is Your faithfulness, all praise to Your holy name. AMEN.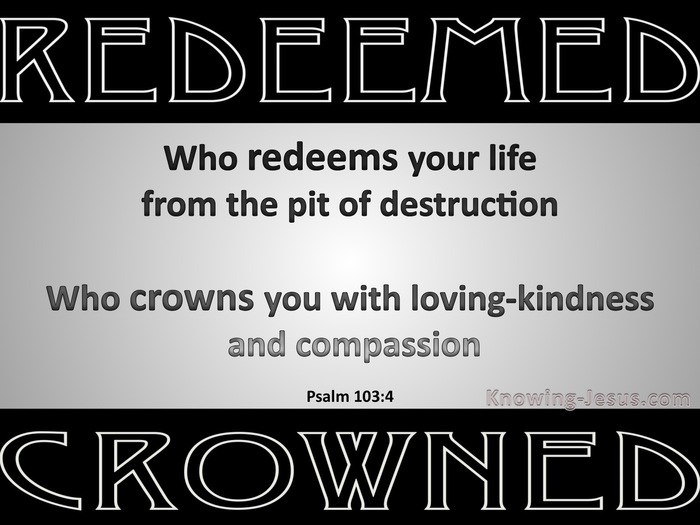 Choose a Verse from Psalm 103