The LORD leads with unfailing love and faithfulness all those who keep his covenant and obey his decrees.

Psalm 25:10(NLT)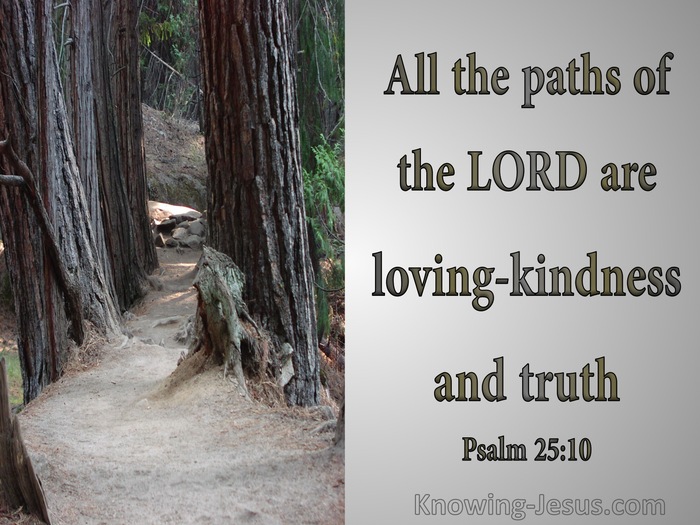 Verse Thoughts
God has strewn our path with encouraging promises, which are scattered throughout His word, that He will lead us in the paths of righteousness and make the way we take straight and secure. But can we trust His promises? Can we be certain that His word is true? Indeed, we can! The promises of God are founded on nothing less than the perfection of God's holy nature, they are rooted in the eternal faithfulness of His everlasting word.  And His word is securely fastened on the rock of our salvation which is Jesus, Whose name is Faithful and True - for Faithful is he who hath promised, Who also will do it.
It was David who knew this to be true in his own life and we find him reflecting on the wonder of the Lord, as he prayerfully considers the goodness of God and His faithfulness in meeting sinners and teaching them the way of truth. All the paths of the LORD are lovingkindness and truth, he writes, to those who keep His covenant and His testimonies. And the faithfulness, mercy, goodness and grace of God are not less true today than during that time when David discovered the Lord that the Lord was his shepherd, Who gently lead him beside the still waters and to faithful guided him into the way of peace.
As we remain in Christ and rest in His love, we will discover that all His paths are scattered with goodness and grace - and with mercy and truth. They may not be the path of our choosing, nor the way that we expected to trudge.  But He knows the best way for each of us to take - for He is the WAY, and we need to trust Him to lead us aright, even when the route is overshadowed by dark and thunderous clouds.  His way will lead us deeper into fellowship with God for He desires us to maintain a deep and unbroken communion with Himself.
The Lord knows that only as we commune with Him and obey His new commandment to love as I have loved, will He be able to pour streams of His living water through us, to comfort and refresh all we meet.
My Prayer
Lead me Lord in the path of Your choosing, for Your love and faithfulness are without measure. I trust You to lead me aright, in Jesus name. AMEN.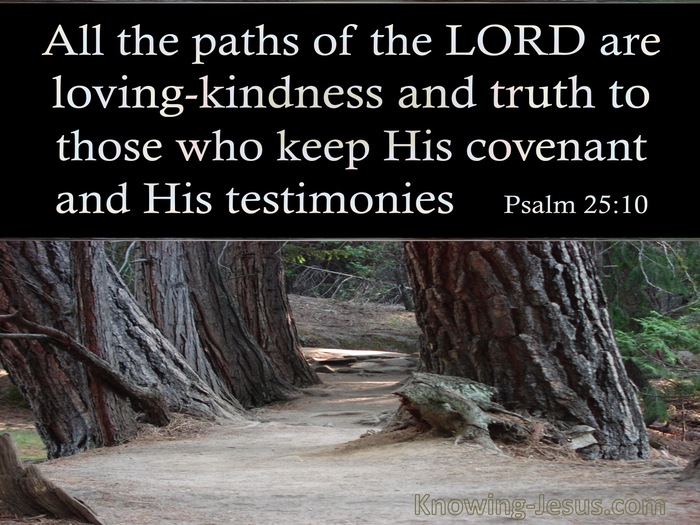 Choose a Verse from Psalm 25