Who is the man who fears the LORD? God will teach him the path he should choose.

Psalm 25:12(ISV)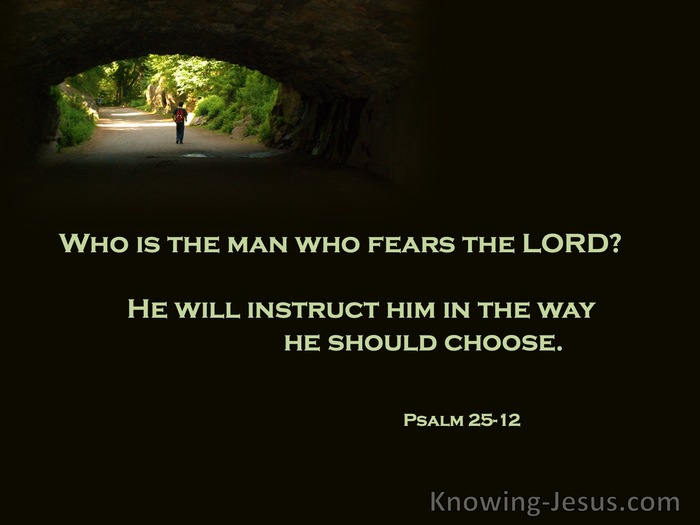 Verse Thoughts
The man that fears the Lord is one that has come to some understanding of the immensity of God's grace and what His holiness, justice, peace and love really means, in relation to sinful humanity and the fallen creation.

The man that truly fears the Lord is the one who has some realisation of the high cost of salvation, the depths of grace and the profound love to which God stooped, in order to bring fallen humanity back into a right relationship with Himself.

The man that fears the Lord trusts Him as a Father; worships Him as Saviour; serves Him in reverence and godly fear and rejoices to keep His command, to love as He loves, for His yoke is easy and His burden is light.

The man who fears the Lord and trusts in His love is blessed indeed for he is a sinner saved by grace. He will never be disappointed for God will guide him in the way he should take and teach him the path that he should choose. And all the paths of the Lord are mercy and truth, and all His ways are righteous and true.

The man that humbles himself before the Lord in godly fear need not worry about the arrow that flies in the daytime nor the pestilence that stalks in darkness, for God has promised, I will be with him, I will uphold him with my righteous right hand – and I will teach him the path that he should choose.
My Prayer
Loving Father, You are my God and Saviour and I love and trust You with all my heart. Help me to make the right choices in my life so that in all I say and do Your name is glorified. Teach me the way that I should go, knowing that all Your ways are good and all Your paths are peace. Protect me from all that would harm me and uphold me with your gracious hand today – and in the days that lie ahead may I never stray from the path of righteousness, in Jesus name I pray, AMEN.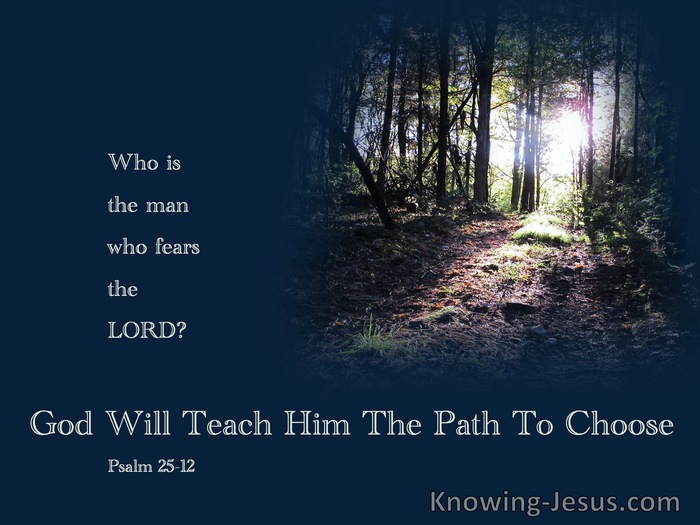 Choose a Verse from Psalm 25