You will make known to me the path of life; In Your presence is fullness of joy; In Your right hand there are pleasures forever.

Psalm 16:11(NASB)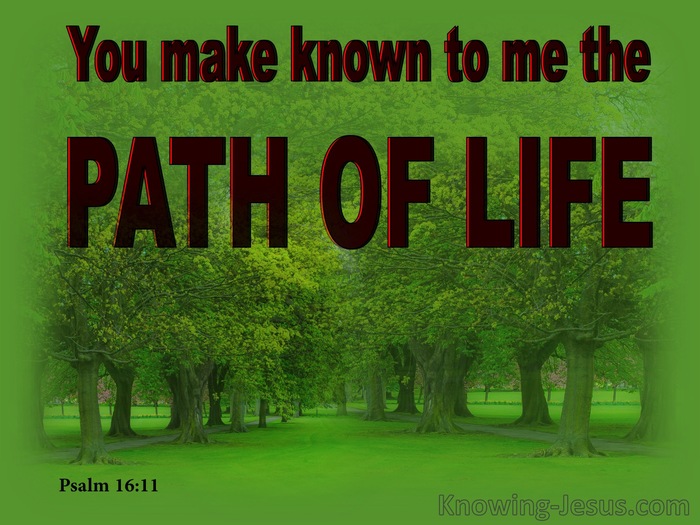 Verse Thoughts
What comfort and strength have poured forth from the book of Psalms into the hearts of so many believers down through the centuries, and the love and devotion that spills out from these beautiful verses, warms the heart of all weary wanderers, as David joyfully pens his compelling confidence in His Lord, and utter trust in the God of his salvation. Such praise is founded on the sure knowledge that the Lord is not only our protection through all the changing scenes of this life, but that death, which is man's greatest enemy, will be finally conquered - concluding with these wonderful words of complete assurance in the resurrection of the dead and the life everlasting. 'For You will show me the way of life, granting me the joy of Your presence and the pleasures of living with You forever'.
This assuredly points forward to Christ's resurrection, through Whom are given such an abundance of eternal pleasures, and assuredly this is a truth that all His blood-bought children can treasure in their hearts and rejoice with singing, as we journey towards our heavenly home. But Christ's fullness of joy is not simply contained in a future hope but is firmly established in this present time - a truth that is embedded in so many precious promises. Sorrow may well be our lot in this life, for we have been told that in this world we will indeed suffer trials and difficulties, but we have His indwelling Holy Spirit, and as we train our hearts and minds on the loveliness of our risen Saviour we receive His joy, His love and His peace.
My Prayer
I praise You for Your great goodness and for the many blessings that You have showered each one of us. Be with me each step of the way, and help me to keep my eyes on the Lord Jesus. I pray that I too may receive the fullness of joy that Christ experienced in His earthly walk for I trust in Your love and pray in Jesus name, AMEN.
Choose a Verse from Psalm 16