He restores my soul; He guides me in the paths of righteousness For His name's sake.

Psalm 23:3(NASB)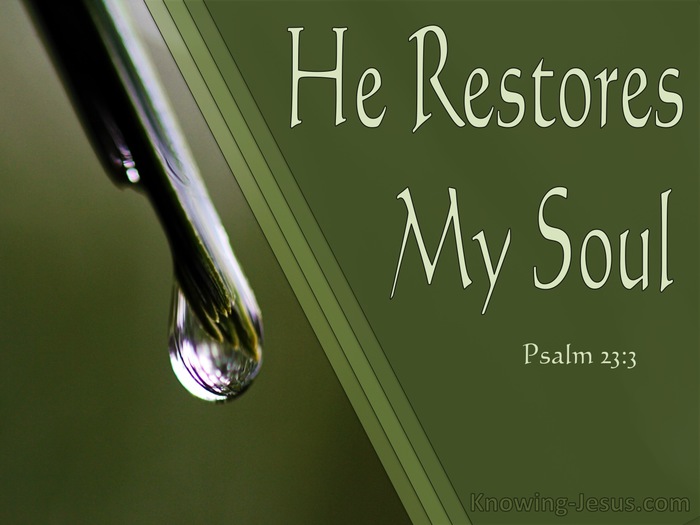 Verse Thoughts
These beautiful words are from the Psalm that has comforted countless millions of weary souls since the time of Israel's shepherd king -David. These wonderful words have not lost any of their deep impact in these difficult days we all face, but their significance has been magnified and multiplied as we reflect upon these great words of comfort in the face of Jesus, Who has become our own good Shepherd of the sheep and Who has lead us into the way of everlasting grace, peace and righteousness.
He first restored our soul into newness of life, through the quickening power of His death when we first trusted in His name for salvation. He continues to revive our fainting soul and vivifies our sagging spirit when we find ourselves to be wearied by the world's pressures or discover we are exhausted, hurt, troubled or simply worn down in this troublesome life. He also finds me and restores me from my error and foolish wanderings and then gently guides me back and leads me further along the correct path, for He knows the way that I should take.
Our great Shepherd of the sheep will not lose one of us, however much we stray from Him, for we are protected in the powerful palm of His pierced hand and we are covered by the caring love of His Father. If restoration and protection depended on me, I would be neither restored nor protected - but my restoration and protection is His promise to me, as it is to you, as well.
Like many wonderful promises throughout scripture these beautiful words, which have comforted countless millions, assures us that restoration, guidance, protection and peace is His promise to us, for HE restores our soul and HE leads all His children in paths of righteousness for our eternal benefit and for the honour and glory of His holy name.
My Prayer
Father of all grace and mercy, I praise Your name for Your wonderful words of comfort and Your promises that nothing can ever pluck me out of Your hand. Thank You that no matter what I do You will restore me and lead me along life's path, for the honour of Your name. Keep me I pray from wandering far from You and may all I do, from this day on, be to Your honour and glory, in Jesus name I pray, AMEN.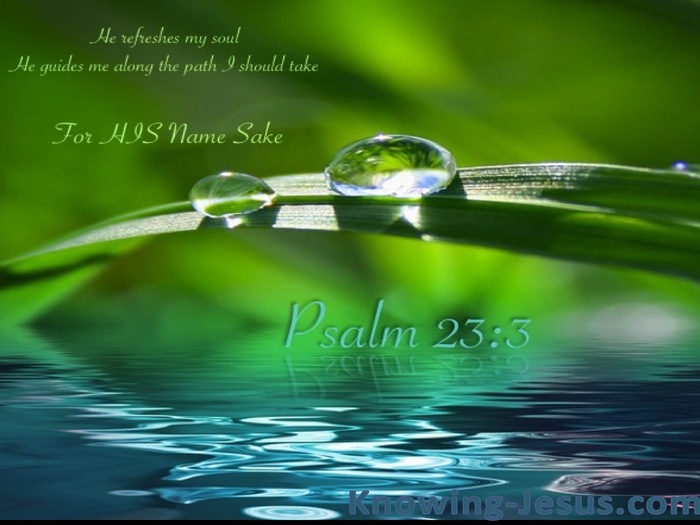 Choose a Verse from Psalm 23