Let the words of my mouth and the meditation of my heart Be acceptable in Your sight, O LORD, my rock and my Redeemer.

Psalm 19:14(NASB)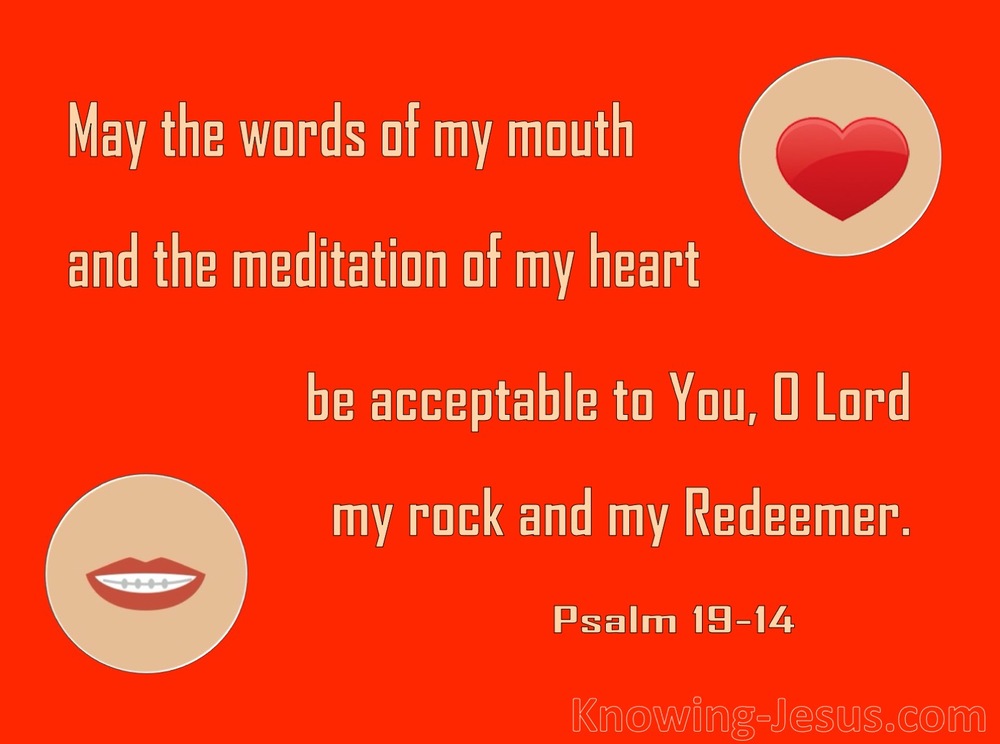 Verse Thoughts
So many of the psalms of David rejoice our heart as he pours fourth a harmony of poetic praise for God's merciful forgiveness and favour; the wonders of His mighty works and ways; the glories of His creative wisdom and His gracious acts towards the rebellious children of Israel.
So many of the sacred words that have been penned by Israel's shepherd king are prayers that have been rehearsed on the lips of many saints, over centuries of time, who have found comfort and grace in his pleadings to the Lord.
David was the man after God's own heart for he realised that it is not only the outside of a cup that needs to be clean and unsullied, but God desires an inner purity, which stems from a heart that is humble before the Lord and from whom will stream rivers of living water. Words of worship that flow from a proud, rebellious or unrepentant heart are like an open sewer to the Lord, but worshipful words that flow from a life that is pure in thought and motive, word and deed ascend to the Father, as a sweet perfume.
A heart that meditates on the Lord and lifts up the person of the Lord Jesus, is the one that exhibits an inner grace and beauty, for such a one is willingly being transformed into the likeness of the Christ, for out of the mouth come thoughts that are conceived in the heart.
David not only understood the need for an inner cleansing and purity on a day by day basis, where God Himself governs and sanctifies the thoughts of the heart and the words of the mouth, but he had come to an understanding that the Lord Jesus - the coming messiah; the divine days-man of Job and the coming seed of the woman was the strength of his life and the only kinsman redeemer for his soul. 
May we like this David, in humility of heart, sanctify the words of our mouth; the meditation of our heart; the thoughts of our minds and the motives of our inner being, so that we too are pleasing and acceptable in the sight of our precious Lord and Saviour.
My Prayer
Loving Father, I pray that the words of my mouth and the meditation of my heart may be always pleasing to You, for You are my rock and my redeemer, in Jesus name I pray, AMEN.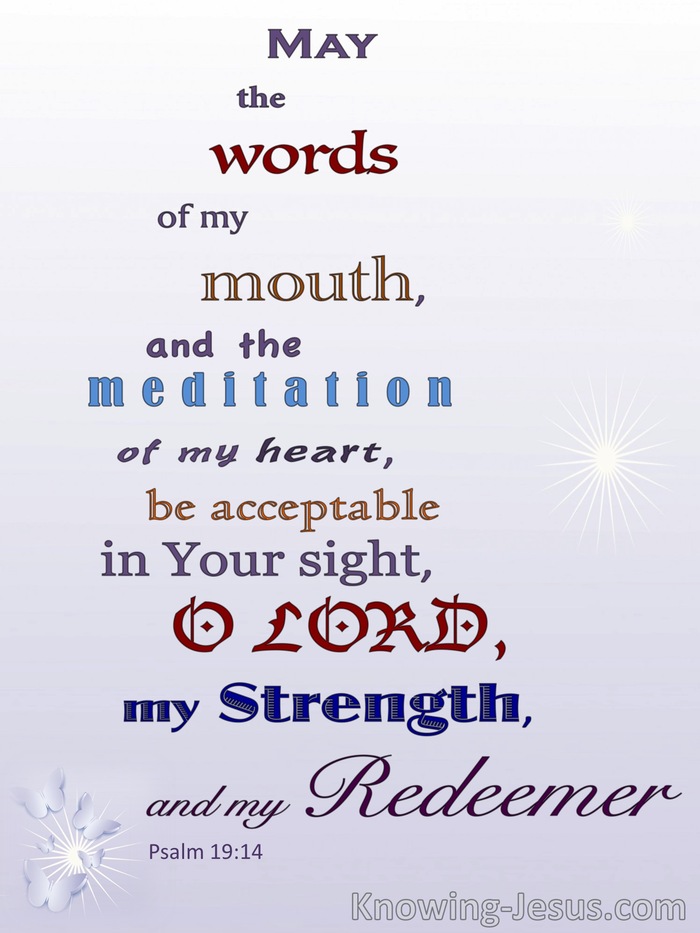 Choose a Verse from Psalm 19