May He give you what your heart desires and fulfill your whole purpose.

Psalm 20:4(HCSB)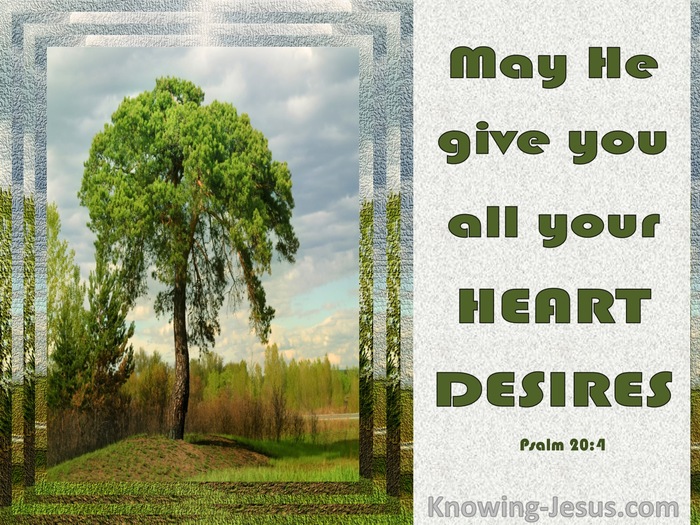 Verse Thoughts
This beautiful prayer is as much for the pauper as for the prince, for the preacher as for his pupil - for the aged saint as for the new-born babe in Christ. It was David that first lifted up these words of entreaty to the Father, as he sought to worship the Lord in spirit and truth and to offer his life as a living sacrifice, holy and acceptable to Him, for David knew and trusted the Lord His God - David was a man after God's own heart.
This entreating prayer, pleading for the heart's desire places God in His rightful place, as centre-piece of David's life's-purpose. He was not seeking after the selfish wants that are conceived in the natural mind of the unbeliever, nor praying for the fleshly desire formulated in the heart of the carnal Christian, who has chosen to be at enmity with his God.
The attitude that is reflected in David's beautiful, pleading prayer is of the spiritual man who seeks first the kingdom of God, and has chosen to have the King of righteousness, seated on the throne of his life. The heart that is seeking the Lord and His glory belongs to the one that is walking and living and praying in spirit and in truth, and such a one develops the mind of Christ, as the Holy Spirit teaches and trains and takes time to conform His child, day by day. into the very likeness of the Lord Jesus.
Let us also plead that the heart desires of others are gifted to them, as to ourselves - so that the will of the Father becomes the personal pleadings of our own hearts. When our will and purpose reflects the will and purpose of God, and His desires become the dear desire of our heart, so that the life that we live translates into His best will for us - we will live to His praise and glory and fulfil the whole purpose for which we were created.
My Prayer
Loving Father, so much of my life has been seeking my own desires, which are empty vessels, unless filled to the brim with You and with Your perfect will. May my heart and mind be increasingly conformed into the likeness of Christ and may I grow in grace, so that I am increasingly sensitive to Your desires and make them a part of the longing within me, in Jesus name I pray, AMEN.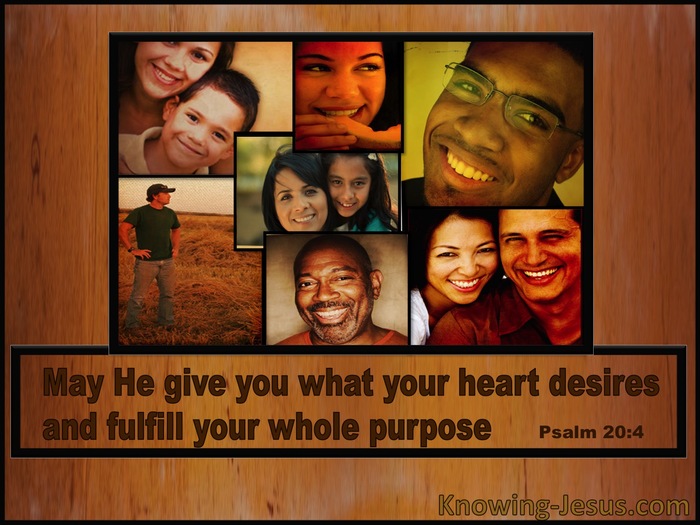 Choose a Verse from Psalm 20