For the LORD knows the way of the righteous, But the way of the wicked will perish.

Psalm 1:6(NASB)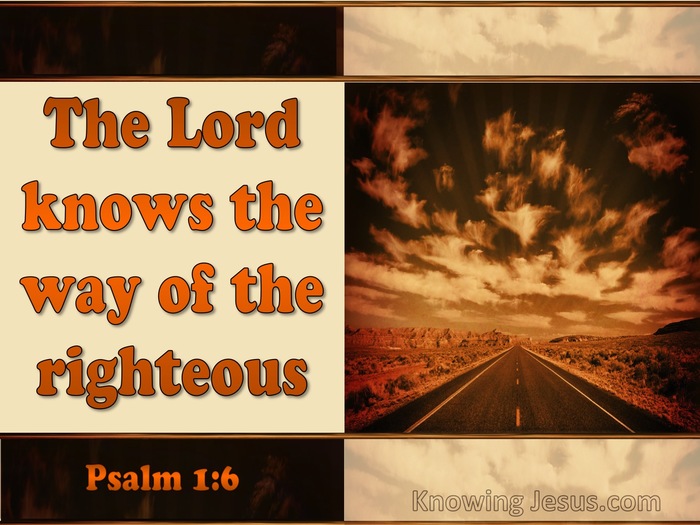 Verse Thoughts
The Lord Jesus fully understands the difficulties and dangers of living on this earth, for although He is truly God He is also fully Man and has walked His own earthly pathway. In His earthly walk we see Him weary and worn. We read of Him becoming tired, lonely and misunderstood. We see Him tempted and tried just as we are.. yet without sin. We see the Lord Jesus betrayed, suffering, condemned and denied, and we are comforted to know that our Kinsman-Redeemer knows the way we take and is our ever present help in time of trouble.
The Lord Jesus is a fitting companion to accompany each one of us, as we journey through this world - for He knows and understands all the circumstances of life that cast a shadow across our Christian walk - and He cares for each situational barb that wounds our soul so deeply.
Although true deity the Lord Jesus is also fully man.. and because He also walked this earth before us, He is well-able to sympathise with all our weaknesses and He understands all the problems and pain that we will face in our individual lives..
Although truly human our Saviour is also a member of the eternal Godhead, and He is the One that searches the heart and knows the way of the righteous. He not only is aware of all that is going on in our individual life but He has scheduled every day that passes - for our times are in His hands and He knows the path that we take.
The Lord knows the way of the righteous, for He knows all those that are his blood-bought children. The Lord knows those that have been covered in His own righteousness by faith – but the warning to the unsaved is that the way of the wicked will indeed perish. The Lord is intimately connected with each of His own.. for all who are saved by grace through faith are united in Him forever.. and His Holy Spirit is both with us and in us - but the way of the wicked will perish; the ungodly will be brought to destruction and the sinner will end up in ruin.
Praise God that Jesus knows the way we take and as we submit to the pain that God has permitted and the child-training that He has prepared, His plan and purpose is to draw us ever closer to Himself - until we can say with Job - I have heard of You with my ears but now I see You with a deep spiritual understanding.
My Prayer
Dear Lord Jesus, thank You that You are my worthy High Priest, and that You have walked this earthly pathway before me. Thank You that You know and care about all the difficulties I face in my earthly walk. Thank You for accompanying me through all the changing scenes of life and for being with me in every daily task I undertake. May I rest in Your love more each day in the assurance that You know the path I take and are bringing to completion the good work that You have started in me, in Jesus' name I pray. AMEN.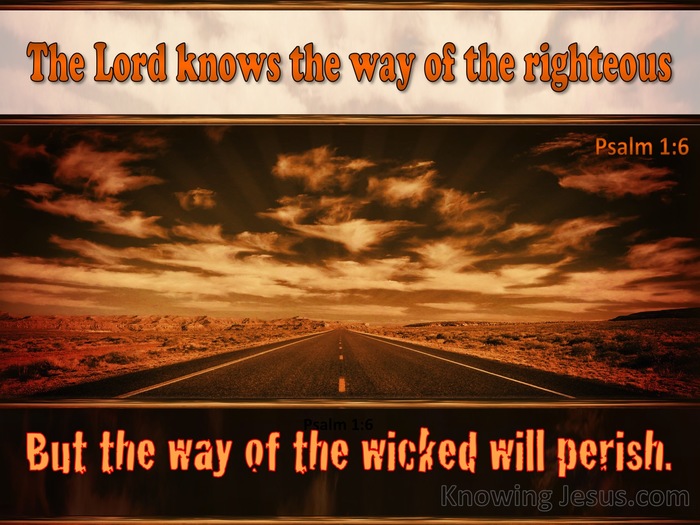 Choose a Verse from Psalm 1