But as for me, I shall sing of Your strength; Yes, I shall joyfully sing of Your lovingkindness in the morning, For You have been my stronghold And a refuge in the day of my distress.

Psalm 59:16(NASB)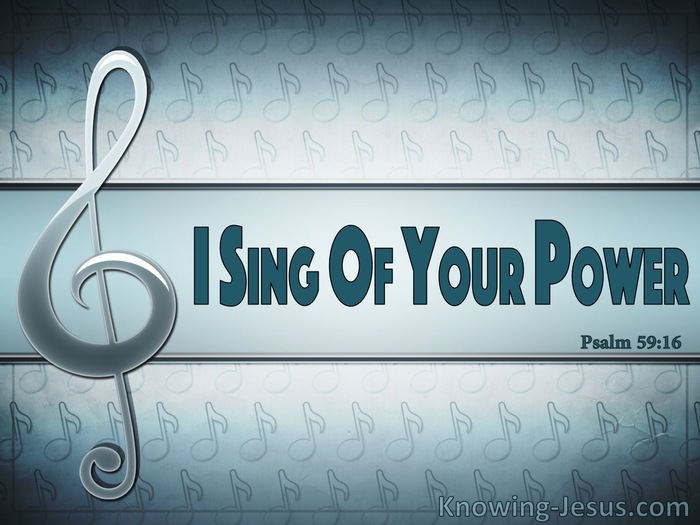 Verse Thoughts
Like so many of the psalms that mean so much to God's children this is one that outlines the many problems, mountainous difficulties, troublous times and numerous enemies that were surrounding David on every side. David opened up his heart to the Lord, and his urgent prayer for help and deliverance poured forth unabated. Opposition from without and fears from within were the keynote of this psalm, just as the external anxieties and internal struggles we face today, can similarly blight our own lives.

But after a catalogue of calamities and a long list of laments the glories of God started to stream into view as the psalmist suddenly chose to cast all his care upon the Lord, and lay all of his burdens down at His master's feet. David chose to call to mind the faithfulness of God and reflected on the strength of his powerful Lord, Whose loving-kindness lasts for a thousand generations and Whose great goodness and mercy will follow all who trust in Him, to our life's end.

Praising the Lord for all His past mercies and grace is indeed a wonderful way to remove all the enemies of doubt and fear that trouble our mind and linger in our hearts. And like so many of the psalms of David, that mean so much to us all, this is a reminder to glorify God with psalms and hymns and spiritual songs, lifting up our voices to the Lord in prayer and praise and making music in our heart to Him.

Let us with joyful abandon sing of God's power and unite together as we lift up holy hands to our faithful God in grateful praise. Let us sing aloud of His mercy in the morning and reflect on His loving-kindness all day long. Let us rejoice and be glad for God is our Defence and our Defender. He is our Refuge in the day of my trouble. From the rising of the sun to the going down of the same, His name is to be praised.
My Prayer
Thank You Father for the book of psalms that so often comforts my soul in difficult times.  Help me not to focus on life's external problems nor the internal doubts that enter my mind and cause me to fear, but help me to bring to mind Your precious promises of comfort and supply, and to cast all my burdens on You. Praise the Lord O my soul and all that is within me praise Your glorious name, in Jesus name I pray, AMEN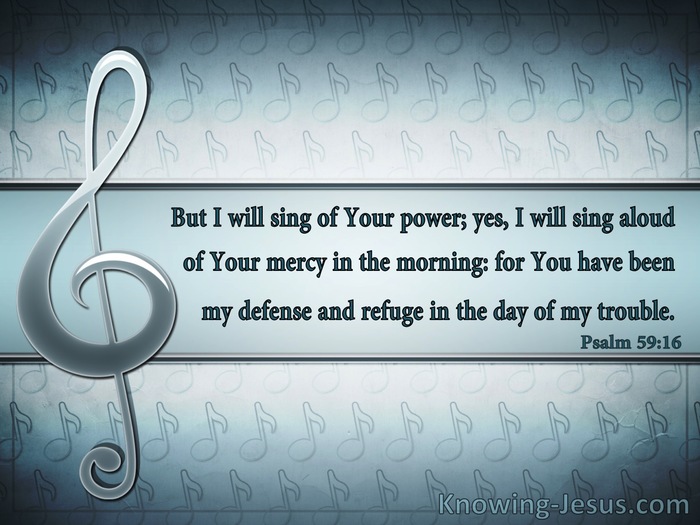 Choose a Verse from Psalm 59
1

2

3

4

5

6

7

8

9

10

11

12

13

14

15

16

17