I would have despaired unless I had believed that I would see the goodness of the LORD In the land of the living.

Psalm 27:13(NASB)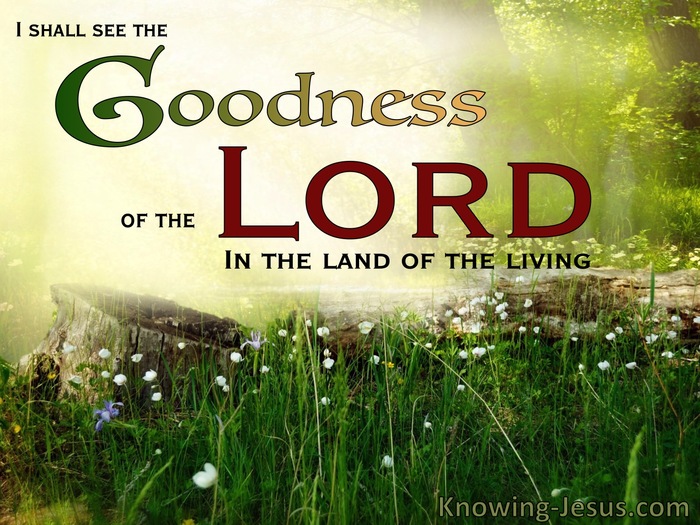 Verse Thoughts
These words were penned by the man that slew the great giant Goliath and who was honoured as one that slew his tens of thousands, yet he admits that without trust in his God, his heart would faint, and he would despair. Faith in the Lord was to David like a fragrant perfume that revived his weary soul or like a sweet honeycomb that re-energies the exhausted traveller. Hope in His God was to David a soothing ointment that eased his flagging spirit and a refreshing, heavenly hope that ministered to his fainting heart.
The eye of faith is to see beyond the visible and to distinguish the invisible. It is to maintain an unswerving assurance that the promises of God are all 'Yes' and 'Amen' in Christ Jesus our Lord. It is to trust the Lord our God with all our heart for things which we have hoped for and it is the evidence of the reality of things that can only be seen with the eye of faith. It is a knowledge of the holy and a peep into an eternal reality that is hidden from the unsaved man, but which is reserved for the children of God in heavenly places.
The strength of hope is to believe in the reality of the promises of God, which we have yet to see… and not simply to see with our eyes, that which we believe. This was the trait in David that delighted the Lord. And David proved once again to be a man after God's own heart, a man that trusted the word of the Lord, a man that not only expected God to supply all his needs according to His riches in glory, but to deliver him from the hands of all his enemies.
We too have a great hope in the God of our salvation and like David we too will please Him when we unreservedly trust in His Word and believe Him to reward all who diligently seek Him.
Today men's hearts are fearful of what is coming on the world, but we are not of this world that we should despair, for our faith is in the same God in Whom David trusted. Let us hold fast to the joy that is set before us and wait for that blessed Hope, the glorious appearing of our great God and saviour, the Lord Jesus Christ.
My Prayer
What a wonderfully faithful God You are to all who trust in Your name. Thank You for the example of men like David who remind us that Your goodness and mercy lasts from generation to generation and that all You have promised in Your Word is true and sure. I pray that I may be a man after God's own heart, who maintains my trust in You despite the difficult circumstances that I am facing, knowing that You will both provide for me and protect me as You have promised, in Jesus name I pray, AMEN.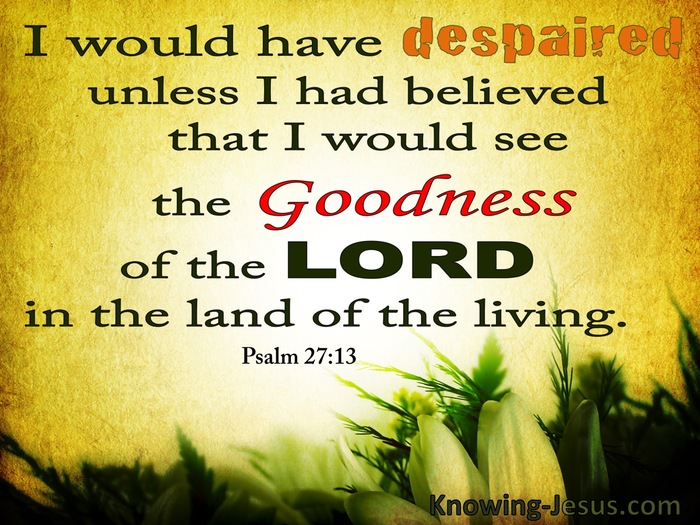 Choose a Verse from Psalm 27