Your word I have treasured in my heart, That I may not sin against You.

Psalm 119:11(NASB)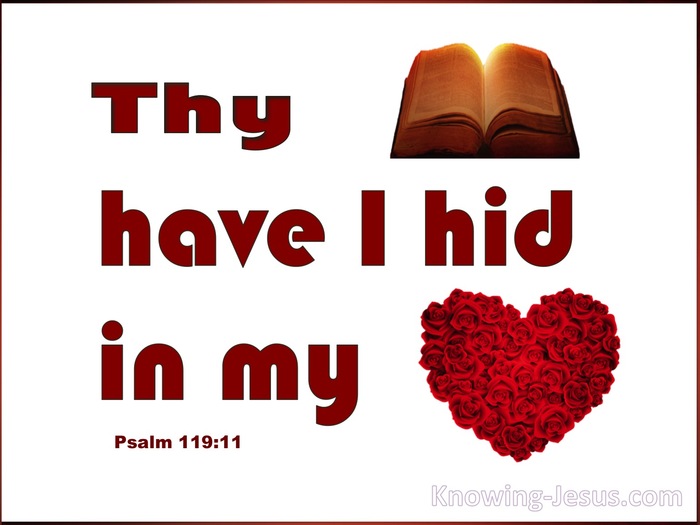 Verse Thoughts
The heart is that private place where inner secrets are stored, and personal treasures carefully hidden from the stare of all but our nearest and dearest - and none is so cherished or dependable as the precious Saviour of our soul. The heart is that concealed portion of our being where our choice thoughts, cherished wisdom and valued secrets are stored. It is the repository-box in which the Word of God and words from God are deposited for safe keeping and for righteous living.
The most precious book in the whole world is the Bible. It is the inspired Word of God and its content are profitable for godly living. Its benefits are manifold and profitable for teaching and for reproof - for correction and for training in righteousness, and the heart is the best place to store this heavenly treasure so that we might not sin against the Lord Who bought us with His own precious blood.
The heart is that extensive personal chamber of our innermost mind. It is the place in which to store the Word of God, which is our heavenly treasure, in time and eternity, where moth and rust will not spoil it and thieves can never break in to steal it. Nothing is of greater importance; nothing has more dynamic power and nothing compares with the eternal value of hiding God's word in our hearts - meditating; ruminating and memorising it content.
There is no more beneficial activity than reflecting, pondering and contemplating the Word of God, which is nourishment for the soul; rest for the weary; peace for the troubled; comfort for the afflicted and instruction for man of God. To do so will enable us to resist the accusations and taunts of the enemy; deter us from going astray; protect us from the ravages of sinning against the almighty God; guide us into all truth and instruct us righteous living.
Hiding the Word in our hearts is the most powerful antidote against sin and is the greatest influence to live a holy and perfect life. Day by day let us hide more of God's Word, deep within our hearts - for we desire to be holy as our Father in heaven is holy.
My Prayer
I praise You Lord for Your Word and the valuable lessons it contains. Thank You for protection it affords and the treasures that are hidden within. May Your Word become to me - my daily sustenance and my life-support, knowing that it alone can keep me from the evil one and enable me to live a life pleasing to You. I pray that day by day You will teach me and train me through Your Word, so that I do not go astray, and further I ask that You use me to guide others into You paths of peace. in Jesus name, AMEN.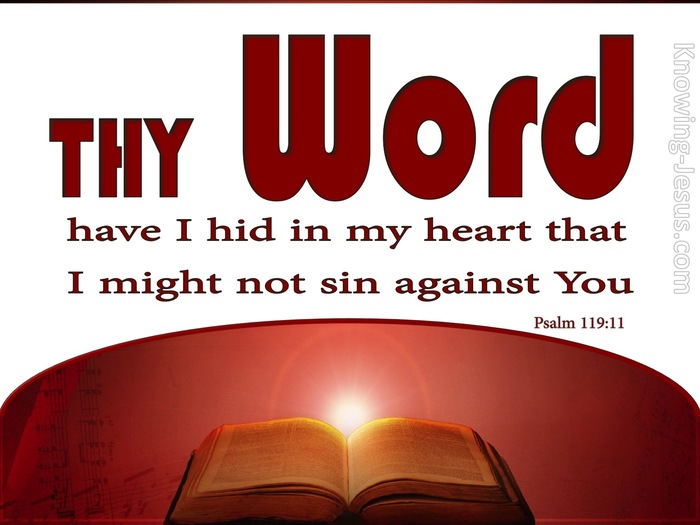 Choose a Verse from Psalm 119
1

2

3

4

5

6

7

8

9

10

11

12

13

14

15

16

17

18

19

20

21

22

23

24

25

26

27

28

29

30

31

32

33

34

35

36

37

38

39

40

41

42

43

44

45

46

47

48

49

50

51

52

53

54

55

56

57

58

59

60

61

62

63

64

65

66

67

68

69

70

71

72

73

74

75

76

77

78

79

80

81

82

83

84

85

86

87

88

89

90

91

92

93

94

95

96

97

98

99

100

101

102

103

104

105

106

107

108

109

110

111

112

113

114

115

116

117

118

119

120

121

122

123

124

125

126

127

128

129

130

131

132

133

134

135

136

137

138

139

140

141

142

143

144

145

146

147

148

149

150

151

152

153

154

155

156

157

158

159

160

161

162

163

164

165

166

167

168

169

170

171

172

173

174

175

176