He will cover you with his pinions, and under his wings you will find refuge; his faithfulness is a shield and buckler.

Psalm 91:4(ESV)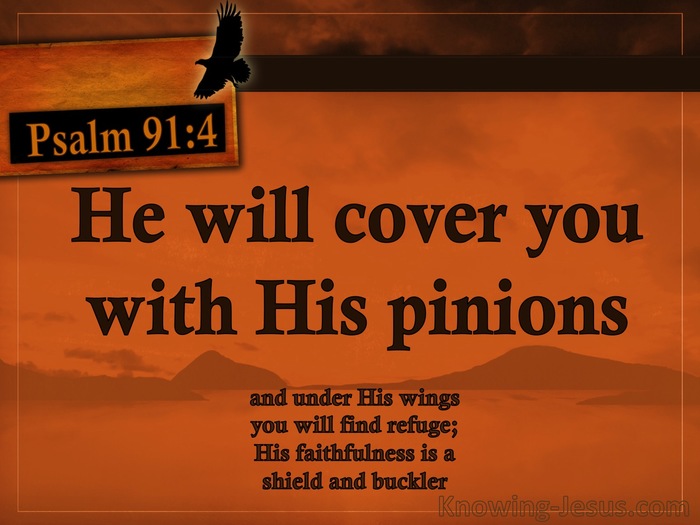 Verse Thoughts
There is true security in trusting in the almighty God of our salvation and along with the Psalmist we also can rejoice that we who dwell under the shelter of the Lord are shielded and protected under the shadow on His wing. He is our armed Safeguard, our strong Shield, our Defence and our Defender.
It is not due to our own merit that we have this wonderful assurance but because of His faithfulness towards the children of men. It is nothing to do with our own worthiness or virtue that we are furnished with heavenly privileges, but it is entirely founded on His faithfulness and grace for His mercies are new every morning and His promises never fail.
It is by grace through faith that we are saved and those who place their trust in God discover Him to be their shield and defender, their protection and covering.
Abide in Me and rest in My love is the dear desire of Christ for all those that are His. He knows the cruel enemy comes as a roaring lion and morphs into a snake in the grass, seeking by every means to attack, injure, harm and discourage those that are His children.
But God has promised to keep our spiritual life from all harm and danger, to protect our minds from discouragement and despair and to safeguard our hearts with His perfect peace. What tremendous security is ours by right - for we are accepted in the Beloved and are kept under His protection.
Christ is our promised Defence and He is our trustworthy Defender and His sure pledge rests in the One that is Faithful and True. He will cover us with His feathers; and we will take refuge under His wings. His faithfulness will be a protective shield for all who are His children – for His mercies are new every morning- great is His faithfulness.
My Prayer
Thank You Lord that no matter when circumstances invade my life, there is no evil or harm that the enemy can inflict on me, except as You permit for my eternal good and the glory of Your name. Thank You that as Your child my times are in Your hands and I pray that I may draw closer to You, day by day, and abide under the shadow of your protective wings of love - in Jesus' name I pray. AMEN.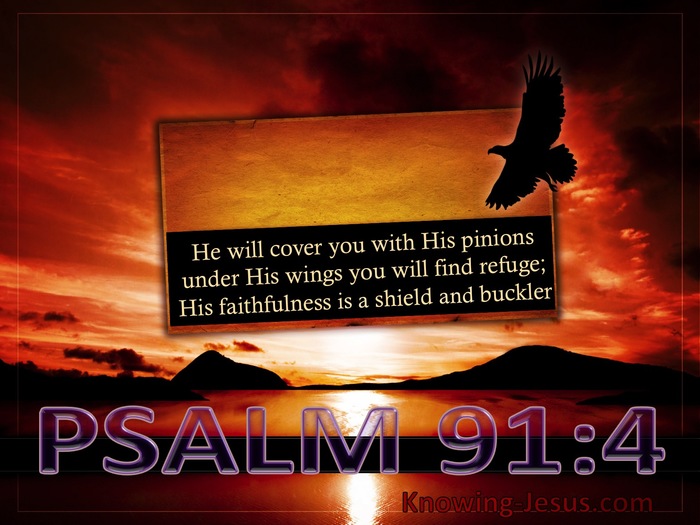 Choose a Verse from Psalm 91