There is none like you among the gods, O Lord, nor are there any works like yours.

Psalm 86:8(ESV)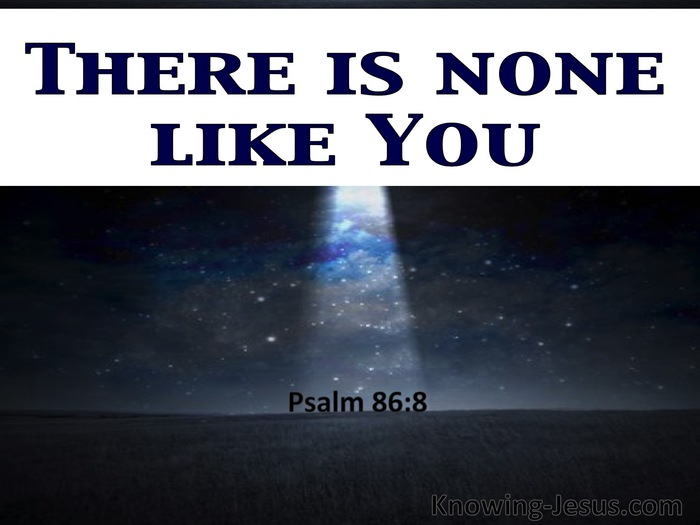 Verse Thoughts
There are those that presume in their foolish hearts to elevate themselves to become as little gods in their own, blinded eyes and bloodied hearts, which are puffed up with pride. There are those that reject the true and living God, preferring to transfer their mindless worship onto other created life-forms, which in their foolish hearts are elevated into the status of a god. But the Lord our God is One and He alone is worthy to receive true worship and praise and honour and glory, for He is unique in character; singular in integrity; distinct in graciousness; unparalleled in perfection and eternal in power.
The Lord our God is indeed One for He is pre-eminent, and He alone deserves our most humble thanks and our most devoted praise. He alone demands our most steadfast heart and our most trusting obedience - for He alone is worthy and to Him belongs all the kingdom; the power; the wisdom and the glory, both now and forever, amen.
The fool has said in His heart there is no God preferring to turn aside to worship the false idols of his own imagination and giving reverence to angelic beings, rulers of the earth and a plethora of equally false entities, but David in this Psalm demonstrates his trust in the Lord, for he has discovered Him to be good and gracious, faithful and forgiving and whether in prayer, praise or petition, David's song testifies that the Lord is God, and his hope is in Him alone - for there is no God like unto our God - nor are there any works that compare with His.
The Lord our God is Almighty, and He is incomparable in wisdom and eternal in graciousness - and the superabundance of His mighty works, which are multiplied in magnificence throughout the universe that He created, unite in a song of praise, to lift Him up and declare Him to be God of gods and Lord of lords - for there is no God among the gods that compared with the Lord, nor are there works that compare with those of our God.
My Prayer
Loving Father there is no one like You and I praise and worship You for Your love towards me. Help me to tear down any false god or foolish idol that I have created in my own imagination. You alone are worthy of my worship, praise and thanksgiving and I pray that the rest of my life may be set aside completely for You, in willing obedience and humble devotion – for Your praise and glory. This I ask in Jesus name, AMEN.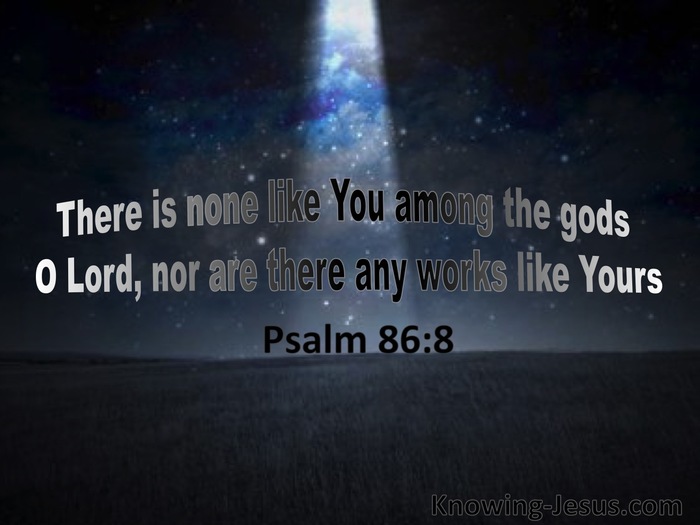 Choose a Verse from Psalm 86
1

2

3

4

5

6

7

8

9

10

11

12

13

14

15

16

17