Create in me a clean heart, O God; and renew a right spirit within me.

Psalm 51:10(KJV)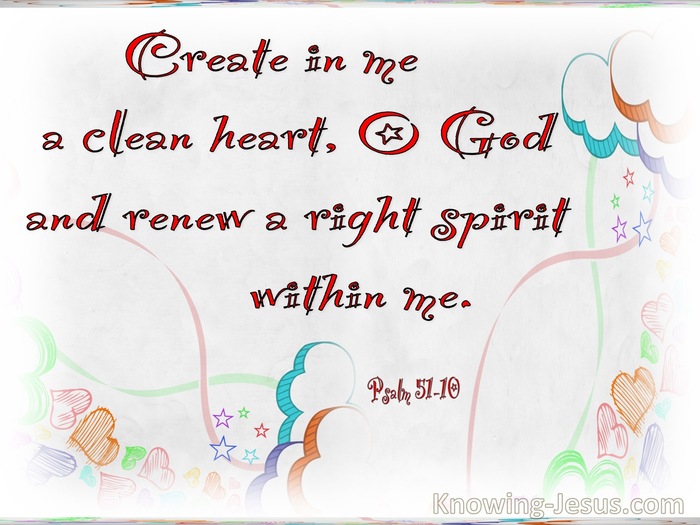 Verse Thoughts
The corrupted gene-pool from our first sinning parents has been passed down the generations of humankind for six-thousand long years, resulting in defilement, disease and death. Trying to mend the old creation in Adam is man's futile pursuit, but God will have no dealings with the sordid deeds of sinful man, nor the scarlet sin-nature that permeates every cell of our fallen souls.
The essence of pure humanity was breathed into the first Adam by God, and man became a living being. And God saw all He had made was very good. But Adam's whole nature became twisted and perverted due to sin and death, which entered into the equation of the entire gene-pool of humanity. Although created in God's image, the progeny of Adam are all begotten in his fallen state, which is riddled with sin and which ends in death.
It is only by the redeeming blood of the second Man, (the last-Adam), that we can be washed clean by the cleansing power of the pure water of God's Word. It is only through saving faith in the gospel of Christ that man can be made a new creature and be raised into newness of life. It is only by trusting in the death, burial and resurrection of the Lord Jesus that we can be re-born as a new-creation in Him, with a clean heart.
It was the heart-cry of David to have a clean heart for he recognised the stained condition of his fallen soul. He had sinned against the Lord for his own selfish gain and to gratify his own inner lusts. But because of his sin, David's delightful fellowship with God have been interrupted and his heart-conscience was deeply convicted. Although the bitter fruit of his sin-nature was murder and adultery, David realised that his ungodly acts were sins against the Lord, which had deeply grieved the Spirit of God.
Unlike the old testament saints, we never need fear that the Holy Spirit will depart from us, for since the cross He takes up permanent residence within each born-again believer. But like David we can resist, quench or even grieve the Spirit of God, but like David our insatiable cry should be, purify my heart so that increasingly my new born-again-life in Christ (my new-nature in Him) may be increasingly conformed into the image and likeness of the lovely Lord Jesus - until it is no longer I that live (my old sin-nature in Adam) but Christ (the new-life I have in Him) that lives in me and prompts me towards Christ-likeness.
My Prayer
Thank You Father that in Your wisdom You do not renew the old fallen sin-nature in Adam but transform the new, born-again life in Christ. Point out all the areas in my life that grieve or quench Your ongoing work within me and may Christ be seen in me as I submit to Your Spirit's leading and do only those things I hear from Him. In Christ's name I pray, AMEN.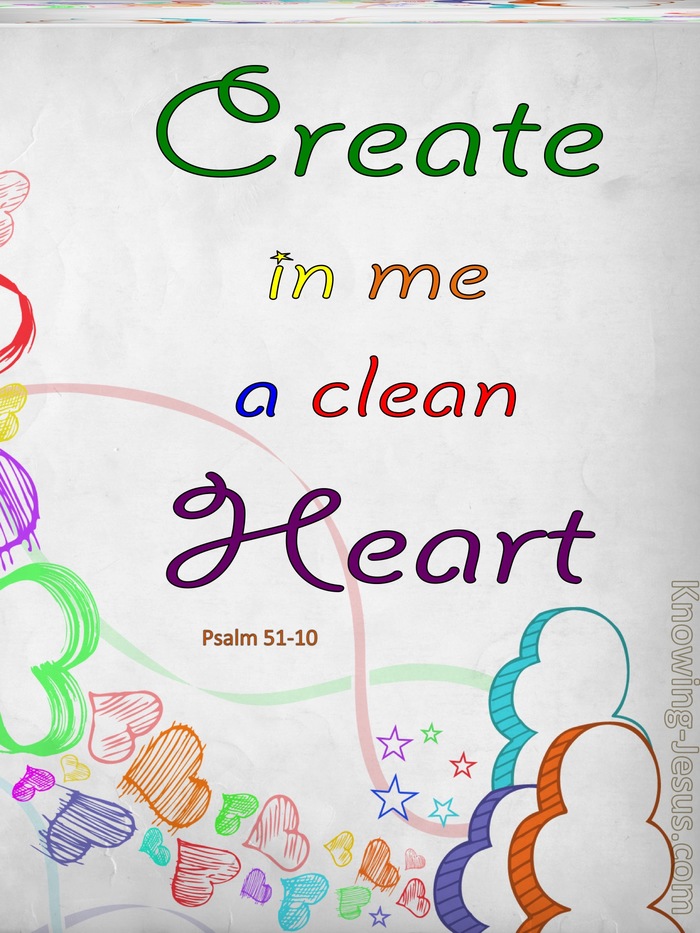 Choose a Verse from Psalm 51