Your lovingkindness, O LORD, extends to the heavens, Your faithfulness reaches to the skies.

Psalm 36:5(NASB)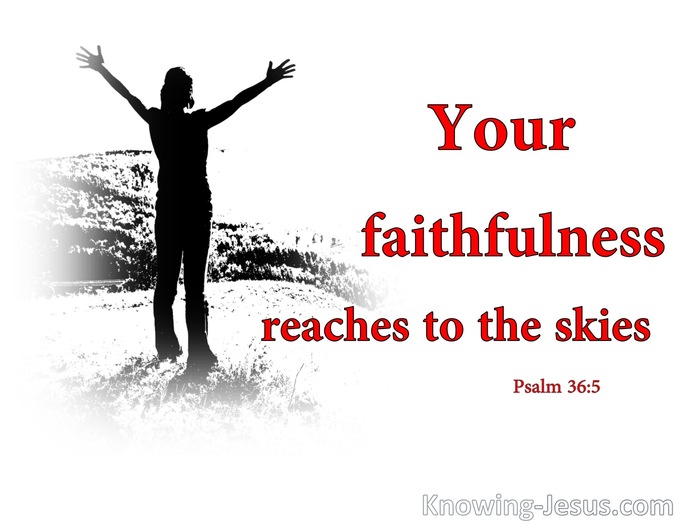 Verse Thoughts
The sad bitterness, revengeful thoughts and angry unforgiveness of wounded pride that so often flood the minds of sinful man, stands in stark contrast with the overflowing loving-kindness, compassionate-mercy and unmerited gracious-pardon that streamed from the veins of the Lord, when Christ stretched out His arms of love to whosoever will.
What comfort, rest and reassurance washes the hearts and minds of believers when reflecting on the overwhelming love of God and the depth and height and length and breadth to which His grace extends.
It dwarfs the mightiest mountains for it reaches into the highest heavens. It is compared with the bottomless depths of the deepest oceans, for His loving-faithfulness, righteousness and justice plummets to the very depths of our mean understanding and extends into the farthest reaches of our limited grasp.
This knowledge of God is not for the unregenerate for the wisdom of God is foolishness to them, indeed God's foolishness is wiser than man's wisdom, and His weakness is stronger than man's strength. But such understanding is sweetness and strength to the sanctified soul for true knowledge of the Holy-One is spiritually discerned.
The knowledge that comes from the Lord quickens our heart, comforts our soul, informs our thoughts and translates into joy our peace in believing.
My Prayer
When I reflect on Who You are my Lord and God it gives me a peep into the magnificence of Your person, Your will and Your character. Thank You for the many reassurances that You give my fainting soul in these precious promises about Your nature and character. Thank You for expressing Your love, faithfulness, might and justice in the Person of the Lord Jesus and for sending Him to die on the cross and to rise into newness of life so that I may be brought into fellowship with Yourself. May I be bold in sharing the truth of Your magnificence with all You put in my path today, in Jesus name I pray, AMEN.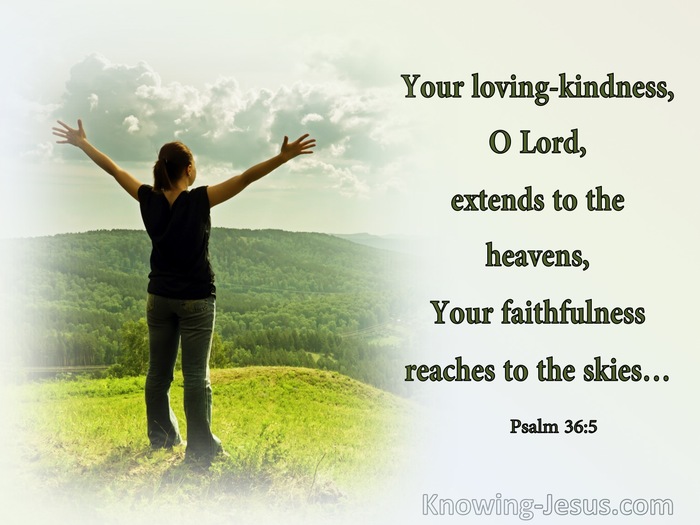 Choose a Verse from Psalm 36