I will greatly rejoice in the LORD, my soul shall be joyful in my God; for he hath clothed me with the garments of salvation, he hath covered me with the robe of righteousness, as a bridegroom decketh himself with ornaments, and as a bride adorneth herself with her jewels.

Isaiah 61:10(KJV)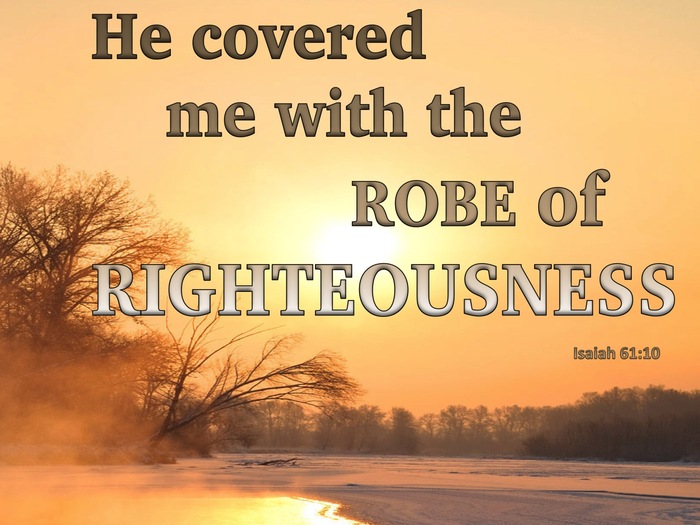 Verse Thoughts
It is Israel that is seen greatly rejoicing in this prophetic verse. It is the little remnant of faithful Israel who are depicted as rejoicing in the Lord because the time is coming when their promised Messiah will be 'tabernacling' among His people and will lead God's covenant nation in joyful praises to the Lord.
The nation of Israel will one day recognise the One Who was wounded for their transgressions and bruised for their iniquities. They will call out to the Lord in the day of their trouble and He will come in the clouds of heaven and every eye will see Him. And in that day Israel will greatly rejoice in the Lord – proclaiming: He has cleansed us of our sin, covered us in a robe of righteousness for His names sake and turned our desert into a garden - where every man will sit under His fig tree and the earth will be filled with the glory of God as the waters cover the sea.
Israel's night of weeping will be turned into a morning of great rejoicing and the little remnant will sing joyful songs of praise to the God of their fathers: I delight greatly in the LORD; my soul rejoices in my God. For he has clothed me with garments of salvation and arrayed me in a robe of His righteousness, as a bridegroom adorns his head like a priest, and as a bride adorns herself with her jewels.
And we who have already been saved by grace through faith in their Messiah rejoice today, for we too have been dressed in His heavenly mantle of salvation and we too have been draped in His royal robe of righteousness. We also greatly rejoice in the Lord our God and how our soul delights in the God of our salvation - Who has blessed us in the heavenly realms with every spiritual blessing in Christ - for He chose us in Him before the creation of the world, to be holy and blameless in His sight
What a cause of great joy and rejoicing to know that the gifts of God are glorious and without number. Who can count the many blessings that are showered down on each one of us day be day. He pours out gifts of the spirit and gifts for the soul - and all His many gifts and graces to us, are "yes" and "amen" in Christ.
But the greatest gift of all is the garment of His salvation and the clean robe of His own precious righteousness - for greater than the gifts of God is the Giver of all, Who has come to dwell in the hearts of all who believe on His name. May we cultivate an attitude of humble gratitude and joyful thanksgiving - for it is good to sing praises to the God of our salvation: for He hath clothed us with the garments of salvation, He hath covered us with His robe of righteousness.
My Prayer
Dear Lord Jesus, thank You for Your many gifts of pardon, peace and purity – of faith, hope and love. But above all we bless and thank You in Jesus name, for the greatest of all gifts, in the person of Your dearly beloved Son, Who died to redeem us with His precious blood, and Who lives forever within our hearts. AMEN.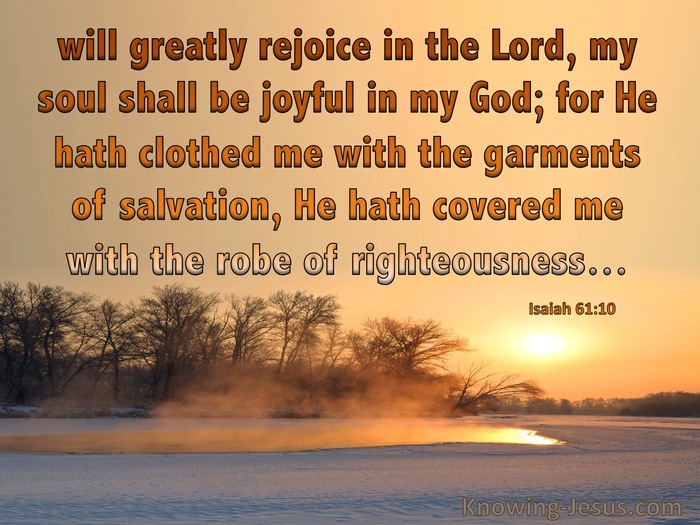 Choose a Verse from Isaiah 61