This people have I formed for myself: they shall shew forth my praise.

Isaiah 43:21(Darby)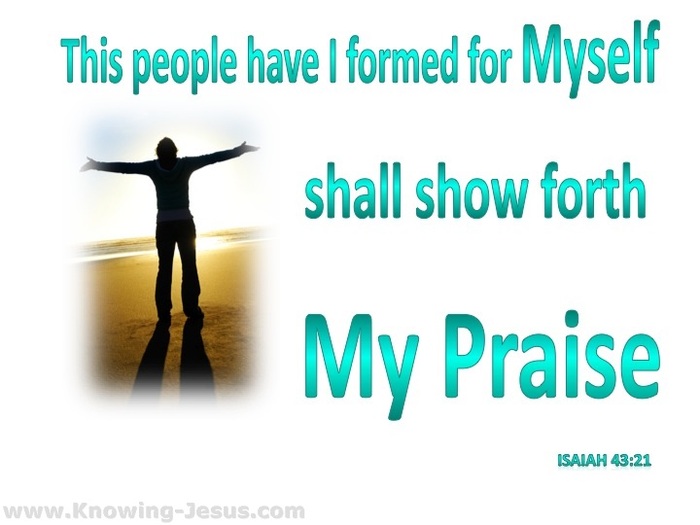 Verse Thoughts
What a wonderful example of God's loving-kindness and gracious patience towards His people is discovered in the pages of Isaiah, and what graphic details are painted of the suffering Servant, Who was despised and rejected of men. He was led as a lamb to the slaughter and was smitten of God for our sakes – so that by grace through faith in His sacrificial work on Calvary's cross, we might be brought back into fellowship with God, receive access to the throne of grace and be endowed with the riches of God's abundant blessings towards us – in Christ Jesus our Lord.

But we must never forget that Israel is the nation to whom Isaiah is speaking and although there is much that we can apply to our own lives and Christian walk, it was Israel who were given the command to sing forth the greatness of God to the surrounding nations. Israel was given the command to tell all people groups, who were dead in trespasses and sins, of God's gracious character and His redeeming love.

It was Israel that was called to proclaim to all people that their promised Messiah was the coming King of kings and Prince of Peace – and to Israel was given the responsibility of being a light to lighten the gentiles and a voice to tell the nations that He was the One Who was chosen by God to be the Saviour of the whole world and kinsman-Redeemer of all humanity.

But Israel rejected their heavenly calling and crucified their Messiah and the Lord called the Church into being to sing forth the greatness of God to the surrounding nations and to tell of the gracious character and redeeming love of Israel's rejected, kinsman-Redeemer – the Saviour of the world – Who loves Jew and Gentile alike, so that whoever calls on the name of the Lord by grace through faith in Christ will be saved.

We must never forget that Israel is the nation to whom Isaiah is speaking and we must always remember that the gifts and the calling of God are irrevocable. Israel, the nation that God formed for Himself, and will one day return to be His witnesses to the world and to show forth His praises to the nations.

Israel will one day fulfil their calling for they are precious in His sight. But for now, the church is called to be His witness to the world, for we too are a chosen people, a royal priesthood, a holy nation, a people belonging to God – so that we too may declare the praises of Him Who called us out of darkness into His marvellous light.
My Prayer
What a wonderful God You are, and I praise and thank You for Your grace, wisdom, love and patience towards me, which causes me to rejoice greatly. There is nothing to commend me to You, and yet You have called me and chosen me, saved me and fashioned me to be Your witness to this generation and in the world to come, life everlasting. Thank You for Your gracious character and redeeming love and may I sing forth Your praise, not only with my lips but in my life, for ever and ever, in Jesus name I pray, AMEN.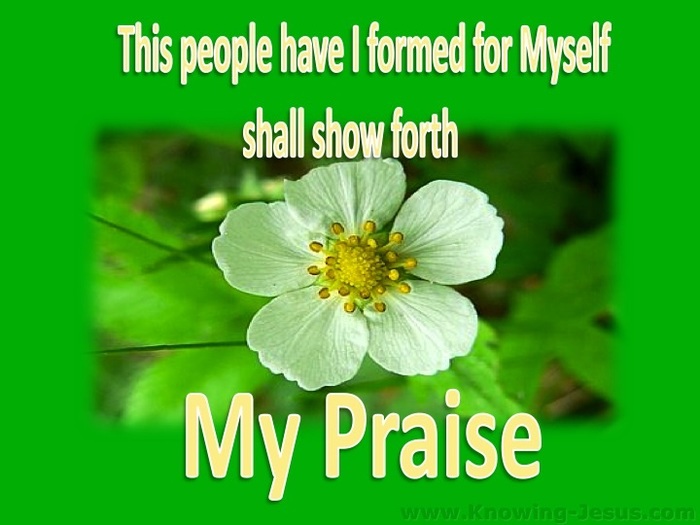 Choose a Verse from Isaiah 43