For all have sinned, and come short of the glory of God;

Romans 3:23(KJV)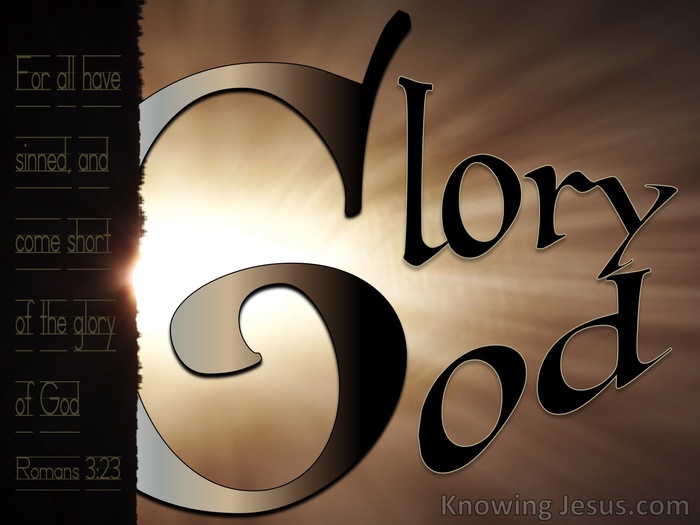 Verse Thoughts
This is quite a shocking concept to the human hearts for we all like to gloss over our faults and magnify our qualities, embellish our gifts and exaggerate our graces! Adam was the federal head of the entire human race, but when Adam sinned in the beautiful garden of Eden, all humanity was catapulted into sin, with an old sin nature that was predisposed to sinning. But when Adam ate of the tree of knowledge of good and evil.
The inner witness of man's conscience was activated. The inner witness of man's God-given conscience ensured that man knew what was wicked and evil, without the ability to resist it. And man knew what was good and righteous, without the capacity to perform it. Sin was imputed to mankind through Adam and sin is inherited from our earthly parents and we all commit sins – because we are all sinners by birth. How true that we are not sinners because we sin – we sin because we are sinners. And the wages of sin for fallen man is death.

The Jews in the time of Christ thought that their earthly lineage protected them from the guilt and penalty of sin in the same way that many Gentiles today consider that their particular level of morality, is sufficient to exempt them from any divine punishment.  But the written witness of God's perfect Law and the inner witness of man's God-given conscience, not only condemns the fallen sinner to death, but separates sinful man from their heavenly Creator – through time and into eternity. There is not one member of the human race that is able to measure up to the glory of God – and neither the perfect standard of the Mosaic Law nor the inner witness of the human conscience is able to justify a condemned sinner in the sight of a holy God.

God has set a sinless standard which is unattainable to all sinners leaving every member of the human race helpless, guilty, damned and deserving of both death, and eternal separation from our glorious Creator. But the amazing gospel of grace was entrusted to Paul, the apostle to the gentiles, who joyfully finishes this sentence of humanity's condemnation with a wonderful proclamation of God's eternal plan of salvation – that the guilty man is, justified freely by God's grace, which is based on the redemption price that was paid at Calvary: the shed blood of the sinless Son of God, Jesus Christ our God and Lord.
What an amazing outcome! What an amazing truth. What an amazing God!
My Prayer
How I praise and thank You Father that I who am a guilty sinner and deserving of death and eternal separation from You, have been justified freely by Your grace through the redemption that came through Christ Jesus our Lord, in Whose name I pray, AMEN.
Choose a Verse from Romans 3