And He said to His disciples, "For this reason I say to you, do not worry about your life, as to what you will eat; nor for your body, as to what you will put on.

Luke 12:22(NASB)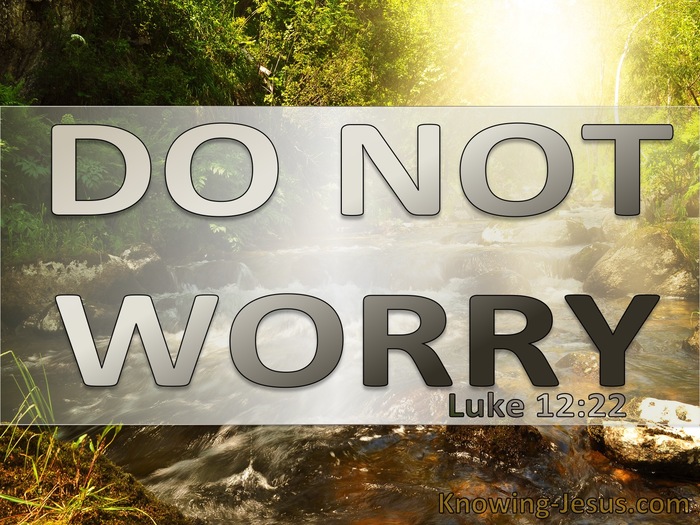 Verse Thoughts
Somehow in the human psyche we quite 'like' to have a few 'worries' under our belt. Everyone seems to be worried about this and that, about relationships and redundancies, life and living, health and happiness, food and finances, the government and global issues, sleeplessness, stress, strain and supply. But the Lord Jesus in this extended dialogue to his followers cautions of the foolishness of fretting and the futility of worry, for it results in a fruitless and defeated life.
However, the Lord's warning is of even greater significance, for to embrace worry instead of casting all our burdens upon the Lord, demonstrates a serious lack of faith in God's Word and His promise of provision, which discredits His holy character. Christ ends His dialogue with the accusation: 'Ye of little faith'. Worry is needless and wrong. Worry is futile and destructive. Worry discredits God and demonstrates unbelief. Worry in a single word is 'sin'.
And so, to His disciples Jesus gives the serious warning to: take no thought for your life, what ye shall eat; neither for the body, what ye shall put on. There is so much more to this life than the clothes that we wear, the work that we do, the food that we eat and the life that we live. The lilies are clothed, and the birds are fed and yet so often we who are made in His image and likeness and have been adopted into His heavenly family, fret and worry about so many things that should be handed to the Lord in prayer - no wonder His gently rebukes of our lack of trust in His provision.
Christ not only warns of the danger of following after the fluff and flitter of this world's dainties but points out that the over-anxious pursuit of the simple necessities of life, runs counter to an attitude of utter reliance on God for our daily provision. Faith in God and trust in His Word is the foundational principle that floods scripture from beginning to end. We will most likely will have to face increasing hardship in this sin-soaked world, and sometimes it is those very difficulties that God is using to conform us day by day into the likeness of His Son, Who had no-where to lay His head but spent His entire earthly life in utter trust in His Father.
My Prayer
Father I confess that I worry about many things rather than trusting Your Word implicitly. Help me to learn to cast all my cares upon You. As each worry and concern forms in my mind I pray that with Your help, I will look to You and hand over my anxious thoughts, knowing that You have promised to carry me through all of life's difficulties and provide for the needs of me and my family. Thank You for your goodness and grace and I pray in the name of Jesus, AMEN.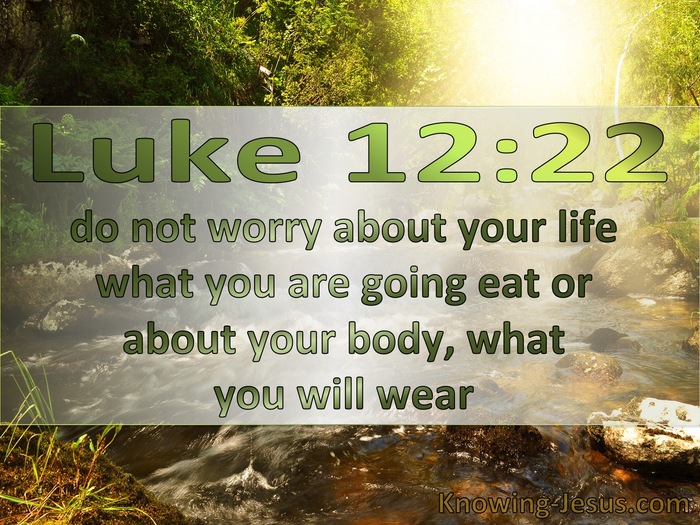 Choose a Verse from Luke 12