"Consider the lilies, how they grow: they neither toil nor spin; but I tell you, not even Solomon in all his glory clothed himself like one of these.

Luke 12:27(NASB)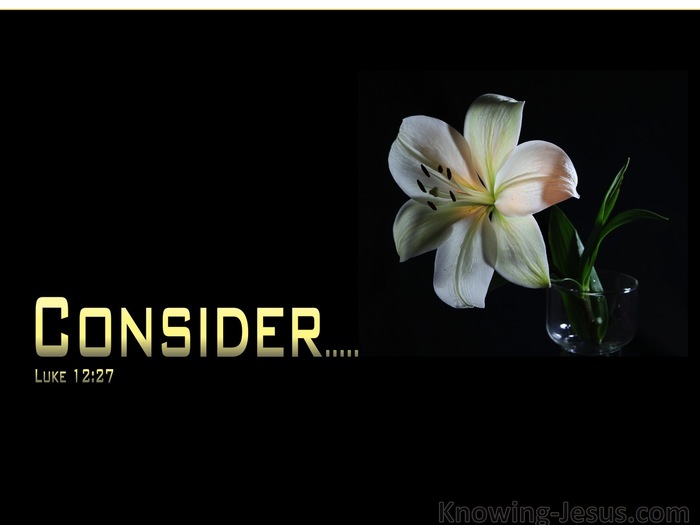 Verse Thoughts
So often we are told in scripture to consider We are called upon to consider; to contemplate; to reflect upon; to think about; to mull over and  to ponder. So often we are encouraged to consider the lilies! What could be simpler than to consider a little wayside flower that nods its head in the breezes and bends its stalk with the wind, before shedding its petals and hiding once again under its earthy bed, waiting for spring to call forth new shoots to declare yet again the glory of God.
We are to consider the simple needs of a little flower in comparison with our own necessities and needs - our own concerns, worries and fears. For needs often morph into anguished anxieties. But in considering the simple life-span of a wild little lily, whose covering dress simply points to God as its sole Creator-Provider, we are charged to cast our concerns and worries upon Him, rather than to engage in anxious pursuit of worldly wants and waste our strength in worrying about our daily needs.
The special interest and intricate care that God places on the beautiful adornment of a little wild, wayside flower which blossoms today, but tomorrow quickly fades and is cast into the oven and burnt in the noonday sun should create in us a confident trust in God's faithful provision for each of His children. If the natural beauty of the wild lilies-of-the-field rival the glories of Solomon, how much more will our heavenly Father be mindful of the everyday needs and the necessities of our daily lives.
The flowers of the field grow and are attired in simple beauty without care, labour, planning, management or emotional worries! How much more will our heavenly Father care for us, who are His blood-bought children. Fear displaces faith in God, unbelief deposes belief in His word and worry dislodges simple trust in God as our faithful Provider.
Let us replace fear with faith and reflect upon; think about; mull over; ponder; contemplate and simply consider -  the lilies and how they grow: they neither toil nor spin; but I tell you, not even Solomon in all his glory clothed himself like one of these.
My Prayer
Father God I thank You for the timely reminders throughout Your word that I am to cast all my concerns on You – all my physical, emotional, financial, relational, daily worries and fears – knowing that all things are under Your sovereign control. Thank You for providing all I have needed, and may I develop right-thinking in the everyday needs and necessities of life, knowing that every worry starts with a simple doubt against Your goodness – but that doubt is displaced when we trust in the Lord with all our heart and don't lean on our own understanding. Help me to trust you in all things – this I pray in Jesus name, AMEN.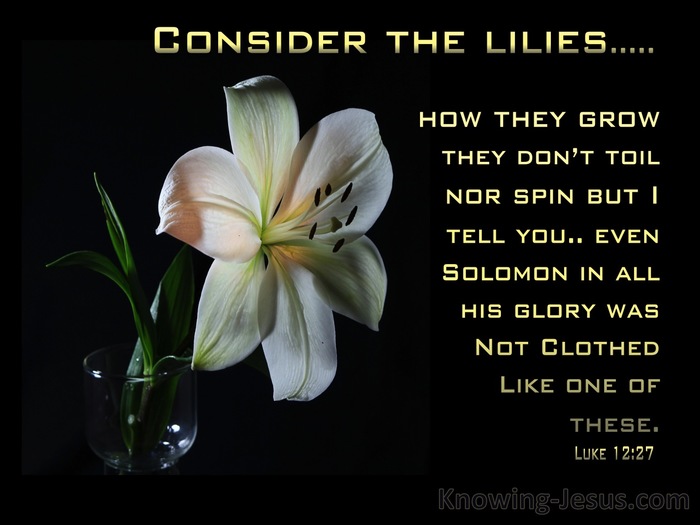 Choose a Verse from Luke 12