He will give you all you need from day to day if you make the Kingdom of God your primary concern.

Luke 12:31(NLT)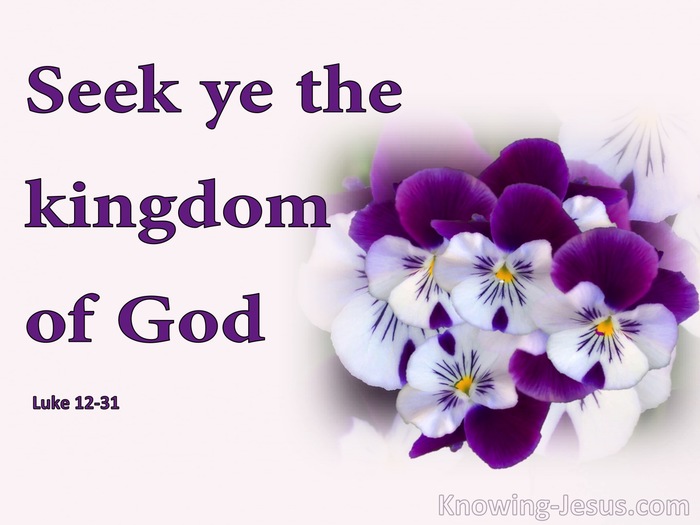 Verse Thoughts
In this everyday world of living, worry has become the accepted 'norm', but the truth of this verse is staggering, when once accepted and applied. Our minds should not cave in to life's problems and perplexities but should be cast upon the heavenly Man. Worry in its various guises and disguises is a sin that reflects unbelief in God's gracious promises of provision. How much more important that we should praise and thank God that we have been redeemed by the blood of the Lamb, from ALL sin as well as all our many sins.
Redemption is not only the forgiveness of sins committed in our bodies, but redemption is also being clothed with the righteousness of Christ. Redemption is becoming fully and increasingly identified with the very nature and thoughts of the Lord Jesus Himself. Redemption is becoming so fully identified with Christ Jesus our Lord, that we can say with Paul that the life that I now live in this mortal body is not me,. (my old former self, my old-man, my Adamic sin-nature), it is not me that lives and influences my life choices and thoughts, but the indwelling Spirit of Christ, which has sway and influence on my newly-born-again human spirit.
Jesus lived a life encompassed by problems and perplexities, sorrow and scorn, rejection, hatred and contempt, but Jesus lived a life that was totally free from worry. WHY? because His every thought was taken captive and immediately handed to the indwelling Holy Spirit so that worry was overtaken by dependence on God; a desire to do the will of the Father and a Spirit-led trust in God.
Rather than permitting our minds to be dragged down into the miry clay of the world through worry we should take every thought captive and allow our hearts to ascend into heavenly places in Christ. Rather than permitting worry to darken our heart and cloud our mind we should seek our Saviour, Christ Jesus our Lord with all of our heart and soul and mind and strength - for He is not only our Saviour and King but is the personification and embodiment of all that is the Kingdom of Heaven - for Christ is all in all.
Let us seek FIRST the kingdom of God and His righteousness, by setting the eyes of our heart on the beauty of the Lord Jesus and trusting Him in every circumstance of Life - for in so doing, worry will be replaced with the wisdom of the WORD.
My Prayer
Father You have shown me that every thought that comes into my mind can be turned to evil or good; worry and defeat; faith and victory. Thank You that I have access to the very mind of Christ through the indwelling Holy Spirit. Help me to take every thought captive by turning my heart to YOU Lord Jesus, for in seeking You I will be seeking Your kingdom and Your righteousness which is the bedrock of faith in God - in Jesus name I pray, AMEN.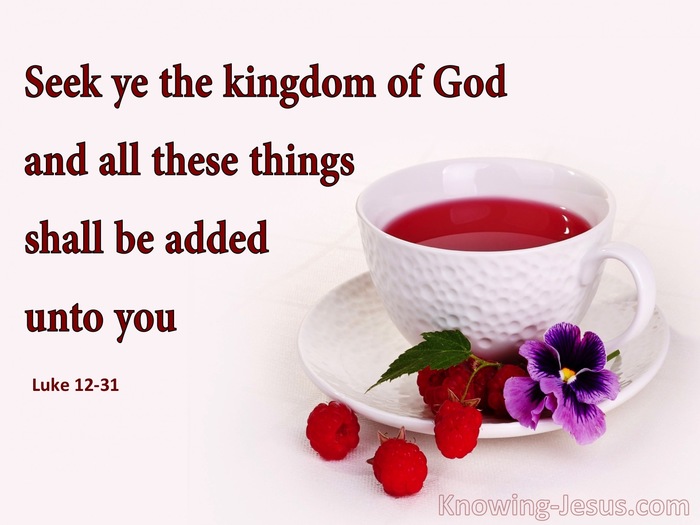 Choose a Verse from Luke 12