And coming in, he said to her, "Greetings, favored one! The Lord is with you."

Luke 1:28(NASB)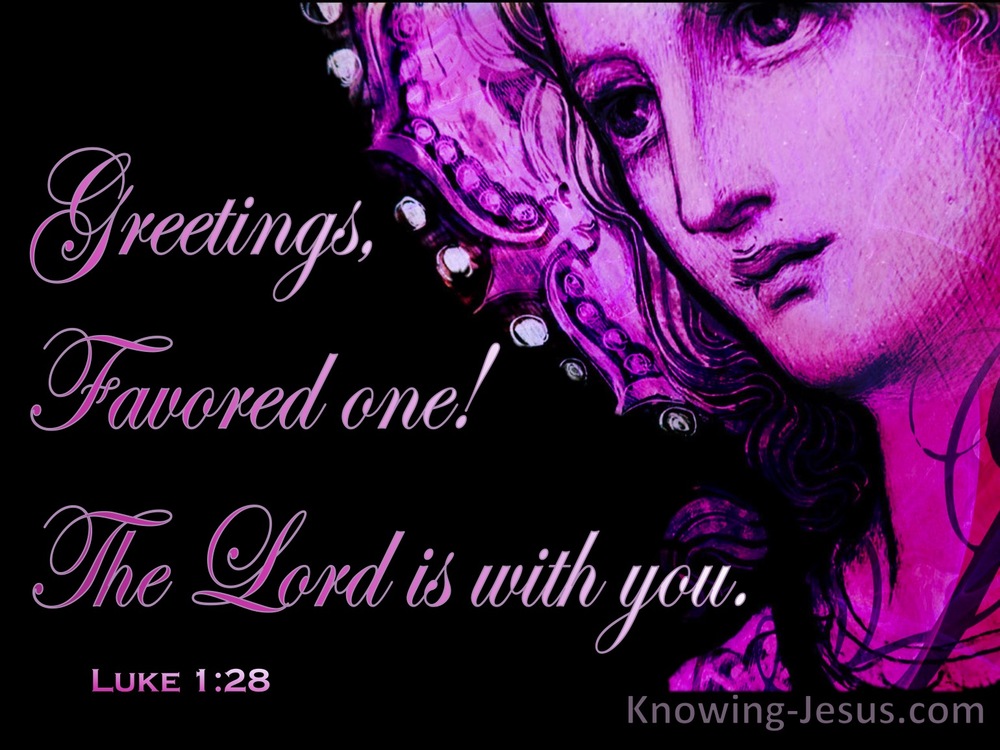 Verse Thoughts
Six months, after her cousin Elizabeth gave birth to John the Baptist, the angel Gabriel appeared once more, to bring Mary - a simple, young virgin, who lived in Nazareth, some astonishing news:  Greetings, favoured one, he announced, the Lord is with you.
The word, "favoured', is closely related to the noun, "grace.' Mary found favour with God - She found grace, in the eyes of the Lord. A special honour had been afforded to this young maiden, who was espoused to Joseph the carpenter - who was of the house and lineage of king David.
Mary had been chosen to be highly favoured by the God of Israel. She was a particular recipient of God's amazing grace. She was to be the human receptacle, who would bring the holy Son of God, into the world - to save His people from their sin. She was to be the human mother, of God's only begotten Son - and His name was to be Jesus, for He was to save His people from their sin. Mary was the mother of the Lord Jesus - the Son of God, Who is equal with the Father. However, she is NOT the 'mother of God', as is sometimes taught!
It was her Son, not Mary, to Whom angels were to bow down and worship with reverence and awe. Indeed, we note in this meeting, between Mary and Gabriel, that nowhere did this great angelic being offer worship to Mary, as is erroneously taught today. Though chosen to be the mother of humanities Saviour, she too was a sinner. Mary also needed salvation, which could only come through her firstborn Son.
Worship only God, was the quick rebuke, which the apostle John received when he fell down to worship at the feet of the angel, in the book of Revelation. I will not give My glory to another, nor is My praise to be offered to idols was the strong remonstration, the Lord gave to the prophet Isaiah.
Although Mary was highly favoured by the Lord and deserves the honour and respect that her position affords, she is not endowed with divine authority, nor is she a mediator between God and man - as certain denominations try to teach. The erroneously and unbiblical labell - "mother of God', must be firmly refuted.
Mary was indeed the blessed vessel that God used to bring forth the Son of His love into the world, and together with Mary we all look to Jesus as the Author and Finisher of our faith. My soul doth magnify the Lord and my spirit has rejoiced in God my Saviour, was her glorious song of rejoicing, which was recorded in Scripture - when she praised God, that the child in her womb, was indeed, her own God and Saviour.
Let us be careful not to make false and unbiblical claims about this young woman, who gained grace in the eyes of the Lord - but was not 'full of grace' as is sometimes taught. Praise God that she was used by Him to be the vessel He would use, to give birth to our Saviour, Jesus Christ. But let us also be careful to give this precious young virgin the honour and respect due to her position, for no doubt, the responsibility, heart-ache, confusion and even the disgrace, of being pregnant before her marriage to Joseph, must have affected her deeply, throughout her earthly life.
No doubt the words of Gabriel remained with Mary to her life's end: Greetings, favoured one! The Lord is with you. But those same words ring true for every born-again child of God, for by His grace the Lord is with us and we also are highly favoured, indeed.
My Prayer
Heavenly Father, thank You for giving us such a beautiful picture of the girl that You used to bring the Lord Jesus into the world. Thank You, that along with her, we are all enabled to rejoice in Jesus as our God and Saviour. Thank You that we have the indwelling Holy Spirit of Christ, and that He is with each one of us, every moment of the day. We rejoice with Mary and with all the saints in heaven that by His blood we are redeemed, and have become a new creation in Christ - in Whose name we pray, AMEN.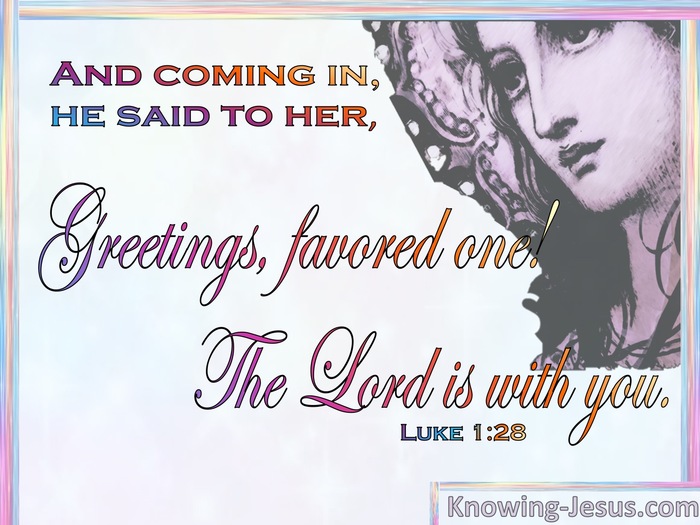 Choose a Verse from Luke 1