"I, the LORD, search the heart, I test the mind, Even to give to each man according to his ways, According to the results of his deeds.

Jeremiah 17:10(NASB)
Verse Thoughts
Jeremiah was not only described as the weeping prophet, because he lamented when he witnessed Israel's captivity, the burning of Jerusalem and the destruction of the Temple of God, but he is also identified as a solitary prophet. The Lord even forbade this man of God to have a wife, as a sign of the imminent disaster that was about to befall the nation.
Jeremiah's prophetic voice and his God-ordained ministry was rejected by kings, ridiculed by courtiers, contradicted by false prophets and ignored by the people. Although the northern nation of Israel had already fallen to Assyrian rule, Jeremiah's call for the southern kingdom of Judah, to repent of their sins and return to the Lord, was treated with scornful distain.
Jeremiah's ministry covered about 50 years.. much of which gave dire warning of God's inevitable judgement, on both the Gentile nations and the idolatrous people of Israel - if they did not repent of their apostasy.
Although his writing was not laid out chronologically, as one would expect.. nestled between his pronouncements of great judgement, are little sections of comfort and hope, which promise restoration to the people of Israel, and a full and final fulfilment of God's promise, to their forefather Abraham. Throughout the book of Jeremiah, we discover little assurances, that despite their disobedience, God would make a new covenant with the people of Israel and the house of Judah. Even though they broke the covenant they made with the Lord on mount Sinai - Jeremiah gives Israel little pockets of encouragement, throughout his book.
And so in a chapter that pronounces the destruction of Israel's wealth, the loss of their inheritance, enslavement to their enemies and a curse on the man who places his trust in the flesh, Jeremiah also gives wonderful reassurance, to the faithful remnant, who place their trust in the Lord - blessed is the man who trusts in the Lord, is Jeremiah's declaration from the almighty God, for he will be like a tree planted by the water, that extends its roots by a stream, and doesn't fear when the heat comes. He will bring forth beautiful green leaves, yield much fruit, and he will not be anxious in the year of drought.
Throughout the word of God, we discover that the Lord knows those that are His. He looks on the inside and reads the heart of a man. The Lord knows the thoughts of man's mind and the motivation of a man's heart. God can read the thoughts of our inner mind, and He knows all those who trust His Word, and have their heart turned towards Him.
Jeremiah reminded the faithful remnant of believing Israel..(and also those of us that are saved by grace, through faith in Christ Jesus our Lord), of the wonderful fact that the Lord, examines the heart, and give to each what they deserve, based on what they have done, by faith - I, the Lord search the heart. I, the Lord test the mind of man. I, the Lord even give to each one according to his ways, for I, the Lord reward man according to the results of his deeds.
God is righteous and must punish sin, but He is also faithful to fulfil His promises to those that love Him, and to reward those that place their trust in Him - for without faith it is impossible to please Him, for he who comes to God must believe that He is, and that He is a rewarder of those who diligently seek Him.
My Prayer
Heavenly Father, thank You that You are a faithful God to those that put their trust in You. Thank You for the prophecy of Jeremiah and for the knowledge that You are a righteous God, Who will not only reward those who trust in You, but will punish the wicked who reject Your long-suffering mercy and gracious offer of salvation. Search my heart I pray and help me to abide in Christ day by day, so that I may be like a tree that blossoms and buds, and brings forth much fruit, for Your praise and glory. This I ask in Jesus name, AMEN.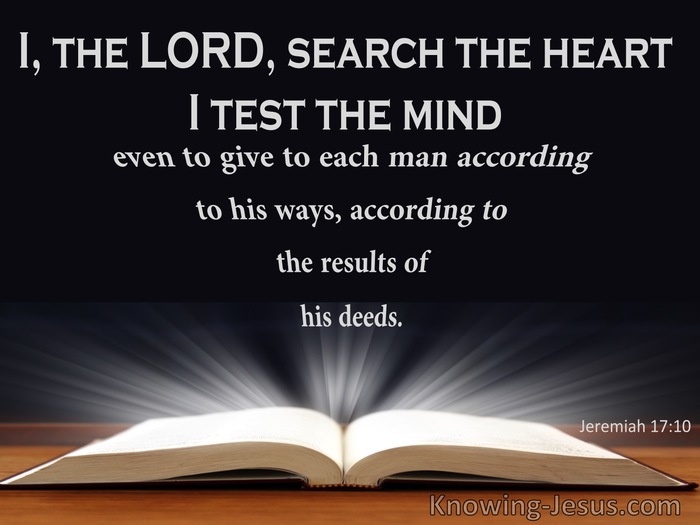 Choose a Verse from Jeremiah 17