saying with a loud voice, "Worthy is the Lamb that was slain to receive power and riches and wisdom and might and honor and glory and blessing."

Revelation 5:12(NASB)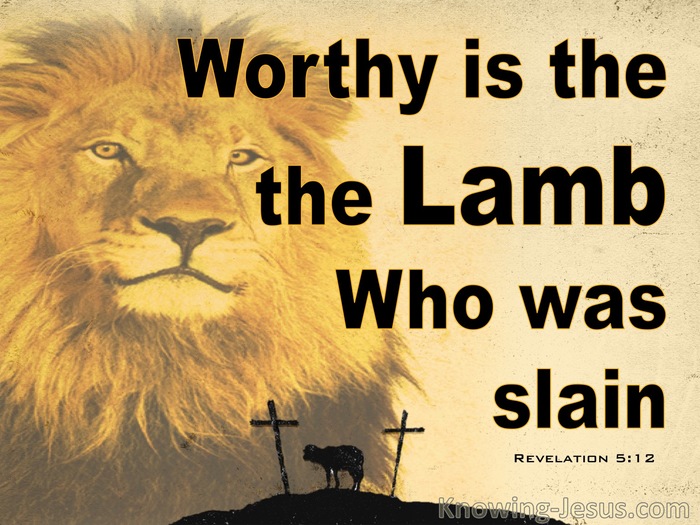 Verse Thoughts
The seven-fold glories in this verse are sung in resplendent praise and worship to the Lord Jesus Christ, Who is the precious Lamb of God. It is in praise of Him that this wonderful chorus of praise and worship will resound throughout the universe when the enemy of our soul has been routed and the gracious plans and wise purposes of God (in establishing Christ in His rightful position on the throne of the universe) will be finally accomplished.
You and I will be joining in that wonderful chorus of praise, which will overflow in our hearts forever and will re-echo throughout the eternity of eternities. HIS is the power, for He has authority over all dominions in heaven and on earth, for the Lamb of God is worthy of all praise. HIS are the abundant riches in the physical and spiritual realms, and the Lamb of God is deserving of all the honour and praise.
HIS is the gracious wisdom that has been translated into the plans and purposes of the triune God - Who through Christ's sacrifice on the cross, picked up sinful man and clothed him in His own garment of righteousness, for it is the Lamb that was slain, Who merits such glory for evermore. HIS is the great strength, for the perfect Lamb slain on Calvary's cross, has overcome the greatest enemies of humanity - and the last enemy to be destroyed is death.
Worthy is the Lamb who was slain--to receive power and riches and wisdom and strength and honour and glory and blessing. Yes, HIS is all the honour and He alone must be highly esteemed for the Lamb of God is most worthy of all praise.  Behold the Lamb of God.
Behold the Lamb of God Who takes away the sin of the world. Behold the Lamb of God Who was slain from the foundation of the world. To Him we ascribe our greatest praise - for behold I Am He that was dead, but I Am alive for evermore and I have the keys of death and hell.
My Prayer
We praise You Father God for the amazing grace that You have granted through the death and resurrection of the Lord Jesus Christ the Lamb that was slain for me. I am not worthy to pick up the crumbs under Your table yet You have clothed me in Your own righteousness – I praise Your name forevermore, and in the name of Jesus I offer this prayer to You, before Your throne of grace, AMEN.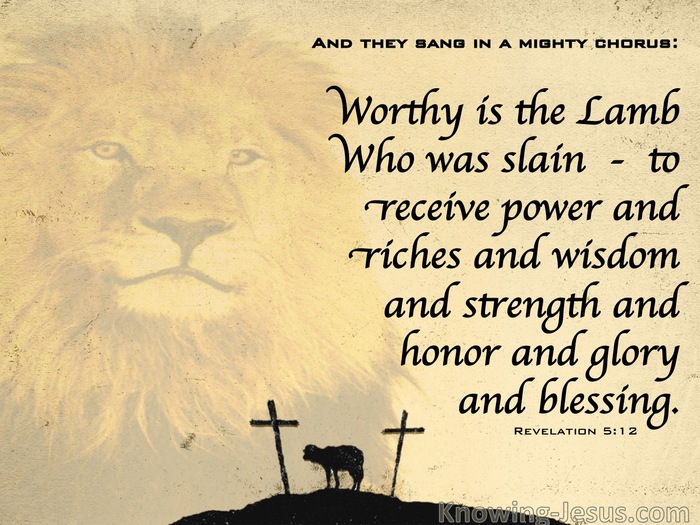 Choose a Verse from Revelation 5