"Ask, and it will be given to you; seek, and you will find; knock, and it will be opened to you.

Matthew 7:7(NASB)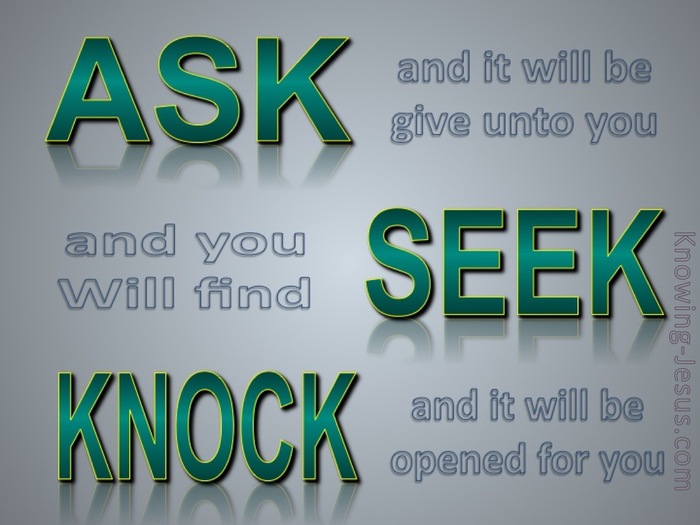 Verse Thoughts
We are to ask – we are to present our simple petitions to the One that has promised to provide all our needs and to comfort all our heartaches. We are to ask and keep on asking, with full assurance that He hears our cry and answers the prayer that is offered in faith, and in line with His will.

We are to seek – we are to apply ourselves diligently and earnestly, as we search out all the jewels and the little surprises that are hidden in the Word of God and which helps to establish our faith in our heavenly Father. Our seeking is designed by God to enable us to grow in grace and in a knowledge of Christ, for it is the glory of God to conceal a matter; but it is the glory of kings to search it out – and we who believe are of the glorious household of God. We are to seek and we are to keep on seeking, for the one who searches out the deep truths of God will not be disappointed but greatly rewarded.

We are to knock – we are to knock with patient endurance and steadfast perseverance even when the circumstances of life test our faith and seek to sap our strength. We are to knock and keep on knocking even when the prowling enemy of our soul tries to cause our hearts to faint. And even when God's presence seems very far removed from us we are to knock and knock and keep on knocking, for the testing of our faith develops perseverance, and such endurance must finish its work in us, so that we may become mature and complete, lacking nothing, as we tightly cling to His all-sufficiency.

Prayer is the greatest weapon that God has given to His children, let us use it often, let us use it wisely and let us use it to His praise and glory, in Jesus name.
My Prayer
Loving Father, thank You for breaking down the barrier between God and man. Help me to pray in accordance with Your will and may I learn to ask in faith, to seek You with all my heart and to knock with patient endurance, so that I may live according to Your will, this I ask in Jesus' name, AMEN.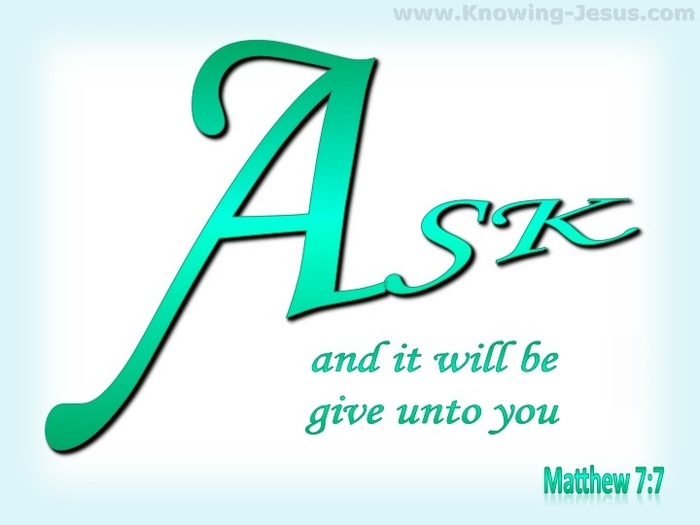 Choose a Verse from Matthew 7