yet I say to you that not even Solomon in all his glory clothed himself like one of these.

Matthew 6:29(NASB)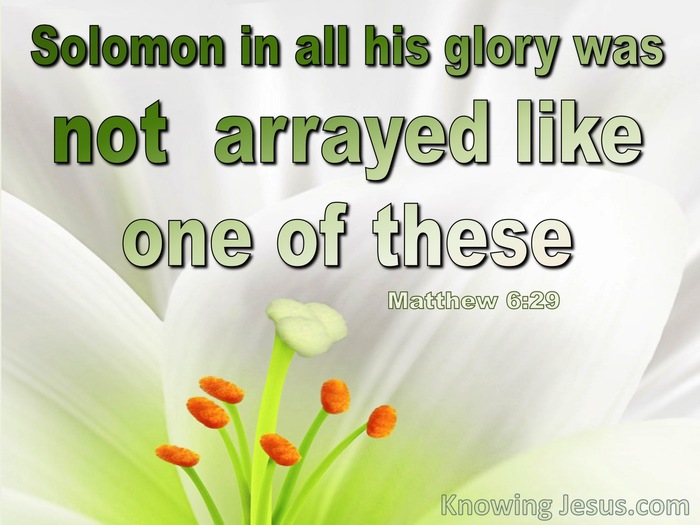 Verse Thoughts
When the Lord tried to get His point across to the disciples, (and to us), He often did it in the simplest of terms, with the use of unimportant, everyday mundane things. What is more insignificant than a little wayside flower – and yet Christ used a simple wild lily to demonstrate the gracious care and loving concern He has for each of His blood-bought children. Consider the lilies of the field. They neither no sew nor spin – but God tends for them. Will He not much more care for you?

At other times He would use great exaggeration and colourful examples to remind us of our heavenly Father's never-failing care, His unconditional love and His superabundant faithfulness towards all His children. Who could be more regal, wealthy, wise and elevated that the great king Solomon. Who could be grander than Solomon, the great King of Israel, whose wisdom, wealth, majesty and power exceeded the imagination of all who learned of his greatness – and yet Christ used this rich and famous king to illustrate His loving care and gracious concern for the needs and necessities of all His children, by saying that Solomon in all his glory and greatness was not dressed as beautifully as the simple, little, insignificant wayside flower.  If God takes such care to cloth a wild lily that grows along the side of the road – will He not much more clothe and care for His own children?

How often we need to be reminded that He cares for the little things in our lives as well as the big things, and will provide all we need, according to the riches of His grace. How frequently we need to remind ourselves to cast all our cares upon Him for His arms are holding and protecting us and His grace is always sufficient for the task we face. How often we need to remember His loving provision and tender-mercies towards us all.

What could seem less significant than a broken reed, a tiny sparrow, a widow's mite or a little wayside flower, but God takes and uses such insignificant, everyday mundane things and then He contrasts them with the opulence of the wisest, wealthiest man that ever lived in order to demonstrate His unconditional love and superabundant grace towards us – reminding us that He knows us personally, loves us unconditionally and cares for each of us individually.

When the Lord Jesus takes such care to get His point across to us, perhaps we need to take note of what He is saying. He knows our needs and He will provide all we need. He simply wants us to trust His Word, cast our care upon Him and not worry.
My Prayer
Loving Father, too often I hand over my problems to You and then take them back and start to worry again. Thank You for the many reminders in Your Word that You are my Provider and that Your grace is sufficient for all I face today. Father today I take each of my cares and every concern and give them all to You – and thank You that Your promises are 'yes' and 'amen' in Jesus, in Whose name I pray, AMEN.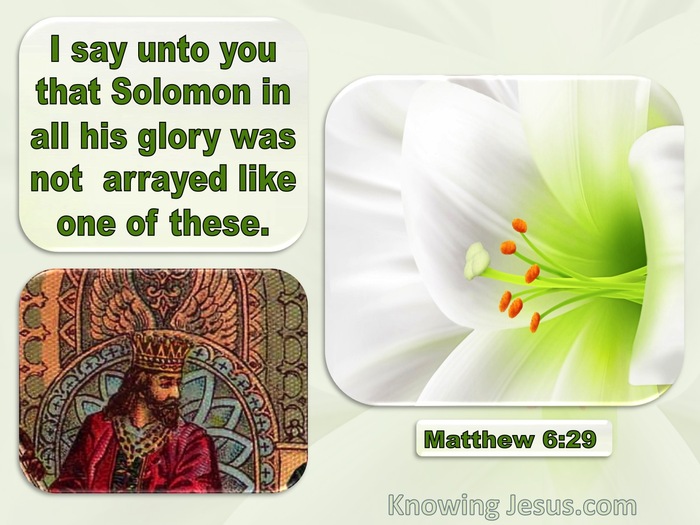 Choose a Verse from Matthew 6