Therefore, since we have so great a cloud of witnesses surrounding us, let us also lay aside every encumbrance and the sin which so easily entangles us, and let us run with endurance the race that is set before us,

Hebrews 12:1(NASB)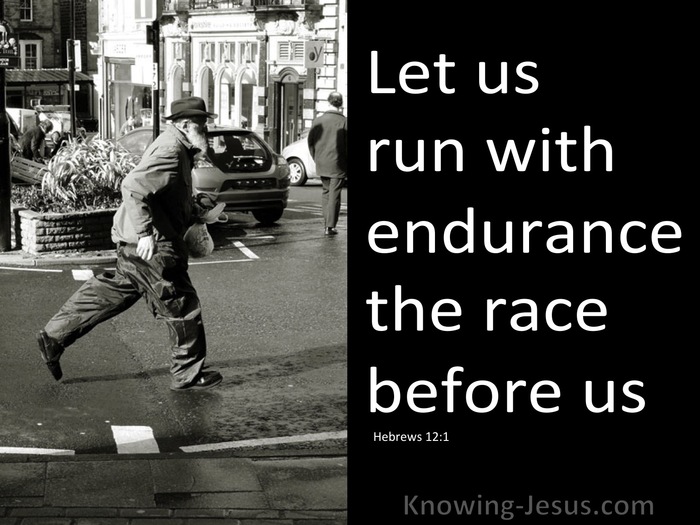 Verse Thoughts
Hebrews gives us a wonderful list of people who are commended by God for their faith. It is a catalogue of men and women, named and unnamed, that stand as witnesses to lives that honoured the Lord – and who like Abraham looked for a city, whose Builder and Maker is God. They are called "a great cloud of witnesses", and indeed their lives demonstrate a trust in God that stands as a wonderful testimony and great encouragement for us – to run the race that is set before us, as we look to Jesus the Author and Finisher of our faith.

Despite the many trials and tribulations they were called upon to face, these men and women obtained a good testimony through faith. They finished the race that was set before them having set aside the sin which plagues so many Christians – the sin of unbelief. And as we look at their example, we are challenged in our own race through life, to discard anything and everything that might impede our progress or hinders our witness, as we press towards to goal for the upward call of God in Christ Jesus.

It is the sin of unbelief that can so easily ensnare and entangle us, for unbelief can become an unbearable weight on our heart, which allows fear to choke our faith. When trust in God begins to falter, it is unbelief that hampers our progress; renders us impotent in our Christian walk and taints our testimony. How important therefore, that as an act of will, we seek to lay aside all the seeds of doubt, and everything that ensnares and hinders us, so that we may run with endurance the race that is set before us,

During those times when we are tempted to feel that we are the only one that is facing difficult challenges in life, it is good to reflect on that great cloud of witnesses who trusted God despite the enormous trials and tribulations they were called upon to face in their uphill walk of faith.

Life is a race, which has a finishing line and we are exhorted to set the eyes of our hearts and the determination of our spirits on to the goal of our calling – and that goal is a Person, our Lord and Saviour Jesus Christ.

Knowing that we too are following in the footsteps of such a great a cloud of witnesses, let us endeavour to lay aside every weight that hinders our personal Christian life so that we do not fall into the sin of unbelief, which can so easily beset us in the race of life – and let us run with patient endurance the race that is set before us, looking to JESUS, the Author and Finisher of our faith.
My Prayer
Loving Father thank You for the many people of faith in scripture who bear witness that Your Word is trustworthy and true. In the trials and difficulties of my life, help me to keep trusting You like this great cloud of witnesses. Help me to discard every encumbrance that may hinder my Christian progress and witness, and give me perseverance I pray, as I press towards the final goal. May I patiently endure all the obstacles in life in the power of the Holy Spirit and help me to be a living witness to Your Word of truth, in Jesus name I pray, AMEN.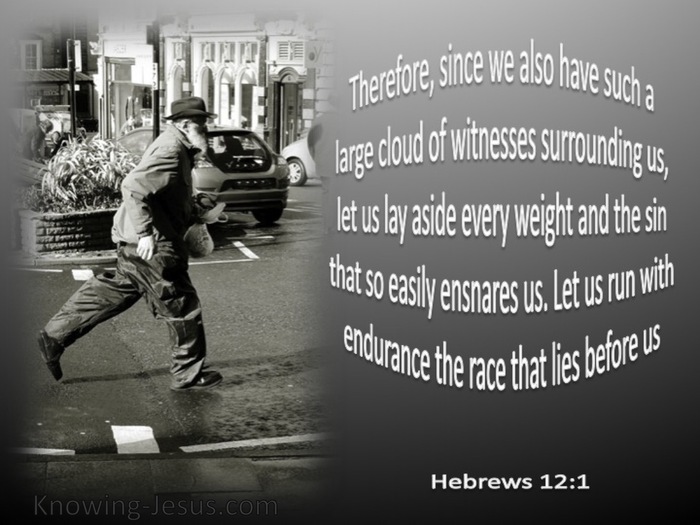 Choose a Verse from Hebrews 12