Pursue peace with all, and holiness, without which no one shall see the Lord:

Hebrews 12:14(Darby)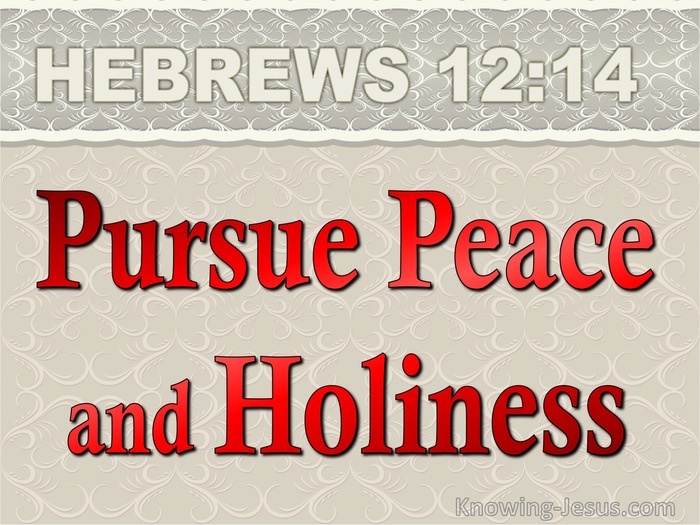 Verse Thoughts
Peace and holiness are to be our spiritual condition as well as our spiritual position. We are at peace with God because He forgave us our sins, but we are also to make every effort to maintain the inner peace of God, that surpasses human understanding - when our mind is stayed in Him and as we turn the eyes of our heart upon Jesus and fix the thoughts of our minds on Him.
Because we are His children by faith we have been permanently positioned in-Christ, which has given us peace with God; the forgiveness of sins and life everlasting. But now that we have been saved by grace through faith in Him we are to strive to live in peace with all people and to pursue godly consecration and holiness of heart - without which, we are told, no one will ever see the Lord.
We are called to be holy and set apart unto Him for God is holy. We are commanded to be holy and consecrated unto the Lord in body, soul and in spirit. We are instructed to be holy in all our words and in all our ways – we are directed to be holy and blameless in His sight, and to pursue after peace and holiness: in love.
We are holy unto the Lord because we are set aside by God and positioned in heavenly places in Christ and we are to be holy because the Lord our God is Holy. We are to be holy by setting ourselves apart for Him, as a living sacrifice, holy and acceptable unto the Lord - surrendering to Him every corner of our lives and every attitude of our being – to His praise and glory – through time and into eternity.
My Prayer
Father, thank You that I have been redeemed, sanctified and set apart by You because I am Your blood-bought child. My dear desire is that my life is truly holy and set apart for You, in thought, word and deed. I have so often spotted my garments by pursuing things other than Your perfect peace, Your holy purity and Your godly will for my life. Help me to keep the eyes of my heart fixed on Jesus and I pray that the life that I now live in this body may reflect my heavenly position in Christ - in Whose name I pray. AMEN.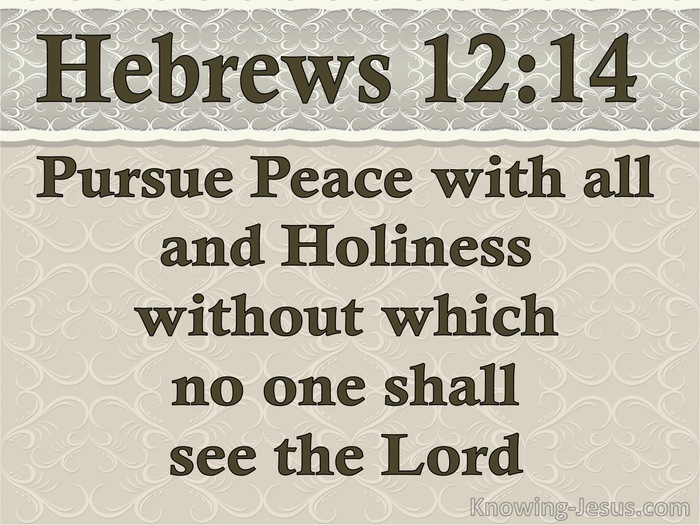 Choose a Verse from Hebrews 12