Blessed be the God and Father of our Lord Jesus Christ, who has blessed us with every spiritual blessing in the heavenly places in Christ,

Ephesians 1:3(NASB)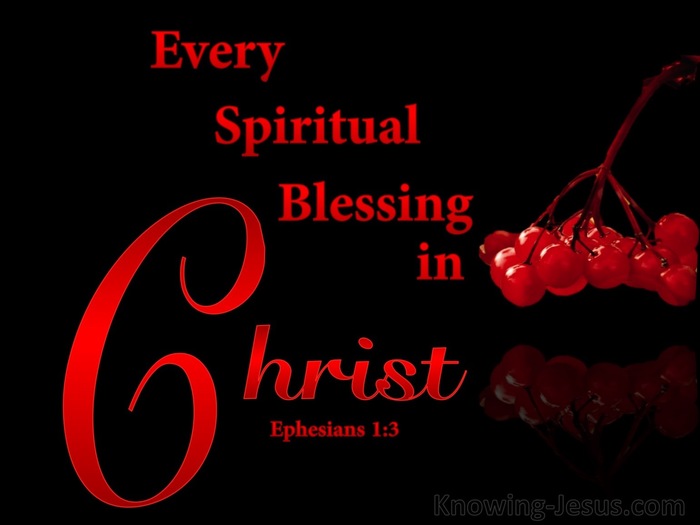 Verse Thoughts
It is God the Father of our Lord Jesus Christ Who is to be highly praised, for He gave His only begotten Son to be born into this human race and to die for our sins, so that we might be accepted in the Beloved by faith in His saving work at Calvary and be seated together with Him in heavenly places. We are blessed in superlative-abundance by God the Father, and we are blessed by unconditional-grace through God the Son, our Mediator. We are indeed doubly blessed with all spiritual blessings by: "My Father and your Father, My and your God".
We in turn are to praise and glorify the One Who so generously pours out such unimaginable and eternal blessings, on all who trust in the anointed Son of His love. Many temporal blessings are given to humanity, for God causes His sun to rise on the evil and on the good alike, sending rain on the just and on the unjust.
But we are charged to set our hearts on things above, for the spiritual blessings that are already ours, have been given in such superlative-abundance and unconditional-grace to all who have trusted Christ for salvation, and are securely fixed in heavenly places in Christ - Who is seated at the right hand of the Father in glory everlasting, and we are eternally united together in Him.
Every good and perfect gift comes to us from the Father of lights, and Christ is the greatest of all Gifts to be bestowed upon humanity. We are His spiritual children and all the spiritual blessings we have received from God, are contained within Christ Jesus.
The spiritual blessings of which Paul talks in this passage are already ours, for we have already been given all that we need for life and godliness - and every spiritual blessing and every spiritual enrichment has already been poured out upon us in superlative-abundance by our heavenly Father - Blessed be the God and Father of our Lord Jesus Christ, Who has blessed us with every spiritual blessing in the heavenly places, in Christ.
My Prayer
We unite our voices in hymns of praise for all the spiritual blessings You have poured out on all who trust in the lovely Lord Jesus for salvation. Thank You that we have been born of the Spirit of God, Who has placed us in Christ, and seated us together with Him in heavenly places. To You be all might and majesty, dominion and praise, glory and honour and blessing for ever and ever, AMEN.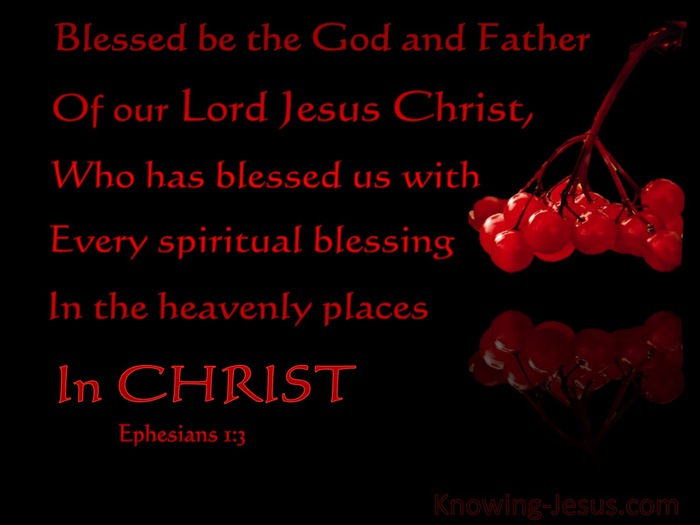 Choose a Verse from Ephesians 1