Now may the God of hope fill you with all joy and peace in believing, so that you will abound in hope by the power of the Holy Spirit.

Romans 15:13(NASB)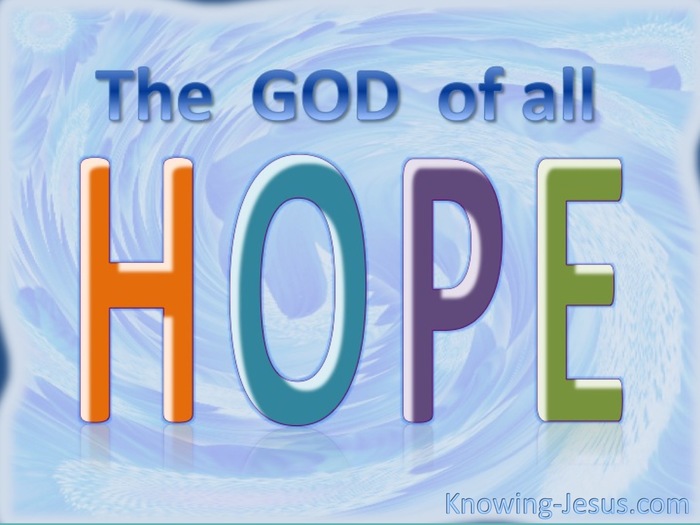 Verse Thoughts
The God of Hope - Oh what a glorious title and beautiful theme for the triune God Who in unison are pledged to fill us with all joy, peace, love and hope, when we simply trust in the pure gospel of the Son of His love. God is no respecter of persons and the joy and peace in believing in Christ for the forgiveness of sin and life everlasting is for Jew and Gentiles alike – for bond and free; male and female; old and young, black and white.

There is no-one excluded from this glorious promise which already is yes and amen in Christ, according to His riches in mercy and it encompasses plenteous redemption and abundance of life in the eternal ages to come. It is God Himself that in great abundance has promised to fill us to the brim with all spiritual blessings – for the joy of the Lord is our strength; the peace of God and the fellowship of the saints is our portion as our hope overflows in Him.

All His promises, whether past, present or future are secured in His unchanging and unchangeable Word. Not only do we have an assurance of the eternal, heavenly glory that is to come – but His promises include this present age, which means that our entire life is secure in His keeping.

We are safe in the arms of Jesus and nothing can separate us from our glorious God of Hope – neither the various trials of this present life nor the bitter circumstance we all have to face. Neither the ravages of the old sin nature nor the temptations of the enemy who seeks our destruction, can separate us from the love of God and our hope, which is in Christ Jesus our Lord.

Paul's prayer is that we are filled and continue to be filled every day of our life, with His joy and His peace as we believe in Him, so that we may overflow and abound with that blessed hope by the power of the Holy Spirit. 
Oh what a glorious privilege it is to have our hope in God. May we be motivated to enlarge our perspective of our glorious God of Hope, Who has already blessed us with every spiritual blessing in Christ Jesus our Lord, as we trust in His unbreakable Word – to all who believe.
My Prayer
Loving Father, my heart rejoices as I realise the depth of love You have for me. You truly are my glorious God of Hope and I thank You that this is not the chance "hope" of the world but a hope that is securely founded on Your unchangeable Word. Enable me to share this truth to those with whom I come in contact today, to Your praise and glory, in Christ's name, AMEN.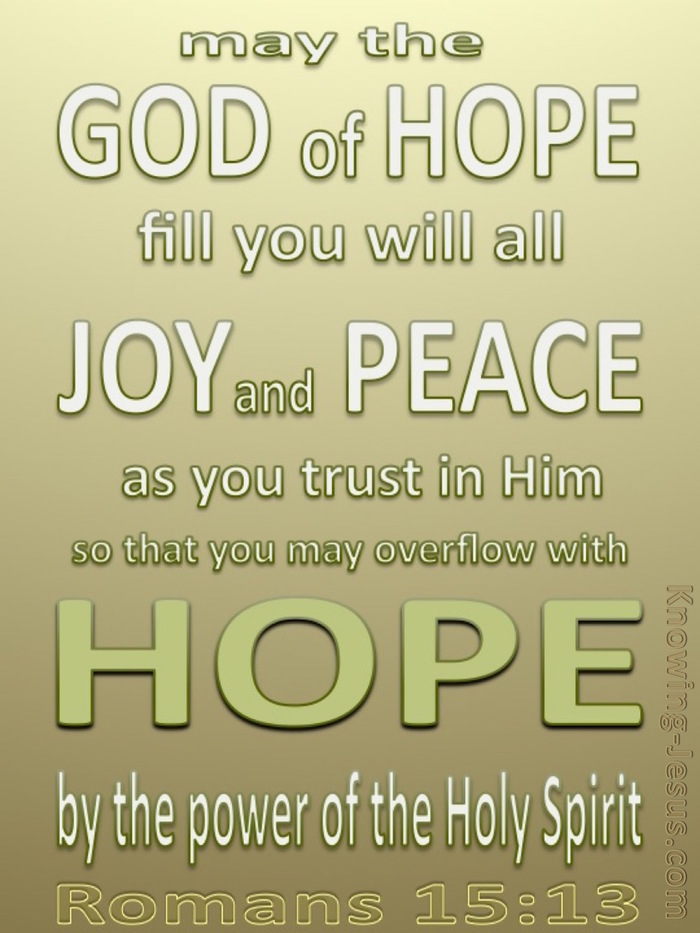 Choose a Verse from Romans 15