He which testifieth these things saith, Surely I come quickly. Amen. Even so, come, Lord Jesus.

Revelation 22:20(KJV)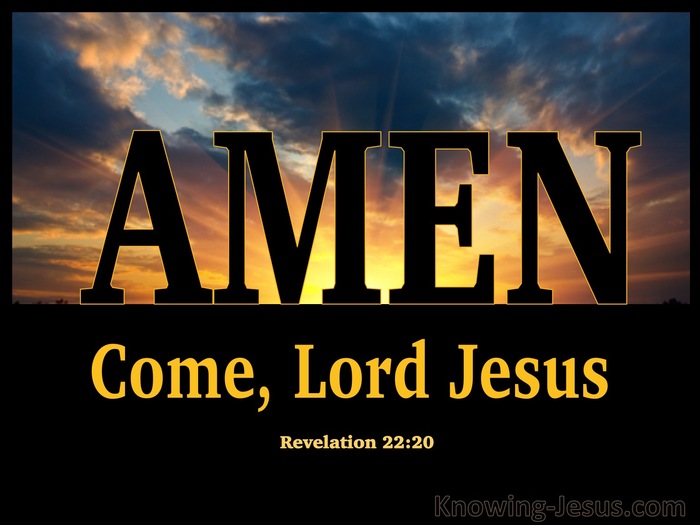 Verse Thoughts
What joy fills our hearts as we consider this closing promise at the very end of God's Word. Surely this is one of our Lord's most reassuring blessings to us. Having unveiled the final revelation of Himself through a cascade of seals, trumpets and bowls, the Lord finally offers this comforting surety of His very soon appearance, to take us to be with Himself. Surely, I come quickly.
Whether this is Christ's encouraging response to the pleading prayer of the Spirit, the bride and those that are thirsty for the water of life - or whether it His precious promise to all who are longing for His any-day appearance, these final words in holy Writ should be our daily prayer and our blessed hope.
No matter what difficulties pursue our path, whatever disappointments strew our steps, whatever tribulations we may have to face and no matter what trials we may have to endure, Jesus is assuredly returning soon, to put an end to His children's struggles, to close the final pages of His servant's sufferings, to bring His reward with Him – for He has promised to recompense, with bountiful gifts each labour of love and each work of faith and each heart that is watching for His soon return.
Praise God that He Who has bought redeemed us with His precious blood and Who testifies to the truth of Scripture has promised: YES, I come quickly. Should we not daily mingle our voices with that of the Holy Spirit in this great closing blessing of scripture, Even So Come Lord Jesus!
My Prayer
Dear Lord Jesus, as we anticipate Your soon return, we glorify Your name for Your precious reassurances that Your word is faithful and true and that You have promised to return one day soon to take us to live with You forever, where all tears will be wiped away and all our sadness will be turned into joy. Praise Your name for this blessed assurance, in Jesus' name. AMEN.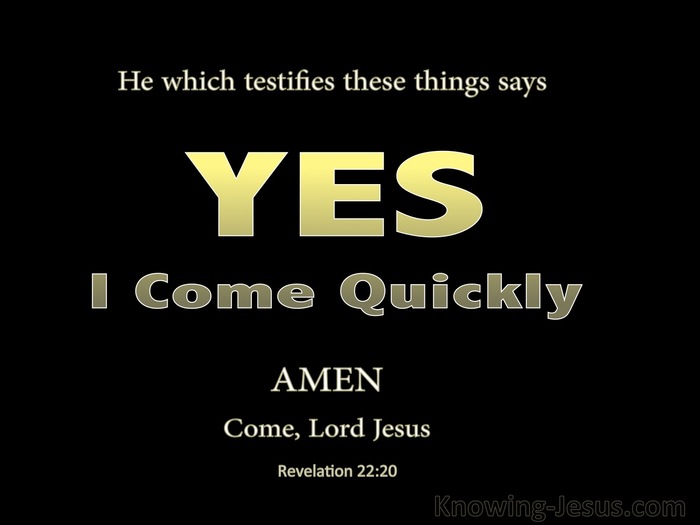 Choose a Verse from Revelation 22