and from Jesus Christ the faithful witness, the firstborn of the dead, and the ruler of kings on earth. To him who loves us and has freed us from our sins by his blood

Revelation 1:5(ESV)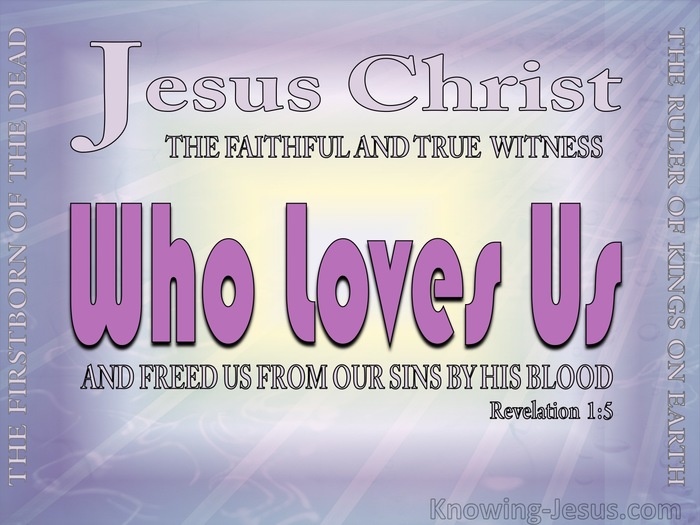 Verse Thoughts
All that we were, all we are and all that we hope to be is encapsulated in the unique Person of Jesus Christ. All that God has done, is doing and will continue to do in us is rooted and grounded in humanities great Champion, for Christ alone can testify, Behold, I was dead, but now I am alive for evermore. He alone can bear faithful witness - from eternity past, even to its everlasting end.
None other is entirely worthy and no-one else so enduringly reliable for He alone bears faithful witness as God's Prophet, Priest and King. He alone is the appointed King of kings; Lord of lords; judge of the earth and saviour of the world, for only through His blood do streams of saving grace wash the sinner clean. He alone is the faithful and true witness who loved us so much that He offered up His sinless life so that His perfect peace could flood into the heart of all who trust in Him for salvation.
The black heavens were rent, and the empty tomb stood witness on that resurrection morn, to the climax of God's majestic proclamation in Psalms: this (resurrection) day have I begotten Thee. God's Firstborn from the dead smashed forever the chains that were enslaving humanity to sin and death and hell. Jesus Christ is that faithful witness Who loved us as He hung on the cross and He loves us still as He sits on the right hand of the Majesty of High.
Jesus Christ was, and is, and always will be this Faithful Witness, Who alone is the rightful King over the rulers of the earth, the appointed Prince over all heavenly authorities, the anointed Messiah of Israel and the perfect Man Who laid down His sinless life so that whosoever believes on Him would not perish but have everlasting life.
Jesus Christ is the One Who took the punishment for us and washed us clean in the blood of the Lamb and loosed the fetters that enchained us. Jesus Christ, as Alpha and Omega is that Firstborn of the dead Who broke forever sins enslavement and set the captives free once and for ever, and Jesus Christ is coming in the clouds as rightful Judge - and at the name of Jesus every knee will one day bow.
My Prayer
I stand amazed and kneed in awe as I consider Jesus, Your only begotten Son and Firstborn from the dead, Whose name is Faithful and True, Who washed me clean in His cleansing blood and Who loves me. Praise Your name and give me a deeper understanding of this amazing love you have for all your children and use me in Your service to Your praise until He returns, in His name I pray, AMEN.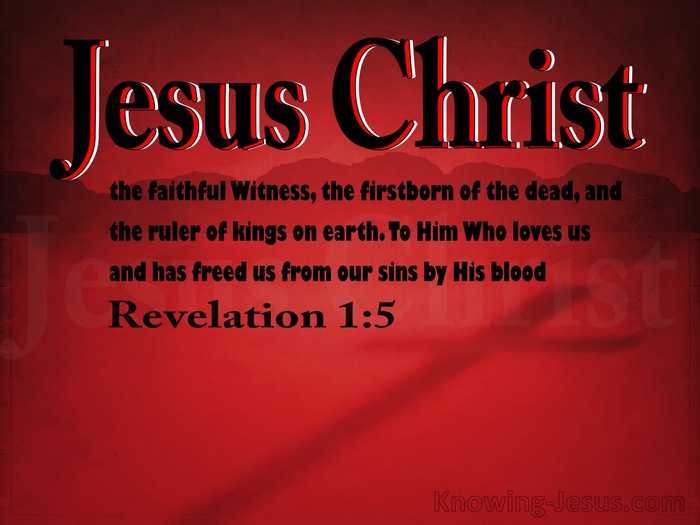 Choose a Verse from Revelation 1