Enoch walked with God, and he was not, for God took him.

Genesis 5:24(WEB)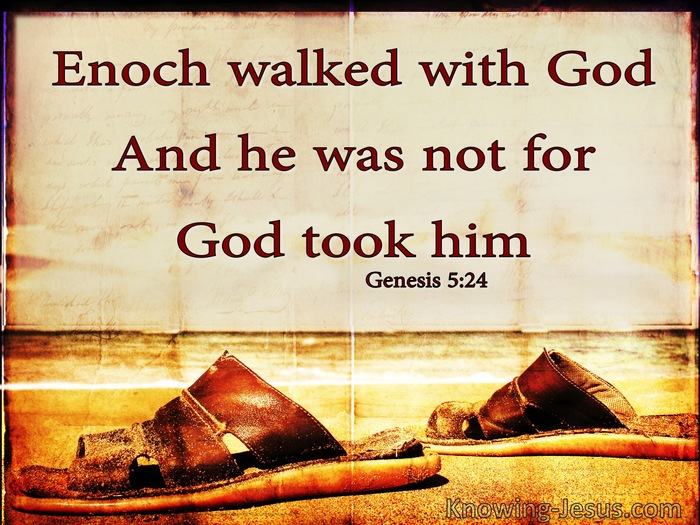 Verse Thoughts
The man that walks with God is the one that lives in close, constant and intimate intercourse with the Father and Enoch was such a man of God. We are left in no doubt of his final moments on earth, for the writer to the Hebrews tells us that this godly man was translated to heaven when God took him, raptured into God's presence, for Enoch walked with God.
We know that the period before the flood was a time when wickedness was multiplying, and the earth was corrupt to the core - but Enoch walked with God. The world, before the waters of judgment swept the earth, was a place of violence, ungodliness and evil - but Enoch walked with God and kept on walking with God.
Enoch was a man of faith, for without faith it is impossible to please God and Enoch was a man of prayer who maintained close, constant, intimate intercourse with the Father. Enoch walked with God and gave us an example of the way that God desires to walk with each of His children in close, intimate fellowship all the days of our earthly life.
Yes, Enoch both pleased God and lived his life in constant communion with the Lord, and his earthly walk with God depicts the type of life that each child of God should seek to emulate.
Let us be faithful prayer and let us be diligent to live a life of faith and to walk in spirit and truth with our heavenly Father all the days of our life, despite the multiplied evils that flood our present age and let us keep on walking with Him, until we too are taken to be with Him, into heavenly glory.
My Prayer
Thank You Father for the example of godly men who maintained a trusting, prayerful communion with You. I pray that I may keep the eyes of my heart fixed on Jesus and that my daily walk may be pleasing to You and glorify my Father in heaven, in Jesus name I pray, AMEN.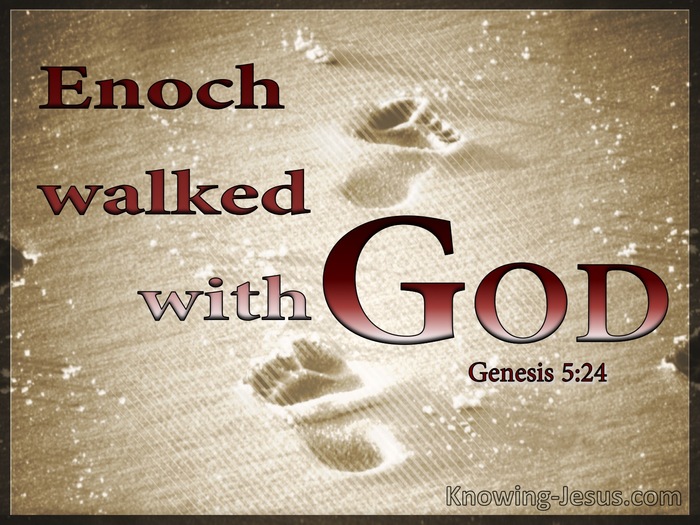 Choose a Verse from Genesis 5