"And there is salvation in no one else; for there is no other name under heaven that has been given among men by which we must be saved."

Acts 4:12(NASB)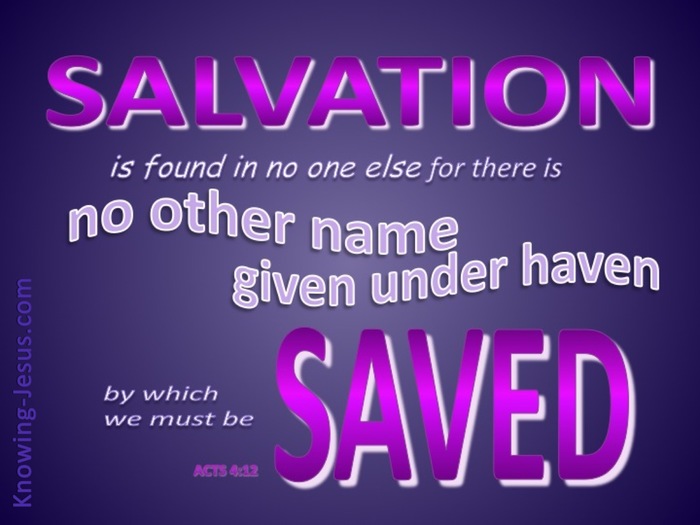 Verse Thoughts
The world at large and man in particular has for thousands of years been on a desperate search for meaning in life – for love and health, for peace and prosperity, for youth and beauty and for a dwelling place of eternal bliss and happiness. Humanity as a whole and each individual personally is looking for salvation from the evils of this world and long to escape the pain, suffering and disappointments that are the inevitable product of a fallen race living in a cursed creation separated from their Creator God.

Man was made in the image of God and His perfect character and eternal attributes encompass all that man desires and needs, but the world in general and man in particular is separated from the one source that gives meaning in this life and in the eternal ages to come life everlasting. The Salvation that alone can bring the world in general and sinners in particular back into fellowship with the only source of life and light, love and peace is found in the one name under heaven given among men whereby we must be saved – the Lord Jesus Christ.

The world in general and man in particular has spent thousands of years constructing a wide range of false illusions which they suppose will bring meaning to life, but all are empty vessels… and vain perceptions that have been born from a race that is at enmity with its Creator. How blessed are we who have been rescued from man's unachievable quest to save himself. How blessed we are that through God's grace we have been given the free gift of Salvation, simply by believing on the name of the Lord Jesus Christ.

Let us glory in that wonderful name and resist the deceit of the world, the lusts of the flesh and the wiles of the enemy by keeping the eyes of our heart fixed upon Him and the ears of our understanding ever open to His still small voice – for there is Salvation in no other name, but JESUS.
My Prayer
I thank You Father for Jesus my Saviour. Thank You for Your gift of salvation that has been given to me through Christ alone. Thank You that salvation is so simple that even a little child can understand it. Thank You in Jesus name I pray AMEN.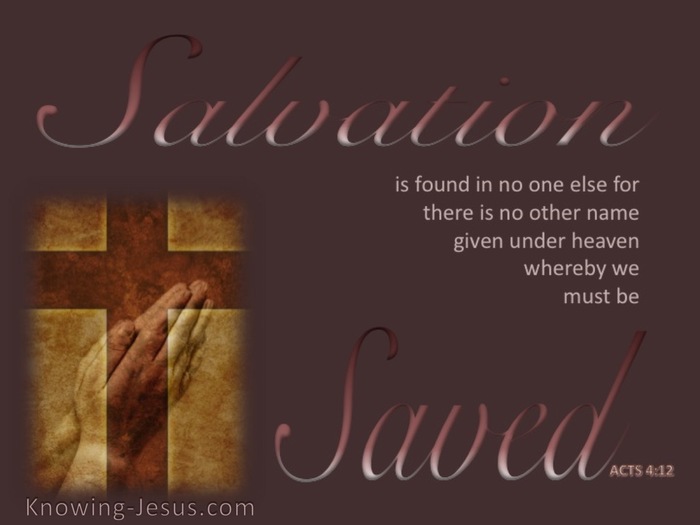 Choose a Verse from Acts 4