Do not be conformed to this world, but be transformed by the renewal of your mind, that by testing you may discern what is the will of God, what is good and acceptable and perfect.

Romans 12:2(ESV)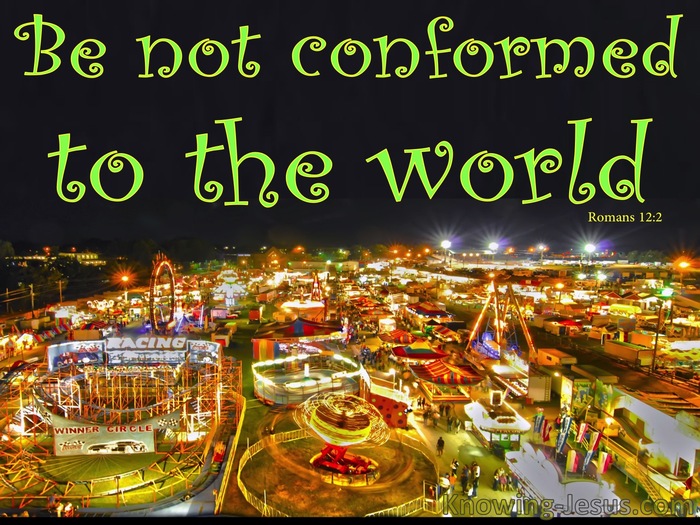 Verse Thoughts
As believers we have been called to personal consecration, where our lives are a reflection of Christ and our bodies a living sacrifice to the Lord. It is our spiritual worship and our reasonable service to yield our-lives, our-selves and our-bodies to the Lord. The world is all too ready to squeeze us into its own mould and to cultivate in us a worldly mindset, where God is far removed, but Paul warns us not to be conformed to this world but rather to be transformed by the renewing of our minds.
How important therefore to keep our eyes on Jesus and to set the eyes of our hearts on heavenly things. How necessary to capture every thought that is not honouring to the Lord and allow it to be filtered through the purifying lens of God's refining process.
How true it is that you become like the person with whom you spent time, and whatever has captivated your heart inevitably reflects attitudes and behaviours in life (whether good or evil), and too often it is not a pretty sight. We are warned not to habitually be immersed in the world but to set our minds on the Lord Jesus and make Him the central focus of our thoughts.
If we would just turn our spirit and soul towards the Lord Jesus, we would automatically have to turn-away from the things of this world. And if we set our heart, mind, will and affection to concentrate upon Him, of necessity we would not be conformed to the lustful leanings of the world, but our new, born-again nature would start to be supernaturally transformed into the character of Christ.
The evidence of this lovely transfiguring process is not only an outward disassociation from an ungodly world and the works of the flesh, but a life that is good, acceptable, perfect and pleasing to the Father - but note that transformation is perfected through trials, difficulties, suffering and sorrow.
May we turn from the things of this world in willing submission to God's child-training programme so that like the Lord Jesus we may live in spirit and truth, and love as He loves us - until in all things we can say, Father, they will be done in me.
My Prayer
Loving Father, too often my mind is deflected from Jesus onto the things of the world, especially when things are difficult, but I want to keep my mind on Jesus, knowing that this is Your best will for me. I pray that I become increasingly aware of the Spirit's promptings in my life, so that day by day my mind may become saturated with the lovely Lord Jesus, and His nature reflected through me to Your praise and glory - and for the benefit of others. This I ask in His name I pray, AMEN.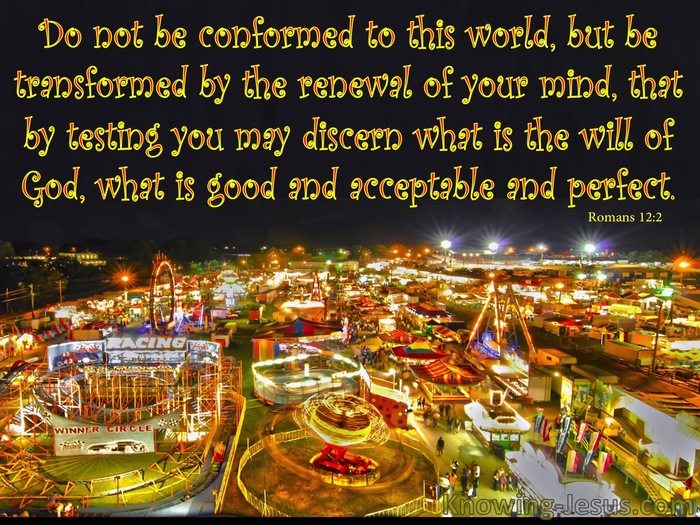 Choose a Verse from Romans 12