But Jesus beheld them, and said unto them, With men this is impossible; but with God all things are possible.

Matthew 19:26(KJV)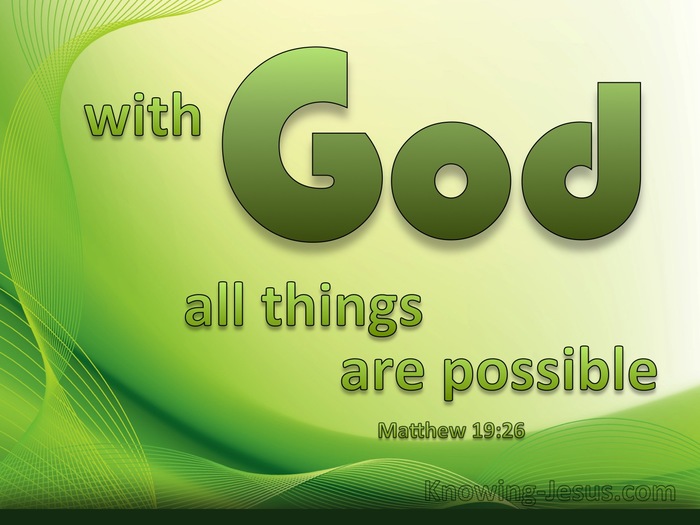 Verse Thoughts
Words that fell from the lips of the Lord Jesus confound the minds of men today as much as they astonished Christ's disciples when they were first uttered. The rich young ruler was zealous in keeping the commandments and he was righteous in all his ways, as man counts goodness. But neither the multiplied wealth of humanity nor the proliferation of man's exemplary actions are sufficient payment to inherit eternal life, for the heart of humanity is incapable of ridding itself of fleshly desires and the love of this world, which can only be rooted out by a supernatural act of the omnipotent God.
Salvation is impossible with man, but praise God that it is possible with Him, which is a principle that the best and worst of human-kind will one day accept. Similarly, eternal life and inheriting the kingdom is a human impossibility, but with God it is not only possible but the free gift of grace, which is generously bestowed on all who believe in Christ's finished work on Calvary' cross. Those who believe are not condemned but those who do not are condemned already - because they have not believed on the only begotten Son of God.
How careful the wealthy man should be, that he relies upon God and not on his accumulated riches as his provider. How careful the poor man should be that he does not develop an envious attitude towards his neighbour but trusts in God to provide for both his temporal and his eternal needs.
The impossible task of our eternal salvation was made possible by God. So too the impossible task of living a godly life, in our own strength, which is only possible when a man or woman looks to Him and places their trust in Him alone.
My Prayer
Father I thank You that what is impossible for me is possible for You due to the merits of Jesus Christ my Saviour. Please help me to trust You in all things and not have confidence in my own abilities and resources, in Jesus name I pray, AMEN.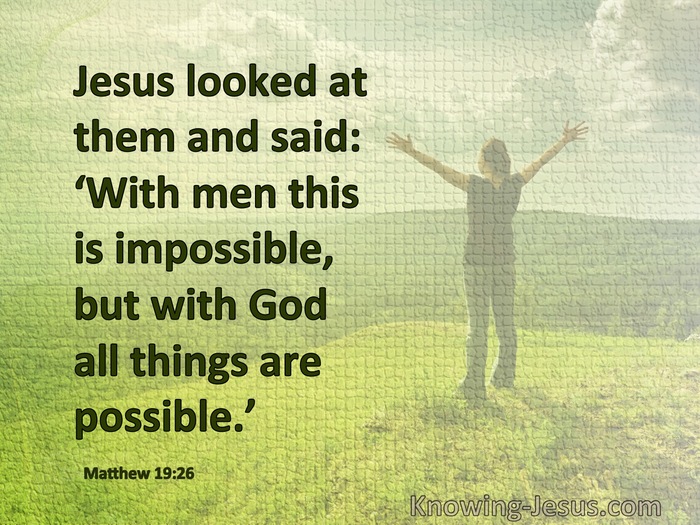 Choose a Verse from Matthew 19