And it had been revealed to him by the Holy Spirit that he would not see death before he had seen the Lord's Christ.

Luke 2:26(NASB)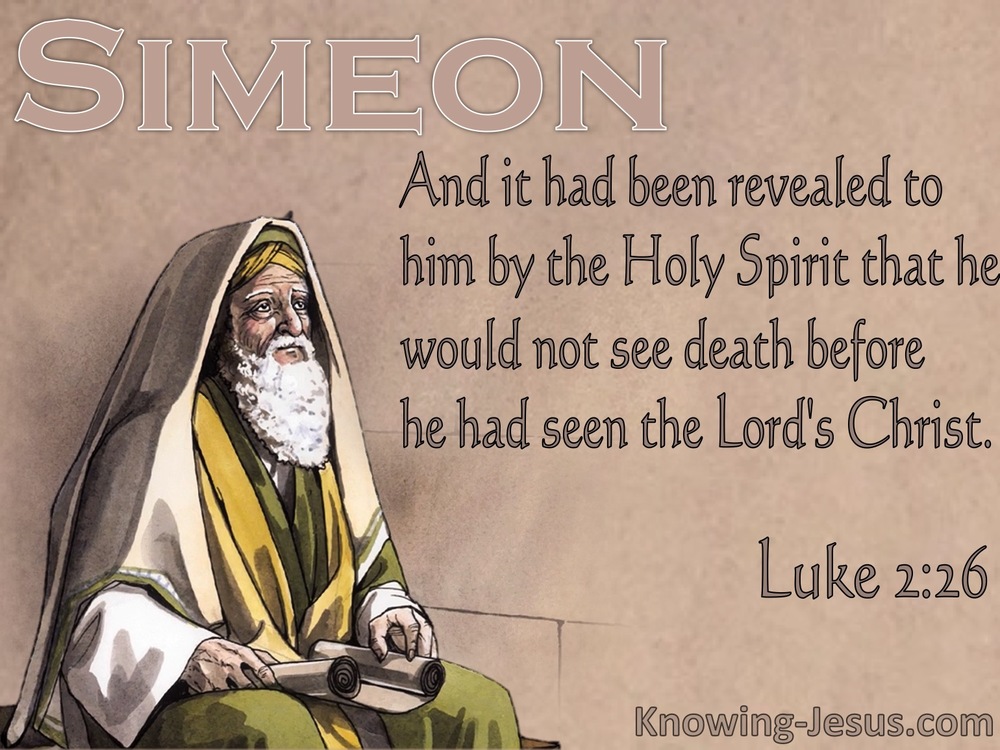 Verse Thoughts
Simeon is an example of a faithful man that walked with God. He is described as righteous and devout, and unlike the rest of the religious leaders he was looking forward, with great anticipation to 'Israel's consolation.'
He enjoyed close fellowship with the Lord and was so in tune with the God of Abraham, Isaac and Jacob, that "it had been revealed to him, by the Holy Spirit, that he would not see death before he had seen the Lord's Christ."
This man was one of a godly remnant in Israel who trusted God's word and was waiting expectantly for the promised, Jewish Messiah. He believed the words of Psalm 25:14, that "the secrets of the Lord are with those who fear Him," and in some wonderful way the Holy Spirit of God had communicated a wonderful truth to this dear man - that he would not die until he had seen the Messiah of Israel - the Word made flesh.
Earlier in the chapter we read about the chain of events that brought the baby Jesus to the Temple - at the very time that Simeon was guided by the Spirit to enter the courtyard. Having been born in Bethlehem, eight days earlier, and worshipped by a little group of shepherds, the baby Jesus was brought to the Temple complex to be circumcised.
There are no coincidences in God's economy and led by the Spirit we find Simeon entering the Temple square at the very moment Mary and Joseph arrived, with a pair of turtle-doves, as a sacrificial offering to the Lord - as required by the Law of Moses.
What a joy it must have been for that godly man to see the consolation of Israel and take the baby Jesus in his arms, bless the Lord and pray - "Lord, now lettest Thou Thy servant depart in peace, according to Thy word, for mine eyes have seen Thy salvation, which thou hast prepared before the face of all people. A light to lighten the Gentiles, and the glory of Thy people Israel.
Simeon was privileged to see the baby Jesus and hold Him in his arms - but how blessed are we to have the Holy Spirit of Christ dwelling in our heart. May we never lose the awe and wonderment of the Treasure we have in these earthen vessels and may we look with equal anticipation for the return of Christ for His Church - our Blessed Hope and glorious Bridegroom.
My Prayer
Heavenly Father, thank You for the beautiful example of Simeon, the godly old man, who was given the beautiful promise that he would not see death, until he had seen Jesus - the promised Messiah and Saviour of the world. May we demonstrate the same righteous devotion to You as we look in eager expectation for His any day return. Teach me Your way; illuminate my heart; guide me into all truth I pray and align my thought to Your thoughts.. so that my life may honour to Your name. This I ask in Jesus' name, AMEN.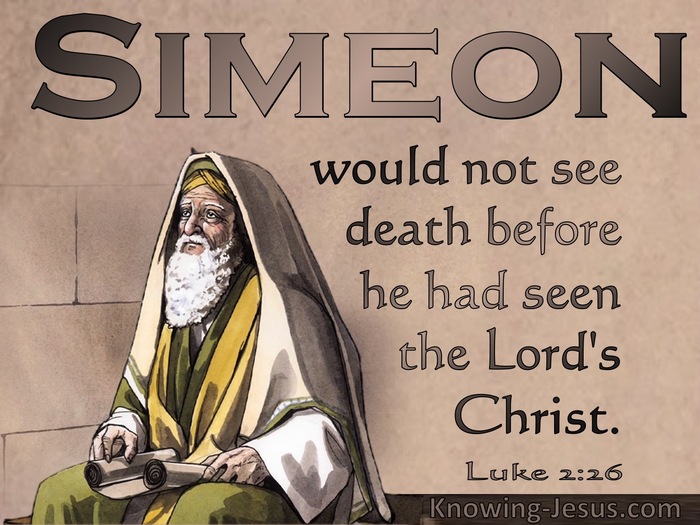 Choose a Verse from Luke 2