For I know the plans I have for you"-[this is] the Lord's declaration-"plans for [your] welfare, not for disaster, to give you a future and a hope.

Jeremiah 29:11(HCSB)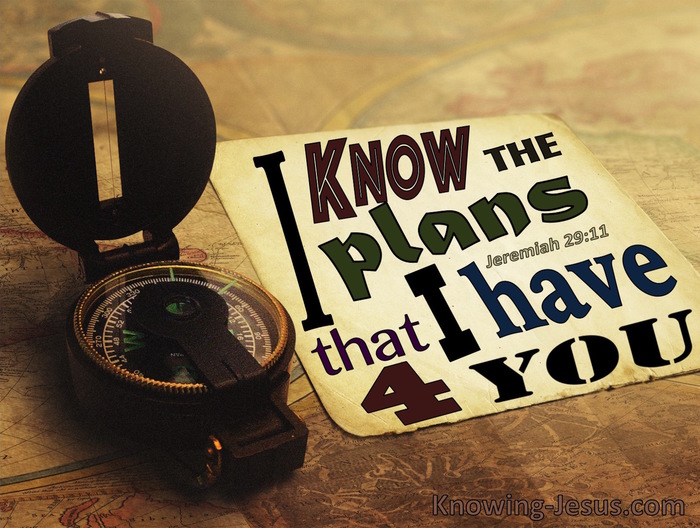 Verse Thoughts
Jeremiah had warned that Israel's idol worship, which had replaced their devotion to the true and living God, demanded the destruction of all they held dear and everything in which they placed their trust. BUT GOD Who is loving and gracious, long-suffering and faithful, pronounced His bitter rod of severe chastening would also prove to be His blossoming staff of sweet comfort and peace, grace and mercy - love and hope and joy.
And so Jeremiah writes a message of comfort to the Jewish exiles in Babylon promising that God's future plans for His chosen people, are always rooted in His faithfulness towards them, with a promise of peace and not a pledge of punishment that would result in their ultimate disaster and destruction.
Despite their disobedience toward the holy one of Israel, the gracious thoughts God has towards them and the future plans that He has for them, are designed to prosper them and to bring them peace and comfort, safety and success, and not a scheme to harm them or bring them into disaster.
The future plans and purposes for Israel as for all God's children is to give us a future filled with hope and not with calamity. This glorious verse of comfort sparkles with reassuring radiance, that the future plans that God has for all of His people, (both for Israel and the Church), are for our eternal good and spiritual welfare, as well as our temporal and physical needs - all of which rests in the bosom of our gracious God.
The Lord desires the best for His children even though we may stray far from Him and His plans towards His people are to give us a future and a hope. He knows that only as we sever our reliance on the world's destructive securities and rest our trust entirely on Christ Jesus our Lord, will we break free of the yoke of this world's slavery.
Whatever YOU are going through today, be assured that His thoughts toward you are only good continually - for I know the plans that I have for you, declares the LORD. They are plans for peace and not disaster - plans to give you a future filled with hope.
My Prayer
Thank You Lord, for the good plans You have purposed for me. Enlarge my vision of You and enable me to trust in You through all the circumstances of my life, knowing that Your thoughts towards me are only good continually. In Jesus name, AMEN.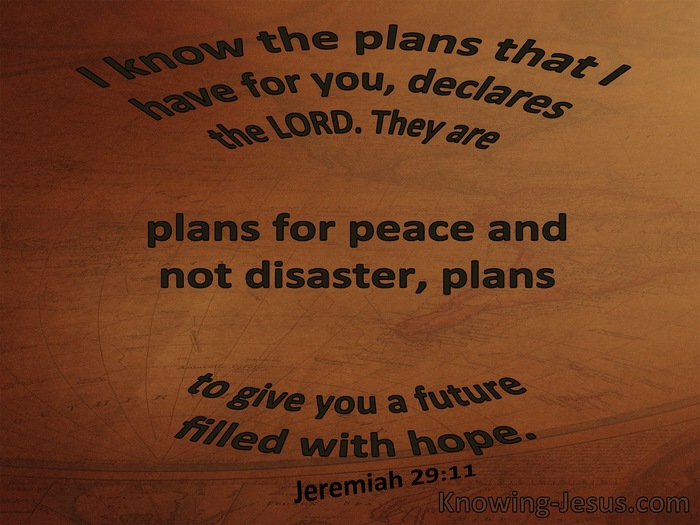 Choose a Verse from Jeremiah 29