And ye shall seek me, and find me, when ye shall search for me with all your heart.

Jeremiah 29:13(WBS)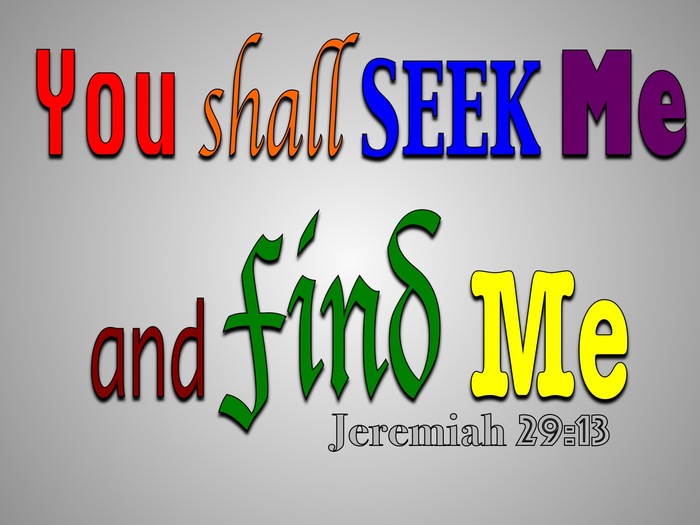 Verse Thoughts
The promises of God pepper the pages of scripture like crystal droplets of sparkling rain, sprinkling life into a dry and dusty desert. They tumble and glimmer through the Word of God like a myriad of twinkling stars, peeping through the glowering skies of doubt and sorrow - refreshing the soul, giving hope to the faint-hearted and encouragement to the weary in heart.
Though the context of this verse is Israel's captivity and their eventual restoration and redemption, this precious promise states an eternal principle - that the Lord is ever near to all that seek Him and those that search for Him aright, are certain of finding Him. It is the one that seeks the Lord in spirit and truth that is sure to find Him, for the Lord has promised: you shall seek Me, and find Me, when you shall search for Me with all your heart.
Those that earnestly seek Him will discover Him to the Way. Those that diligently look for Him will find Him to be the Truth and those that sincerely search for Him will gain the abundant Life, that only comes through Christ.
We all know Him as Saviour, for Christ died to bridge the unbridgeable gap between a holy God and the imperfect race of man, but we are promised a much deeper knowledge and a closer communion if we will but plough into the depths of His Word; reach into the heights of His Truth and look steadily into the Light of His Countenance - the face of the Lord Jesus Christ.
Let us with wholeness of heart; fervency of spirit; sincerity of soul and diligence of mind freely abandon the good to search for the best, knowing that ALL who seek the Lord, will find Him, when we shall search for Him with their whole heart.
My Prayer
Thank You Father that I am Your child. I want to know You more and pray that as I seek You through Your Word and as I come before You in prayer and praise, You will show me more of Yourself and I will discover a depth of Your perfect character that I have never seen before. Let me reflect You in thought word and deed as Christ is being formed in me, in His name I pray, AMEN.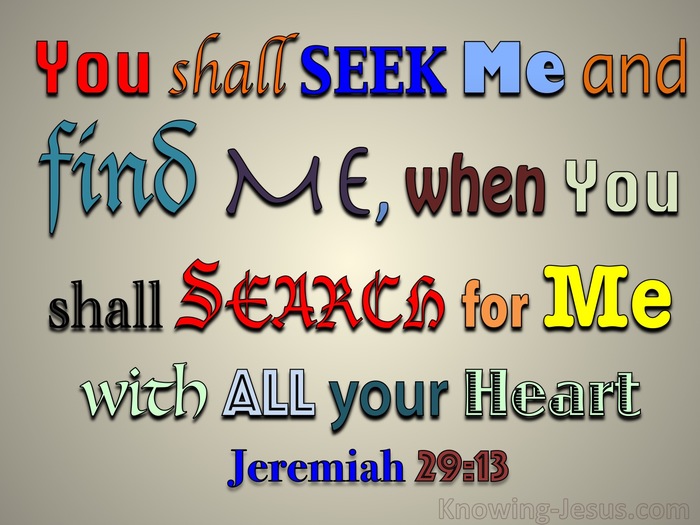 Choose a Verse from Jeremiah 29