"THIS IS THE COVENANT THAT I WILL MAKE WITH THEM AFTER THOSE DAYS, SAYS THE LORD: I WILL PUT MY LAWS UPON THEIR HEART, AND ON THEIR MIND I WILL WRITE THEM," He then says,

Hebrews 10:16(NASB)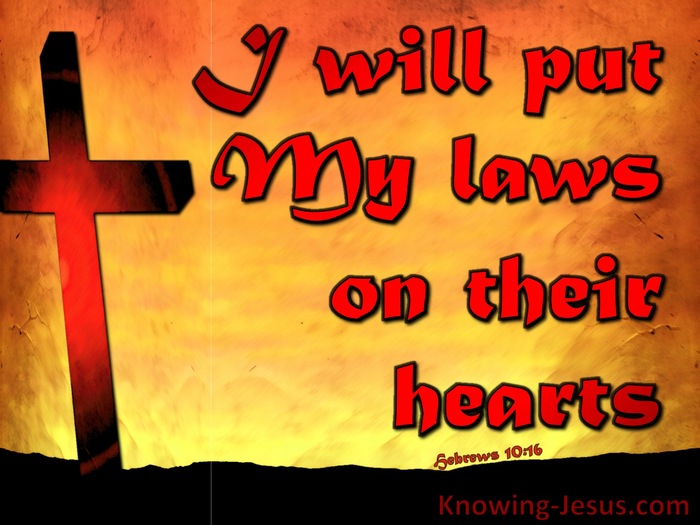 Verse Thoughts
The writer to the Hebrews makes a direct reference back to the prophecy of Jeremiah 31:31, which God made with Israel. God promised, that despite their apostasy and even though they broke the covenant they made on Mount Sinai, He would make a new covenant with His people: Behold, days are coming,' declares the LORD, 'when I will make a new covenant with the house of Israel and with the house of Judah.. not like the covenant which I made with their fathers in the day I took them by the hand to bring them out of the land of Egypt - My covenant which they broke..
The first covenant.. was conditional upon Israel keeping their part of the agreement. God's part of the covenant was given to Israel through Moses, and the people with one voice cried out: all that the Lord has said we will do. They promised to keep the conditions of the covenant - i.e. the Law of Moses, even though it was impossible for them to do so. Indeed, we discover from Paul, that the Law was God's tool to identify sin in our lives.. and to point us to Christ.
And here in the book of Hebrews we see reference to this prophesised New Covenant, which God promised to His chosen, earthly people - Israel. But this time the covenant was to be unconditional. God knew the weakness of man.. and his inability to keep the law and to do good, and so He covenanted to put His law within their minds and to write it on their heart. All they had to do was to believe God's Word - to trust His promise. God in His grace contracted to fulfil ALL the conditions of the New Covenant - and all Israel (and the rest of humanity) had to do was to believe God's Word.
The New Covenant was cut at Calvary and all Israel had to do was to believe His word.. But they rejected God's offer through unbelief.. and until that future time, when all Israel will be saved (i.e. at the end of the coming 7-year tribulation period) the Church, which is the Body of Christ, has been called to be ministers of the New Covenant. We are commissioned to go into all the world and preach the gospel to every creature - and whosoever believes on the name of the only begotten Son of God by faith - will be saved.
And Israel? Well during this church age, many Jews have trusted Christ as Saviour. There is a remnant of Israel who have trusted Christ for salvation during this Church dispensation.. and they too have become members of Christ's Body, where there is neither Jew nor Gentile - for we are all one in Christ.
There is a remnant of individual, believing Israel that has today become part of Christ's Body, which is the Church.. but the day is coming when Israel, as a nation, will look upon Him Whom they have pierced and together they will cry blessed is He Who comes in the name of the Lord and so all Israel will be saved.
All will be ushered into the wonderful 1000-year reign of Christ, when the lion will lie down with the lamb and the earth will be filled with the glory of God - and on that day, the Lord will ratify His covenant with His earthly people, Israel - when He will write His Law upon their hearts and ever man will sit under his own fig tree - and Jesus will be King over all the earth.
My Prayer
Heavenly Father, thank You for Your amazing plan of redemption. Thank You that despite their apostasy You did not cast Your earthly people aside, but promised to make a new, unconditional covenant with them. Thank You, that as a member of the body of Christ, I am a minister of that new and better Covenant. I pray that You will use me to carry out Your will and purpose for my life, to Your praise and glory, this I ask in Jesus name, AMEN.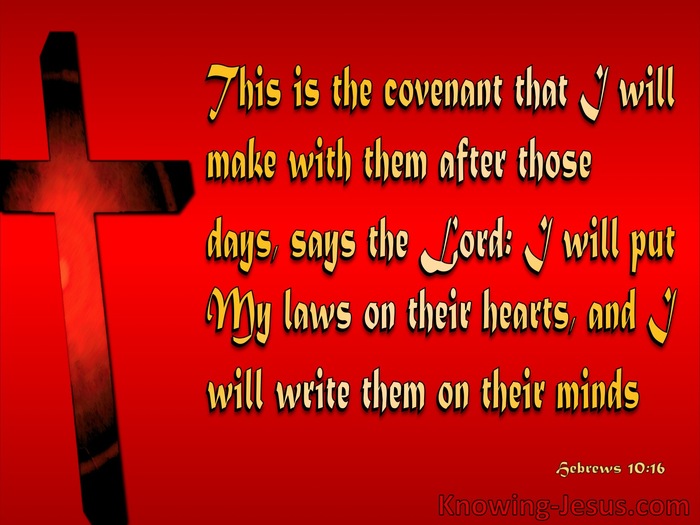 Choose a Verse from Hebrews 10