He did not waver in unbelief at God's promise, but was strengthened in his faith and gave glory to God,

Romans 4:20(HCSB)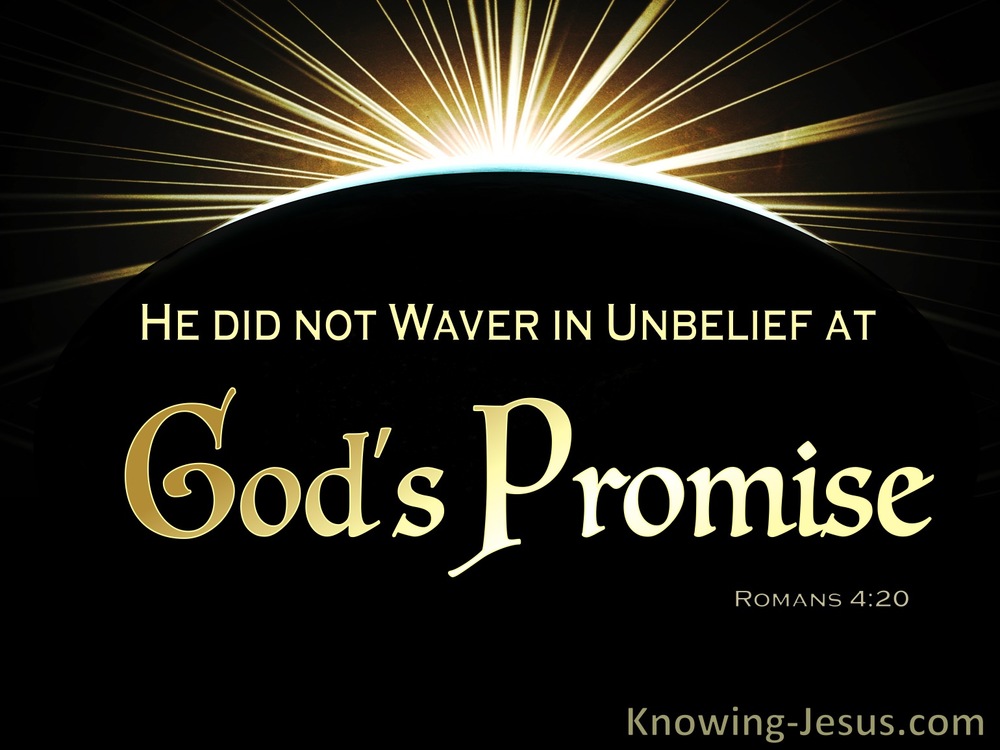 Verse Thoughts
It was Abraham that did not waver in his trust of God. He knew of the promised Saviour, the seed of the woman that pointed to Christ and he believed implicitly that the kinsman-Redeemer would be born through his seed – his own coming son of promise.
Although he did not understand how this was possible and even tried to assist God in its fulfilment, Abraham became the forefather of faith, because he trusted what God had said; he believed what God had promised and he had faith that God would fulfil His covenant promise in every detail, even if he did not understand how or when.

Not one of us should stagger at the Lord's promises within His word, for what God has said He will carry out to completion, for God cannot lie and will never change His mind – for the gifts and calling of God are without repentance. He is faithful and trustworthy, and all His promises are yes and amen in Christ Jesus. Oh, that we would just trust His word.

To doubt the veracity of God's word is akin to unbelief but many stagger in fear as they magnify problems, perceiving them to be insurmountable, flooding their imaginations with anxious fear, and causing confidence in Christ to crumble. But the man that trusts in God is clothed in confidence and strengthened in his faith, which glorifies the Father.

Oh what peace and power, excellence and grace there is in trusting the Lord; what joy and gladness rejoices the heart and mind of the one whose faith does not waver in unbelief at the promises of God, for he will be strengthened in His faith and give glory God.
My Prayer
Loving Father, thank You for the example of Abraham. I pray that I will cling to You in trusting love and be strengthened in my faith in Your never-failing promises, in Jesus name I pray, AMEN.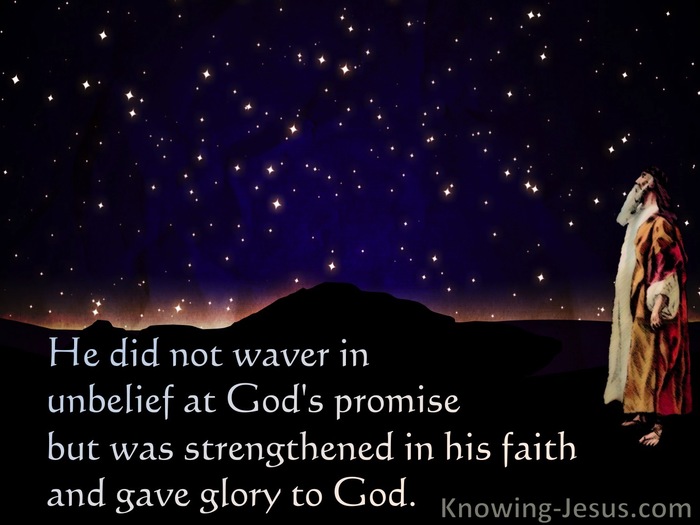 Choose a Verse from Romans 4