For the word of God is living and active and sharper than any two-edged sword, and piercing as far as the division of soul and spirit, of both joints and marrow, and able to judge the thoughts and intentions of the heart.

Hebrews 4:12(NASB)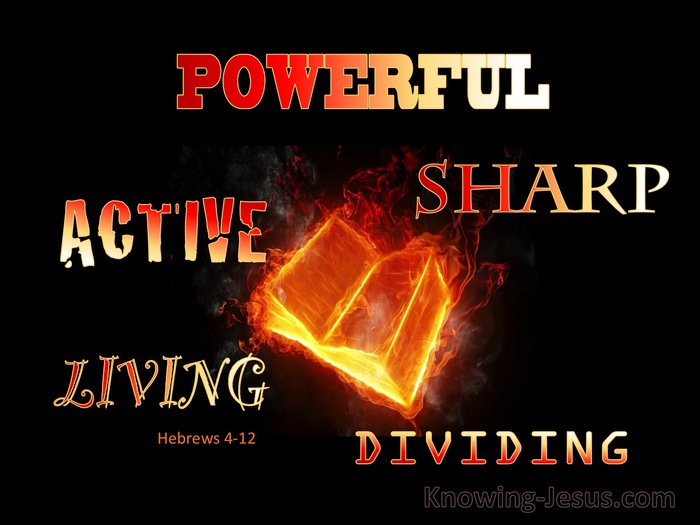 Verse Thoughts
Jesus Christ - the Living Word of God is traced to every page of the Written Word of God. All that He is stands in stark contrast to all that we are. His penetrating eyes search out all the dross that is rooted in me. His Word of Truth exposes everything in me that is not of Christ: self; hypocrisy; insincerity and unbelief.
Every spoken word from the lips of Christ are Life and all the written words of scripture give wholeness and health - how vital to take His Word deep into our hearts. God's purpose in the believer is to conform us into the image and likeness of Christ, and the stark reality of scripture is that it contrasts His grace with our rebellion and His faithfulness with our unbelief.
The Word of truth exposes our deceitfulness and our unworthiness. It can cut our evil hearts to the quick just as the penetrating look of the Lord Jesus brought His denying disciple into the depths of distress and repentance. Gazing deep into the powerful Word of God is a penetrating, soul-searching exercise, for it cuts away all our foolish boasting in ourselves and exposes our prideful perceptions of our own worthiness!
The Word of God in all its fullness, lays bare truth in the inward parts, silencing forever our own weak protests and unjustifiable defences. Though the razor-sharpness of God's Word can crush to the uttermost, bringing the believer's old sin-nature to the end of itself, it is in His gracious, loving-kindness that God brings each of us to such depths, so that He can purge out the old Self and form in us the pure nature of the Lord Jesus.
The sharp; active; living; powerful; wonderful Word of God is used by the Holy Spirit to convict, convert, comfort and conform us into Christ's likeness and to prepare us in this life for the spiritual rest, eternal life and future glory that is laid up for us on high.
Let us in humility of heart and patient endurance permit the testing work of the Holy Spirit to penetrate deeply into the depth of our being as He examines truth in the thoughts and intentions of our inward parts - for God's word is living and active. It is sharper than any two-edged sword and cuts as deep as the place where soul and spirit meet, the place where joints and marrow meet - God's word judges a person's thoughts and intentions
My Prayer
Thank You Father for the living powerful Word of God. I pray that whatever it takes that Your Holy Spirit uses it in me to convict, convert, comfort and conform me into the image of the lovely Lord Jesus, so that I become the person You want me to be and be used by You as a conduit through Whom You can flow, unhindered, into the lives of those around me, in Jesus name I pray, AMEN.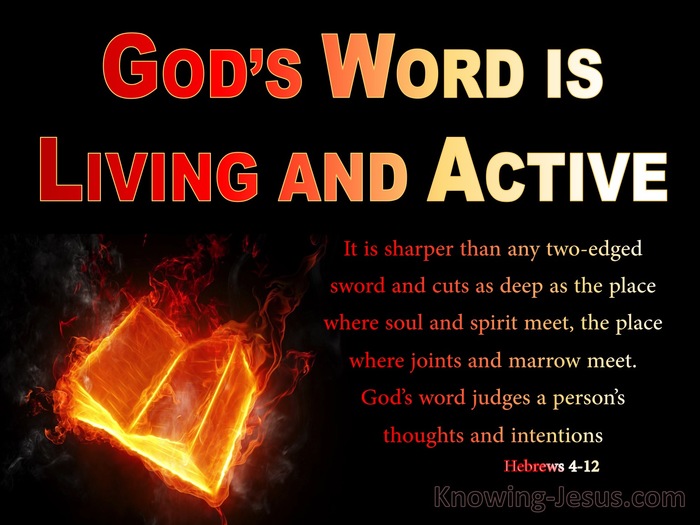 Choose a Verse from Hebrews 4