Therefore let us draw near with confidence to the throne of grace, so that we may receive mercy and find grace to help in time of need.

Hebrews 4:16(NASB)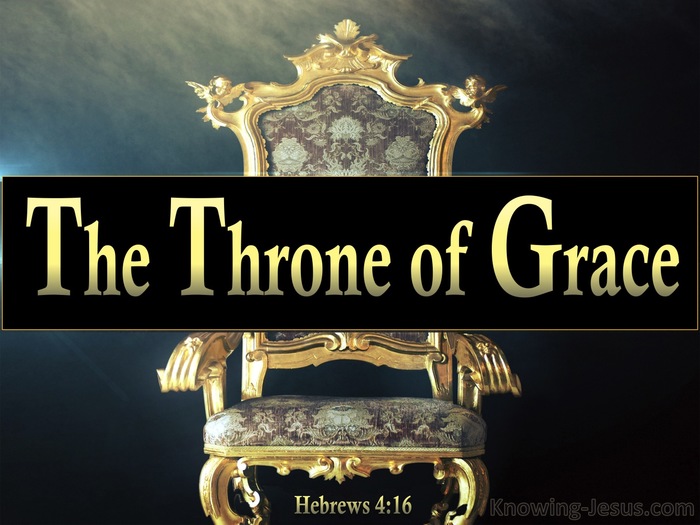 Verse Thoughts
This is a verse that rejoices our hearts for this Throne of Grace is the eternal seat of the sovereign God, Whose mercy-seat has covered our sins forever and by Whose grace the veil of the temple is torn from top to bottom to provide us access into the presence of our heavenly Father. Through Christ we have received the gracious invitation to come boldly unto God's Throne of Grace, that we may obtain mercy, and find grace to help in time of need.
It is not because of our own merit or worthiness that this gracious invitation has been extended to us, but because of the merit; worthiness; excellence and virtue of Christ's sacrificial offering of Himself upon the cross - on our behalf. Our confidence is not in ourselves but on what Christ has already done on our account. Our assurance rests on His victory cry - it is finished, for we are accepted by God, through time and into eternity on behalf of the merit of God's Beloved Son.
We are not directed to enter in the throne-room of heaven in apprehensive timidity but to approach His universal seat of divine power and majestic glory with great boldness and confident assurance that the sacrificed Lamb of God, offered by the High Priest of God for our sin, is sufficient.
This is a heavenly vision of unapproachable Deity, enthroned on His seat of mercy and grace, granting peace; pardon, mercy and confident access to all who believe on His name. By grace through faith in His death, burial and resurrection… Christ, the Lamb of God and our great High heavenly Priest, has flung wide the door into the Holiest of all - for all who believe on His name.
In Christ we have been invited to enter confidently into the throne-room of heaven and boldly approach God's Throne of Grace, that we may obtain mercy, and find grace to help in time of need. But let us never allow familiarity with the gospel of God to diminish our understanding of the tremendous privilege that streams like a flood from the throne of God's grace - on all who have been saved by the blood of the Lamb.
My Prayer
Thank You Father for the grace and mercy that streams from Your throne of grace to me through Jesus, my great High Priest and Saviour. I praise You for the grace that You have extended to me. Were I to spend the rest of my days in grateful thanks I could not express my love for You, in Christ's name I pray, AMEN.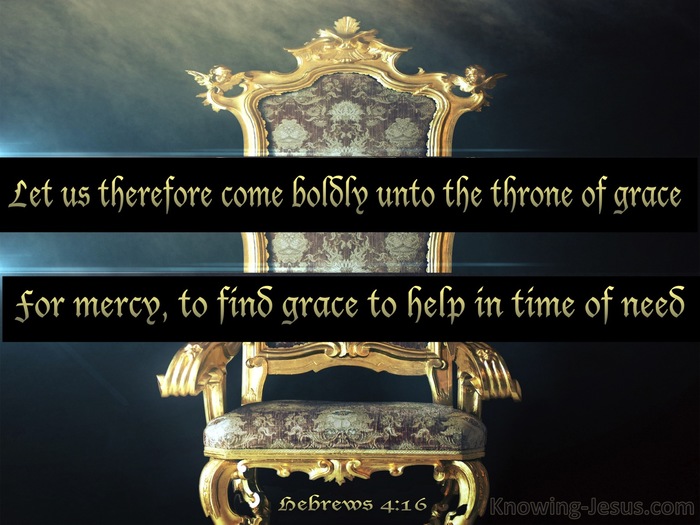 Choose a Verse from Hebrews 4