But without faith it is impossible to please him: for he that cometh to God must believe that he is, and that he is a rewarder of them that diligently seek him.

Hebrews 11:6(KJV)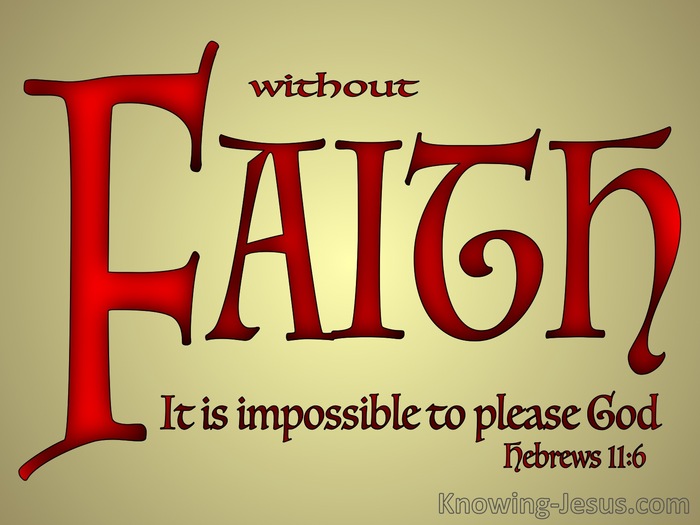 Verse Thoughts
So much within the epistles is mistakenly thought to be addressed to the unbeliever when it is, in fact, written to Christians. Hebrews is one such example of scripture that is written to give the maturing believers clear guidance on how to live a life, pleasing to God, during our time on earth.
The first step in pleasing God is to get saved, by believing in Christ's redeeming work, for only through His righteousness can we please God. But once saved the believer continues to please God by trusting His word, living by faith and diligently seeking His face day by day.
Many who started the Christian life by faith, stop trusting in the truth of scripture or doubt God's Word. They often become careless in seeking the Lord - even leaving their first love; reverting to worldly works of the law or indulging in fleshly living.
Though our union with God can never be broken once we are born into His family, our fellowship with him can be damaged and even broken when we leave the life of trust in God and dependence on His word and start to rely on our own strength. God knows that without Christ's leading and guiding we will eventually fail for He said: without Me ye can do nothing. But all too often we try every conceivable avenue before we eventually have to admit our inability and seek His help.
Too often we forget that those who diligently seek Him are rewarded with His bountiful gifts of grace and the beautiful fruit of the Spirit, so that they grow in grace and mature in the faith, which pleases our heavenly Father. When we rest on His sufficient strength we always discover it to be all we need, but how often we forgo the perfect peace He promises simply because we trusted self before our Saviour. Yet the more a believer trusts His word and seeks earnestly to know the Lord, the more they grow in grace and mature in the faith - for to the one that has much, even more will be given.
Let us determine to live our Christian lives in a manner that is pleasing to Him, as we earnestly seek Him and trust in His Word. Let us never doubt the veracity of God's Word, even when His truth is shrouded from our eyes and when the reality of His Word does not reflect our life-experience.
Let us trust in the Lord with all our heart and not lean on our own understanding, knowing that without faith it is impossible to please Him. But let us never forget that it is God Who said, I AM everything you need - and I AM a Rewarder of those that diligently seek. Let us believe it with our whole heart - for this is well-pleasing to the Lord.
My Prayer
Father I realise how quickly and easily I can move from trusting You to doubting Your Word, when things do not go the way that I expect. I pray that like Abraham and the men and women of faith in Hebrews, my trust in You will not falter. Help me to earnestly seek You day by day, for I know that only as Christ lives in and through me, by faith, can I be pleasing in Your sight - in Jesus name I pray, AMEN.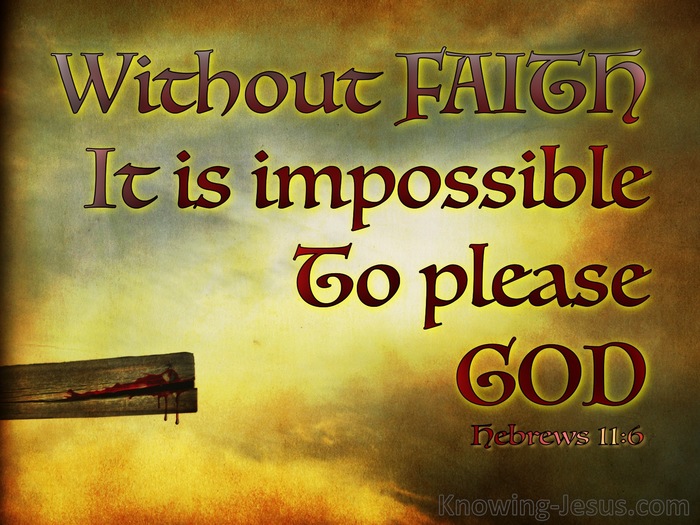 Choose a Verse from Hebrews 11