Look, I am with you and will watch over you wherever you go. I will bring you back to this land, for I will not leave you until I have done what I have promised you."

Genesis 28:15(HCSB)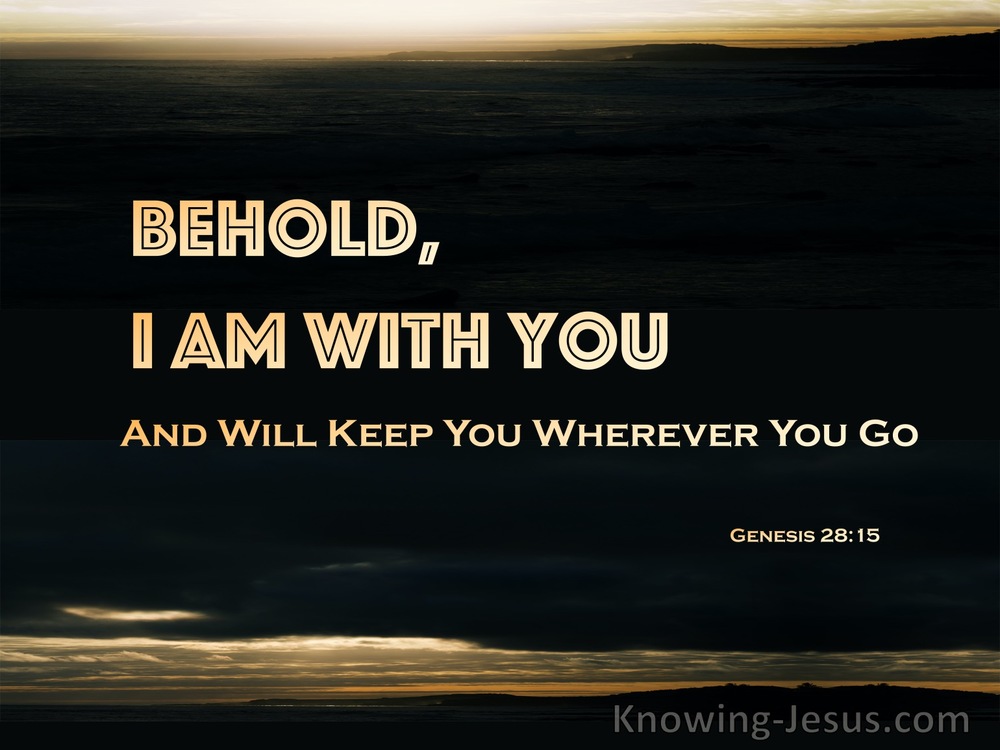 Verse Thoughts
What heartening encouraging for every child of God to be reminded so emphatically that the Lord is caring for us and watching over us no matter where we go or what we do and that He will be with us always and will certainly fulfil every promise and pledge that He has purposed towards us. This promise is clearly for the Lord's chosen nation of Israel, and it was made by the God of Israel and Creator of the Universe, Who neither slumbers nor sleeps, Whose word is sure, Whose promises are guaranteed, Whose statutes are binding and Whose covenant will never fail, for gifts and calling of God are without repentance.
When God wants to make an important point or grab hold of our attention He will often use the world "BEHOLD" in Scripture. Behold, I am with you! Behold! I will watch over you wherever you go! Behold! I will bring you back to this land! Behold! I will not leave you until I have done what I have promised! But somehow the magnitude of meaning and immense significance of this expression is lost in our translation. But God restates in the strongest possible terms that He is with Israel and will keep her and bring her back to the land, promised to Abraham, Isaac and Jacob and will fulfil His covenant to reinstate them in the land of Israel, and to finish the work He started in them.
What an amazing God we have, and this magnificent pledge to Israel, who fell into such apostasy and even crucified their Messiah and King still stands today. The God that stands fast on His promises to Israel is the same God that that will honour His promises to the Body, which is His Church.
Should this not rejoice our hearts and fill us with such assurance that His promises and pledge will similarly stand-fast and surely be fulfilled. Should this not reassure us, knowing that His gifts and calling to the Church will also stand fast for ever and ever, to his praise and glory – AMEN.
Behold:- we have a God Who has promised to watch over US, who are His body. He has pledged to protect us, provide for us, keep us. and cherish us.

Behold:- we have a Saviour Who gave His own life for us so that our sins are forever forgiven and we are covered in Christ's glorious righteousness. 

Behold:- we have the promise of an eternal home prepared for us, in heaven.

Behold:- we have a bridegroom Who is currently sitting on the right hand of the Father Who is coming soon to take us home to be with Himself, before He draws Israel as a nation back into His loving arms as He promised, when He will set up His glorious kingdom on earth, for in that day the earth will be filled with the glory of God as the waters cover the sea. 
My Prayer
Thank You Father for the truth of Your word and Your never-failing promises both to Israel and the Church. May I be faithful in my service to You, Who is my wonderful faithful God and Father, in Jesus name I pray, AMEN.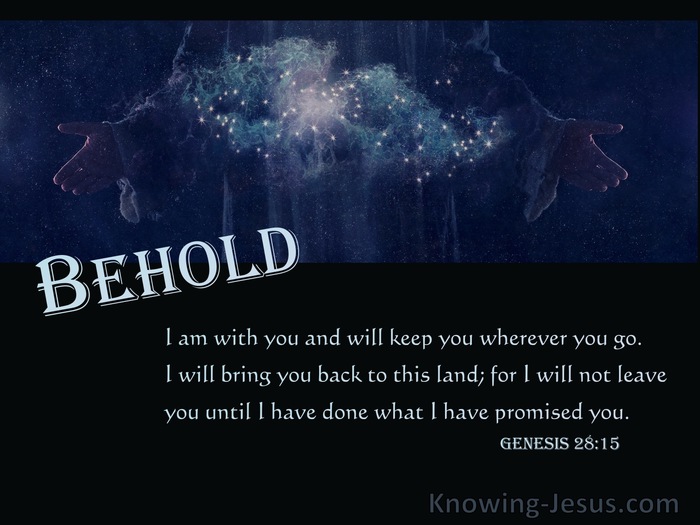 Choose a Verse from Genesis 28