and after he brought them out, he said, "Sirs, what must I do to be saved?"

Acts 16:30(NASB)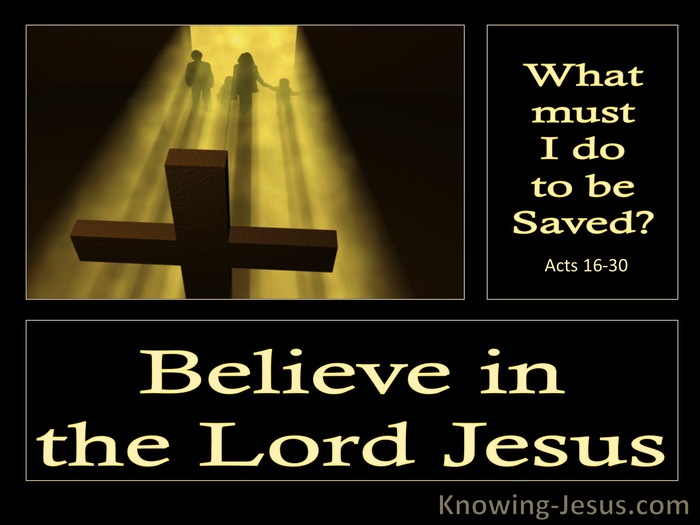 Verse Thoughts
Never was there a more vital question asked in the history of mankind than: what must I do to be saved? Never was a more gracious answer received, directly from the heart of God than: believe on the Lord Jesus Christ and you shall be saved. Believe in His shed blood as the full payment for your sins. Believe that He rose again the third day to break the power of death in your life and believe that God in the person of the Lord Jesus Christ came down from heaven, to live a perfect life on our behalf, so that He could also die a perfect death in our place. And all who believe on the Lord Jesus Christ shall be saved - all who believe on Christ's finished work at Calvary, shall be saved.
Believe! believe! believe on the Lord Jesus Christ, with no need for any add-ons or any hidden-extras. Believe on the Lord Jesus Christ and you will be saved, eternally saved. And multitudes down through the corridors of time have simply believed on the Lord Jesus Christ and thus been saved from the punishment of sin and its diabolical wages, which is death. What wonderful grace that woefully, sinful man should receive such a costly gift - so freely given.
Christianity it so far removed from the religions of the world, which seek, in so many ways, to appease an angry god. And so, this one simple requirement, to believe on the Lord Jesus Christ for salvation appears sublimely foolish to the logic of thinking man, who too often treat it with contempt and ridicule!! But for those that have seen the light of the glorious gospel of Christ and have been awakened from their worldly, narcotic slumbers, there is no more profoundly wonderful truth, that warms the soul and rejoices the heart.
Those that are steeped in legalistic practice also find the profound simplicity of the uncomplicated gospel to be insufficient to deal with the terrors of sin and its awful consequences, and so they insist that certain works of the flesh or some other form of human merit are added to the simple, child-like trust that Christ died for our sin according to the scriptures, that He was buried and that He rose again - according to the Scriptures.
It was the jailor who asked the question; what must I do to be saved? and He discovered that all that was needed was to believe of the Lord Jesus Christ and he would be saved. And all that was required of his family was that they too, simply believe on Jesus Christ for salvation - for Jesus is our great God and saviour and Jesus is the sin-substitute for all who will believe.
With man the forgiveness of sins is impossible but with God all things are possible - when you believe on the Lord Jesus Christ.
My Prayer
I praise You O God for this sublimely simple truth and thank You that all I had to do to be saved was to believe on the finished work of the Lord Jesus on Calvary. There are many people both in the world and in my own family that have not believed this simple truth, I pray that You will use me as your instrument today, to share the good news of the glorious gospel of Christ - in action, attitude or prayer so that others may come to a knowledge of this eternally wonderful truth, in Jesus name I pray, AMEN.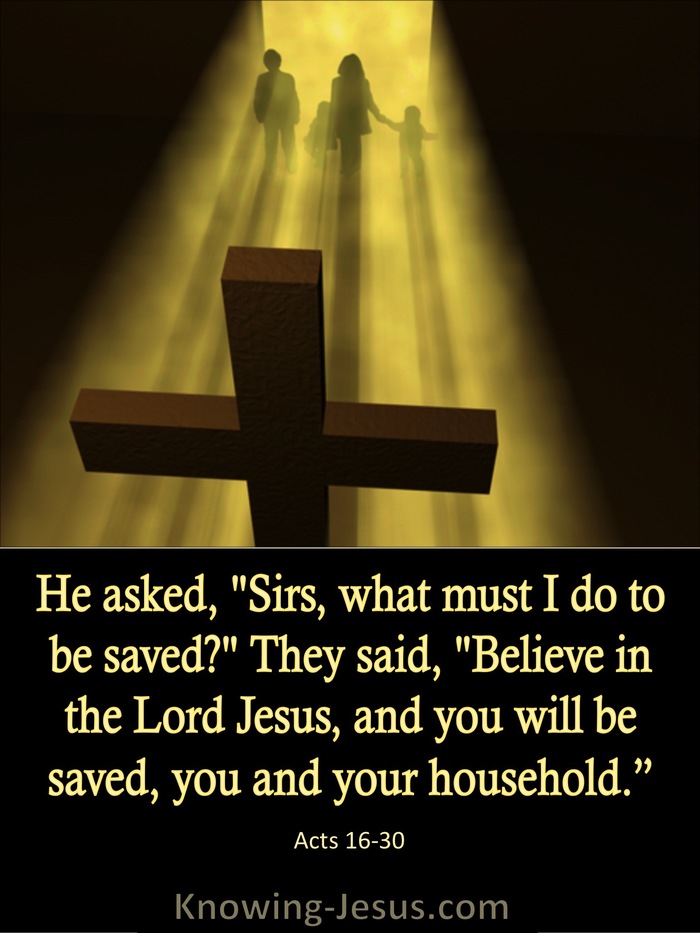 Choose a Verse from Acts 16