For the kingdom of God is not a matter of eating and drinking but of righteousness and peace and joy in the Holy Spirit.

Romans 14:17(ESV)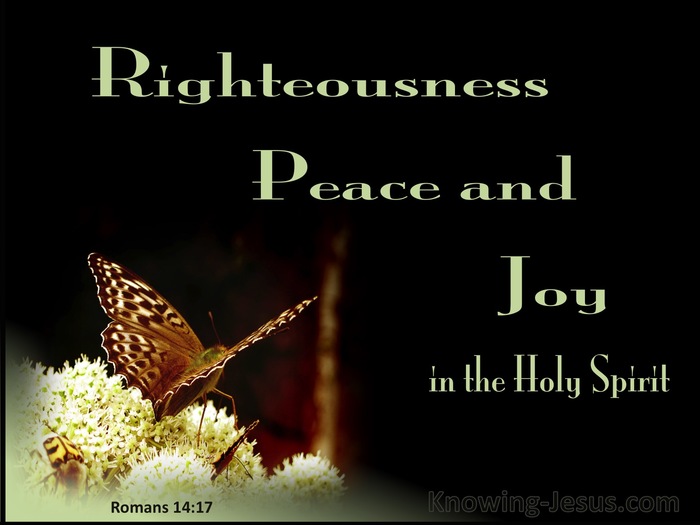 Verse Thoughts
Whether in this life today, the future Millennial kingdom, or even in the eternal ages to come, neither external observances nor the necessities of life should eclipse our joy in the Lord. True worship does not consist of the actions we undertake; the outward behaviours we exhibit or strict adherence to certain prescribed laws or imposed practices. True worship emanates from a soul that is right with God and an attitude that is conceived in the inner heart, which reflects His beauty - where the fruit of the Spirit is manifested, and the character of Christ is reflected.
Righteousness, peace and the joy of the Lord is an inner loveliness shining through the one who is loving the Lord Jesus and seeking His kingdom first. Righteousness, peace and inner joy is the gracious fruits that is formed in a life that is submitted to the guidance of the Spirit of life. 
The kingdom of God is not a matter of eating and drinking - nor is it a matter of strict adherence to a set of laws as some legalists would have us believe. The kingdom of God is a matter of righteousness, peace and joy, which proceeds from the one that is walking in spirit and truth. It is a matter of dying to the self-life and living to Christ
There are many legalists who would seek to entice those, who have been set free from the law of sin and death, back under bondage to the Law by imposing dietary demands, sabbath laws and other religious restriction onto the body of Christ - thus causing Christians to fall from grace, about which Paul warned in his letter to the Galatians - for the kingdom of God is not a matter of eating, drinking or adherence to legal practices and the keeping of feast days, but of righteousness and peace and joy in the Spirit of life.
Let us make sure that the motives that govern our thoughts and the actions that are carried out in our lives, do everything as unto the Lord, so that we give glory to our Father Who is in heaven.
My Prayer
Loving Father I want to please You - not only in what I do but by who I am in Christ Jesus my Lord and King. May my life be a reflection of His beauty, so that in thought, word, deed and motive I will proclaim His kingdom through my life, to the glory of Your name, in Jesus name I pray, AMEN.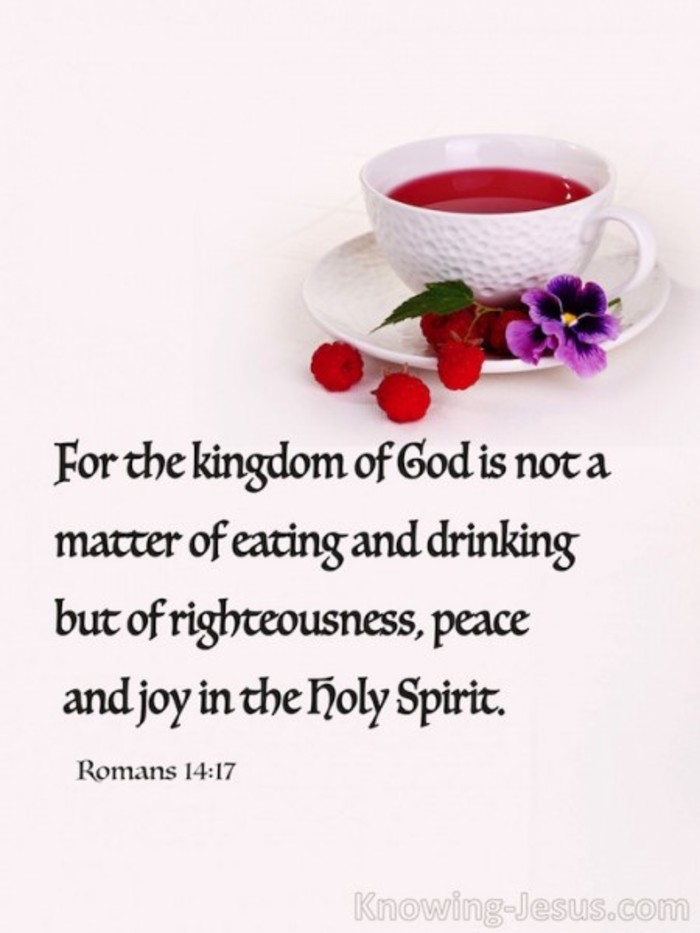 Choose a Verse from Romans 14